Logging into your XM account is the first step to opening and managing your CFD and Forex trading portfolios. In addition to learning how to resolve login issues, you will also find out how to log into your trading account safely and properly.
Want to have your own XM login? Click on this blue button to open an account and you'll get a login in just a few minutes.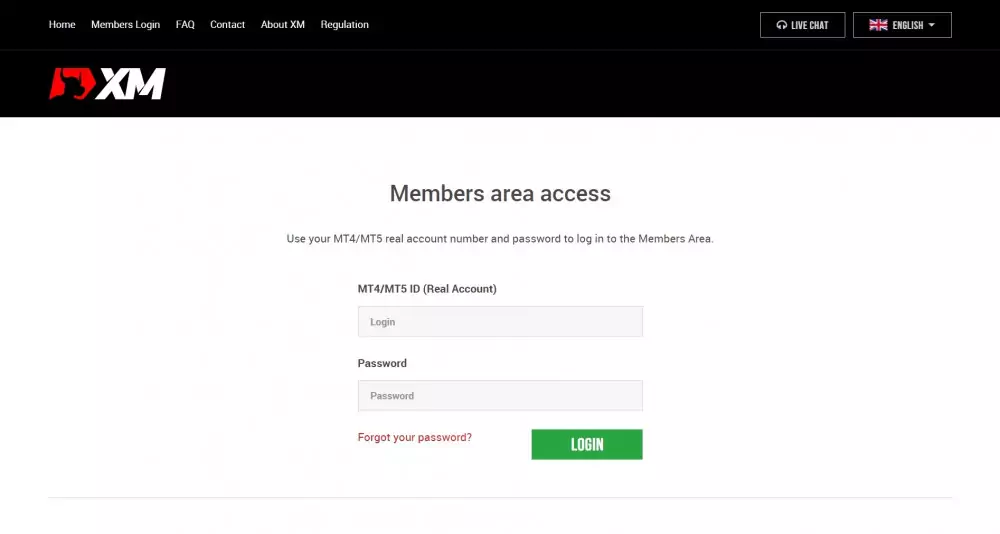 01
How to Login to Your XM Trading Account?
---
Steps to Sign In
To login to your XM account, simply follow these steps:
Open the XM Website or app.
Select the "Member Login" button.
Enter your account name (MT4/MT5 ID) and your password.
Click the green "Login" button.
Remember: In instances you forgot your password, just click "Forgot your Password" to reset it.
02
Where to Find the MT4/MT5 ID?
---
MT4/MT5 ID
You will find the MT4/MT5 ID on the welcome email you received from XM. If you don't find it right away on your inbox, just search "Welcome to XM". Open the email and you will see the ID on the first line of the email.
It will look like this "Thank you for choosing XM. Your MT4I D is 47326283. Please log in on server"
03
>What to Do If I Forgot My Password?
---
Forgot Password
If for some reason you forgot your password, you can easily reset it by clicking "Forgot your Password" on the login page of XM's website.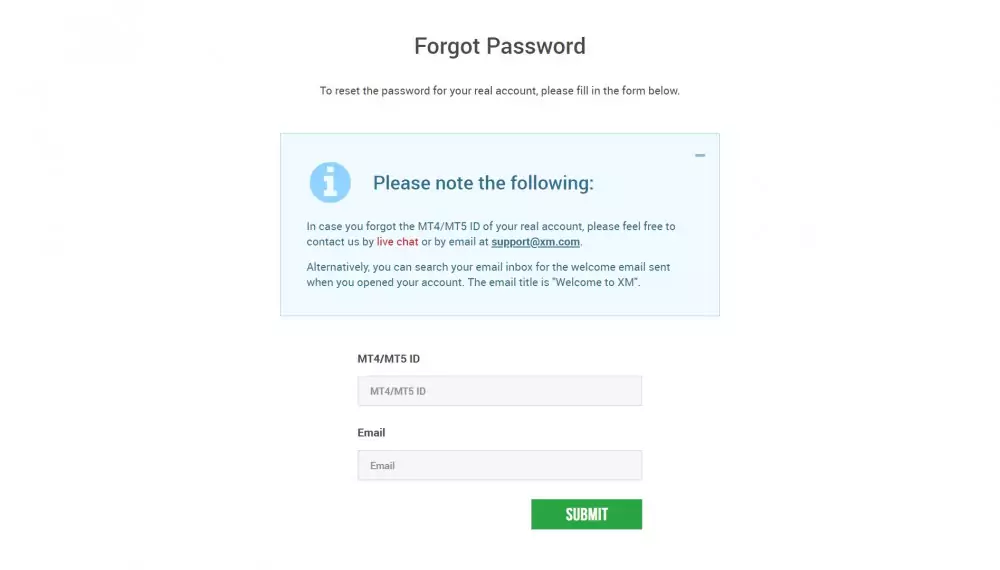 A window will open to prompt you for your MT4/MT5 ID and email. Afterward, click "Submit". A notification be sent to your email with a link to reset your password.
Click the red link that will lead you back to the XM website where you will be prompted to create a new password.
04
What Are the Requirements to Register and Login?
---
Requirements
Before you can login and start trading on the XM platform, you need to validate your identity by submitting an identification document. This could be your passport, office ID or a driver's license. Apart from this document, you will need to prove your residency by submitting a proof of address such as bank account statement or any utility bill.
05
>After Logging in to My XM Account, What Financial Instruments I Can Trade?
---
Accessible Assets
Through the MT5 platform, you can trade all the instruments available at XM, including Stock CFDs, Forex, Stock Indices CFDs, CFDs on Precious Metals, and CFDs on Energies.
06
What are the Common Login Problems?
---
Login Issues
Your login credentials may need to be re-checked if you have trouble logging into MT5.
In MT5, capital is sensitive and mistakes such as typing "space" in the fields are common.
You may need to reset your password or change the server name if all your information is correct, but you still cannot login.
It is common for your trading account to be assigned to another server for some reason, resulting in login errors.
It is recommended that you contact XM support if you have checked all the above but are still not able to log in. The support team is available 24x7.
07
What Devices Can I Use to Sign In?
---
Devices
XM is available to be accessed from any of these devices:
Android smartphones
iPhone and iPad
Windows PC
Mac computers
WebTrader app
08
What Does the Password Need to Contain?
---
Password Requirements
XM requires password to contain at least one lowercase letters, uppercase letters and numbers. Users will also have the choice of using these special characters only once:
Ready to have your own XM login? The next step to take is to open an account and this will take just a few minutes to complete.
CFDs are complex instruments and come with a high risk of losing money rapidly due to leverage. Check XM's website at www.xm.com for the percentage (%) of retail investor accounts losing money when trading CFDs with this provider. You should consider whether you understand how CFDs work and whether you can afford to take the high risk of losing your money.