Last updated: September 20, 2023
Summary
XM is no doubt a reliable and safe broker with over 5 million clients and more than a decade of operations. They offer a suite of platforms that will give you the opportunity to access a wide variety of assets not just on a PC but other devices as well like laptops, tablets and smartphones. They have done a great job in making their clients well-educated thanks to their demo accounts, webinars/seminars and high-quality video tutorials. Customer service is also top-notch and they can be reached at any time of the day via phone, email or live chat. Overall, this award-winning and multi-asset broker has a lot to offer.
XM has a demo account that you can use to test its features. There's no commitment and it's risk-free.
Look:
This extensive review focuses on the most important factors that you need to look for in a brokerage firm. No detail will be missed and all bases will be covered.
So are you ready to find out if XM is right for you? Let's get down to business!
02
Should You Trade With XM?
---
What We Like + Don't Like
There were a lot of things that we liked about XM. First of which is that it has a license from trusted financial regulators including the CySEC, ASIC and IFSC. Another advantage is that offers Islamic accounts that were specially created for traders of Muslim faith. Making deposits is also easy since it supports more than 20 payment methods and you can make an initial deposit for as low as $5. Lastly, it offers a a demo account that doesn't expire so you can use it for as long as you want.
We also found some disadvantages while doing this review of XM. We found out that they do still do not support deposits via PayPal. Another thing that's worth mentioning is that they also don't accept traders who are residents of the United States and Canada. Lastly, they don't offer ETF instruments or exchange-traded funds.
03
Analysis of XM's Main Features
---
Analysis
Pros
Fully regulated by CySEC, IFSC and ASIC
Forex Islamic accounts available
Over 20 supported banking methods
Unlimited demo account
$5 minimum deposit
Cons
Deposits via PayPal not accepted
USA and Canada traders not accepted
04
How to Sign-up with XM?
---
Registration
XM supports traders from most countries and there are only a few exceptions such as the USA and Canada.
Here's a tip:
If you're unsure if they will accept clients from your country, you just need to visit their registration page, click on the Country of Residence dropdown list and see if your country is available.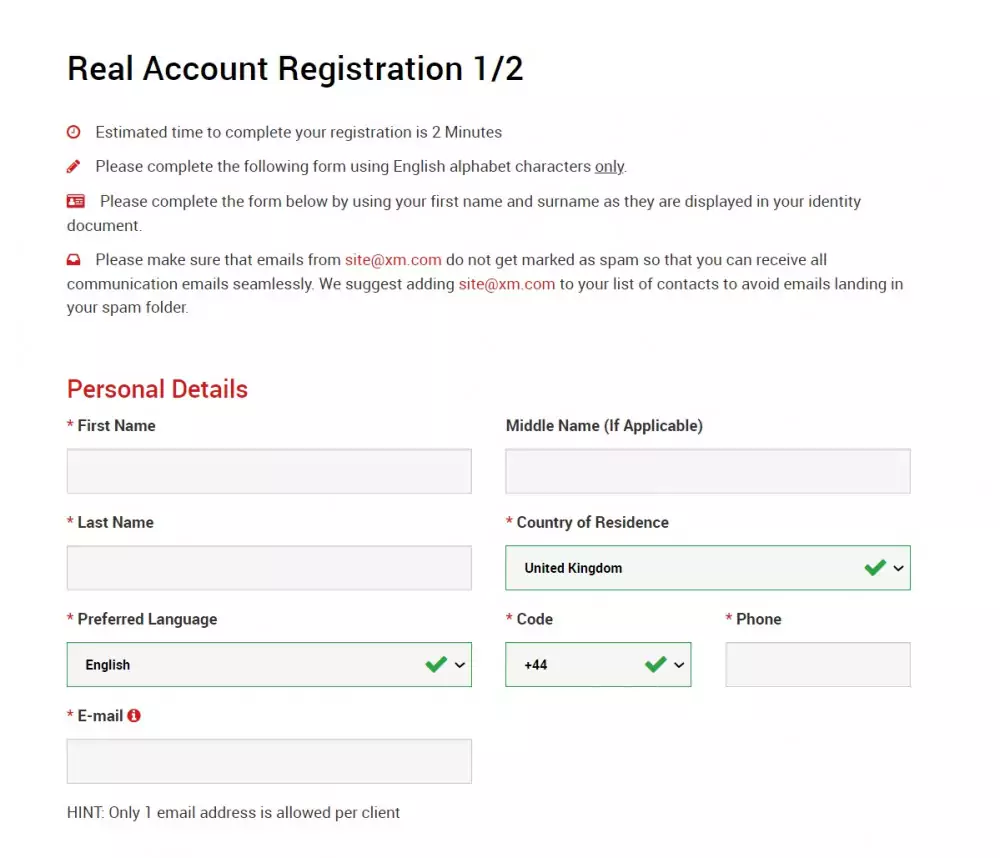 The minor downside is:
You won't be able to sign-up using your social media accounts but as we said, this is a minor issue.
Important to remember: Your country of residence will be the basis on which specific XM broker entity your account will be under.
| XM Entity | Countries Covered |
| --- | --- |
| Trading Point of Financial Instruments Pty Ltd | Australia |
| Trading Point of Financial Instruments Ltd | Austria, Belgium, Bulgaria, Croatia, Cyprus, Czech Republic, Denmark, Estonia, Finland, France, Germany, Greece, Hungary, Iceland, Ireland, Italy, Latvia, Liechtenstein, Lithuania, Luxembourg, Malta, Norway, Poland, Portugal, Romania, Slovakia, Slovenia, Spain, Sweden, United Kingdom |
| XM Global Limited | Algeria, Andorra, Angola, Antarctica, Armenia, Aruba, Azerbaijan, Bahamas, Bahrain, Bangladesh, Barbados, Belarus, Benin, Bermuda, Bhutan, Bolivia, Botswana, Brazil, Brunei, Burkina Faso, Burundi, Cape Verde, Cambodia, Cameroon, Chile, China, Christmas Island, Cocos (keeling) Islands, Colombia, Comoros, Cook Islands, Costa Rica, Curacao, Djibouti, Dominica, Dominican Republic, East Timor, Ecuador, Egypt, El Salvador, Equatorial Guinea, Eritrea, Ethiopia, Falkland Islands, Fiji French Guiana, French Polynesia, Gabon, Gambia, Georgia, Ghana, Gibraltar, Greenland, Grenada, Guadeloupe, Guatemala, Guinea, Guyana, Haiti, Honduras, Hong Kong, India, Indonesia, Iraq, Ivory Coast, Jamaica, Jordan, Kazakhstan, Kenya, Kiribati, Kuwait, Kyrgyzstan, Laos, Lebanon, Lesotho, Libya, Macau, Madagascar, Malawi, Malaysia, Maldives, Mali, Marshall Islands, Martinique, Mauritius, Mexico, Micronesia, Moldova, Monaco, Mongolia, Montenegro, Montserrat, Morocco, Mozambique, Namibia, Nauru, Nepal, New Caledonia, Niger, Nigeria, Niue, Oman, Pakistan, Panama, Papua New Guinea, Paraguay, Peru, Philippines, Qatar, Reunion, Russia, Rwanda, Saint Helena, Saint Kitts and Nevis, Samoa, San Marino, Saudi Arabia, Senegal, Serbia, Seychelles, Sierra Leone, Singapore, Solomon Islands, Somalia, South Africa, Sri Lanka, Suriname, Swaziland, Switzerland, Taiwan, Tajikistan, Thailand, Togo, Tokelau, Tonga, Trinidad and Tobago, Tunisia, Turkey, Turkmenistan, Tuvalu, Uganda, Ukraine, United Arab Emirates, Uruguay, Uzbekistan, Vatican City, Venezuela, Vietnam, Zambia, Zimbabwe |
So how to sign-up with XM Group?
Via the online registration form, you need to supply them the following information:
First and last name
Country of residence
Preferred language
Phone number
Email address
Preferred trading platform type
Preferred account type

After submitting these details, you will be taken to the second and last part of the registration where you will need to fill-in your date of birth and complete address. You'll also need to accomplish your trading account details, investor information, investor profile and knowledge & experience.
A word of caution:
The sections Investor Profile and Knowledge & Experience will determine whether you can open a trading account with them so be sure to answer them correctly and accurately.
Accounts
XM Group offers several account types and you'll have the flexibility to choose the most appropriate one that is suitable for your trading needs and goals.
As of this writing, the accounts offered by XM Global are Micro, Standard, Swap-Free, Ultra Low, and Shares.
| Account Type | Minimum Deposit | Commission | Leverage | Spread (Major Pairs) | Base Currencies |
| --- | --- | --- | --- | --- | --- |
| Micro | $5 | ❌ | Up to 1:1000 | As low as 1 pip | USD, GBP, EUR, JPY, CHF, AUD, HUF, PLN, SGD, ZAR |
| Standard | $5 | ❌ | Up to 1:1000 | As low as 1 pip | USD, GBP, EUR, JPY, CHF, AUD, HUF, PLN, SGD, ZAR |
| Swap-Free | $5 | ❌ | Up to 1:1000 | As low as 1 pip | USD, EUR |
| Ultra Low | $5 | ❌ | Up to 1:1000 | As low as 0.6 pips | USD, GBP, EUR, AUD, SGD, ZAR |
| Shares | $10,000 | ✅ | ❌ | Based on underlying exchange | USD |
Each account type has a suite of features and perks such as base currency options, contact size, leverage, commission, maximum open/pending orders, minimum lot size, lot restriction per ticket, bonuses and others.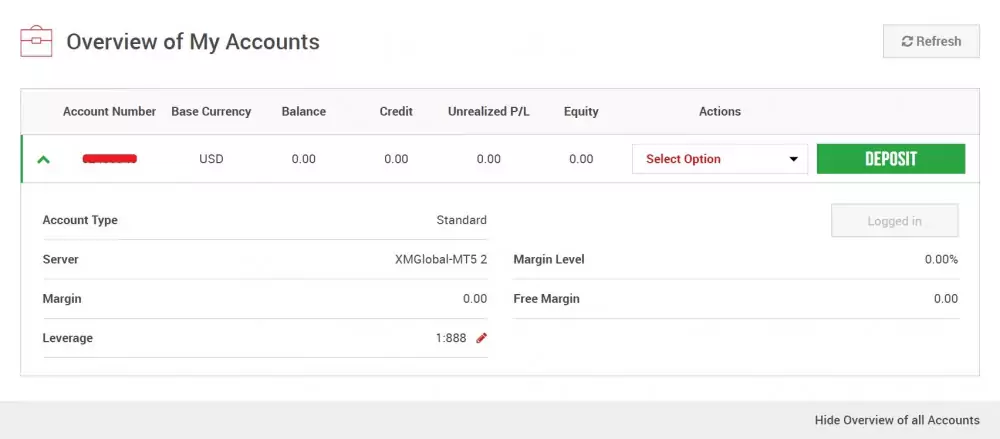 XM account types vary and will be based on your country of residence. For example, in Australia, they offer Micro, Standard and Ultra Low. If you're in Cyprus, your account options are Micro, Standard and XM Zero.
Bonus
And here's the surprise: BONUSES!
What makes XM a standout from the rest is that they continue to offer an attractive bonus of up to $5,000!.
This two-level welcome bonus is among the highest trading promotions in the market today particularly from an established online brokerage and not just from unknown brands.
Take note:
The availability of the XM bonus will be dependent on the country from which you are based in. *Clients registered under the EU and ASIC regulated entities of the Group are not eligible for the bonuses and/or promotions.
05
Does XM Have a Demo Account?
---
Demo Account
Opening an account with XM Group will give you access to their free demo account that will allow you to make practice trades with live market conditions.
And here's the good news:
The $100,000 virtual funds won't have an expiry so you'll have the liberty to use it at your own pace and as long as you want.
If in case that you've already used up these virtual funds, you just need to open another XM demo account but you can only do this for 5 times.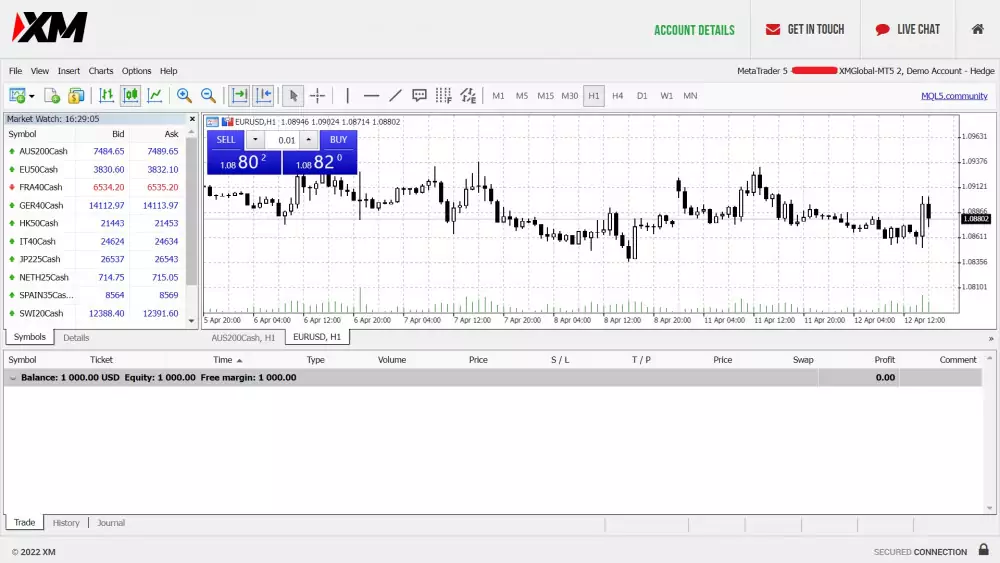 We can't emphasize enough…
If you're a beginner then we STRONGLY recommend that you take advantage of this free feature in order to learn the platform, maximize its usage, explore other features and even try out all possible strategies so you can discover which one works best for you and prepare yourself for live market trading.
Opening a demo account is quick and easy. After signing-up, you can use the practice account immediately.
Login
Logging in to the platform is fairly easy and it's a simple as accessing any regular online account. To sign in, you will be asked to enter your MT4/MT5 ID and password.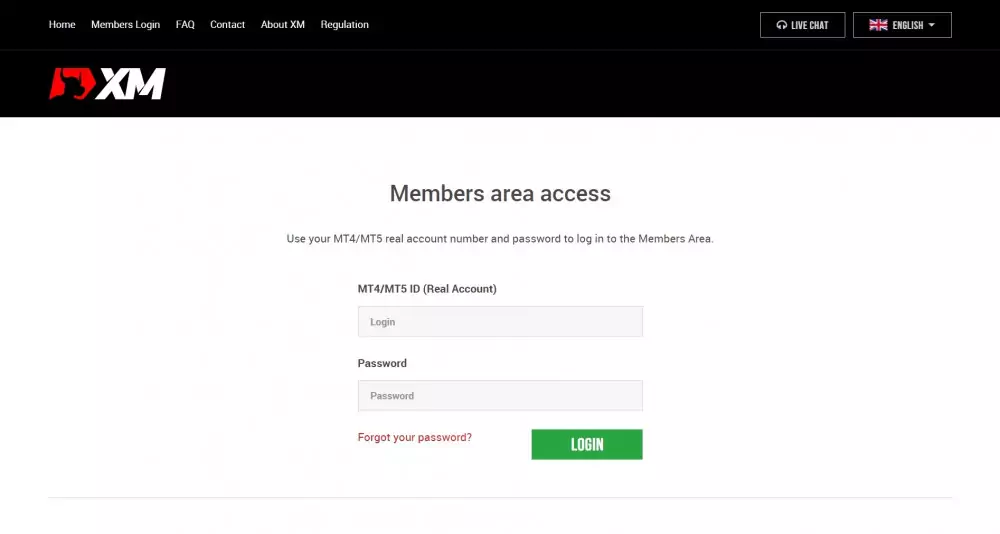 Before you can proceed with the XM login and start trading on the platform, you need to validate your identity by submitting an identification document. This could be your passport, office ID or a driver's license.
Apart from this document, you will need to prove your residency by submitting a proof of address such as bank account statement or any utility bill.
07
How to Make a Deposit?
---
Deposit
XM Group's supported payment methods is quite extensive and adds more flexibility on adding funds into the account.
They accept the most commonly used local payment methods today including:
Credit/Debit cards
Online bank transfer
Neteller
Skrill (MoneyBookers)
WebMoney
SticPay

And currency is accepted since it will be converted automatically into your account's base currency based on the prevailing inter-bank price.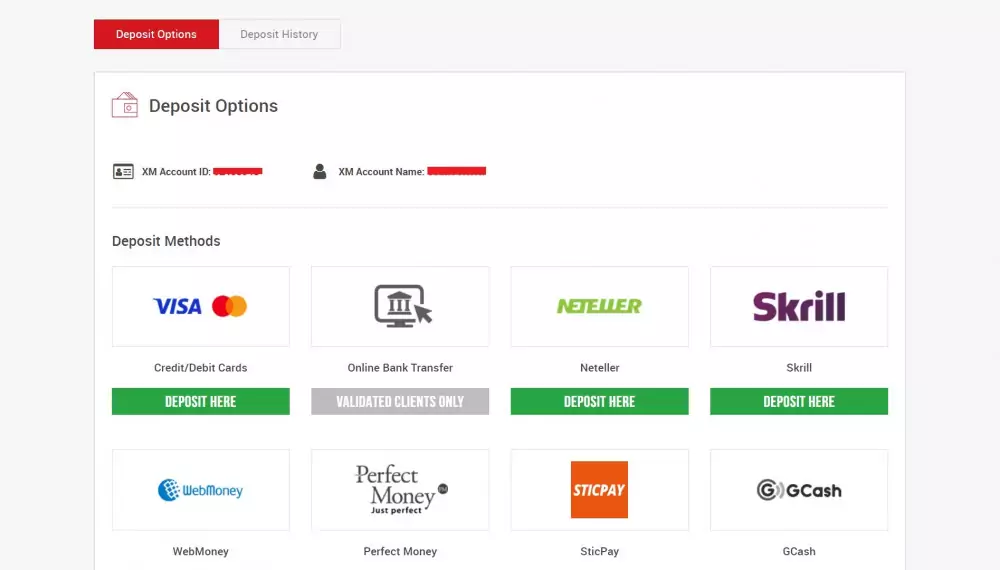 The cool thing is:
XM Group won't charge you with transaction fees for both deposits and withdrawals. Deposits less than $200 for international bank wire transfer however are not covered.
Minimum Deposit
Opening a Standard or Micro account starts with just a minimum deposit of $5 which is extremely lower than the requirements of other forex brokers.
For the Ultra Low and Shares accounts, the minimum deposit requirements are $5 and $10,000, respectively.
Such affordability is an opportune way for those who want to start with a low trading capital and also for starters since there's no need to deposit a very large amount and it effectively allows proper fund management.
Platforms
XM has an extensive range of MetaTrader 4 and 5 platforms that can be accessed using just one account:
MT4
MT4 for PC
MT4 for Mac
MT4 Multiterminal
MT4 WebTrader
MT4 for iPhone
MT4 for Android
MT4 for iPad
MT4 for Android

MT5
MT5 for PC
MT5 for Mac
MT5 WebTrader
MT5 for iPhone
MT5 for Android
MT5 for iPad
MT5 for Android

For desktops, it can be installed and run on both Windows and Mac operating systems while in the mobile platform, they have dedicated apps for smartphones and tablets that are running Apple or Android operating systems.
In addition, they also have WebTrader platforms that can be accessed with any web browser.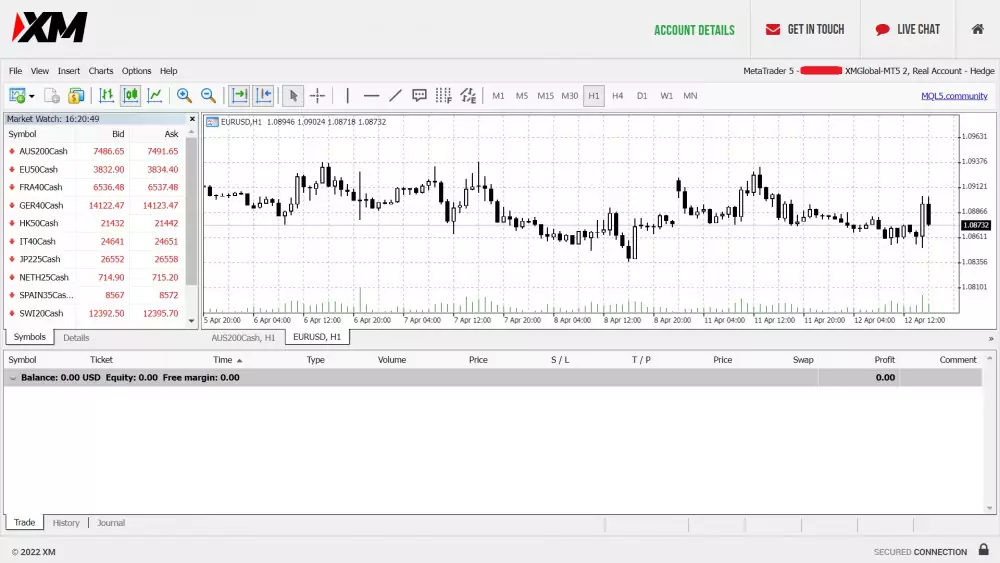 Practically speaking…
They have every solution for almost any kind device or computer.
XM definitely found a way to make their interface very inviting and this can be credited to their organized but simple layout.
Regardless if you use the desktop, mobile or the web-based platform, you can easily log-in and trade without any delays or long waiting time.
Assets
This broker has more than 1000 financial instruments which can be traded on the MT4/MT5 platforms and this includes forex trading, stocks CFDs, commodities CFDs, equity indices CFDs, precious metals CFDs and energies CFDs.
Here are the current instruments that you can invest on:
Forex
If you're into currency trading, you'll have plenty of currency pair options including majors (EUR/USD, USD/JPY, GBP/USD, USD/CHF, AUD/USD and USD/CAD), minors (EUR/GBP, EUR/AUD, GBP/JPY, CHF/JPY, NZD/JPY and others) and exotics (USD/SEK, USD/NOK, EUR/TRY, USD/TRY, USD/DKK, USD/HKD and others).
Commodities
Common commodities like cocoa, coffee, corn, cotton, soybean, high grade copper, soybean, sugar and wheat are available for trading.
And another thing:
Precious metals including gold and silver, and energies such as Brent crude oil, London gas oil, natural gas and WTI oil are also available.
Indices
You can invest on popular equity indices like ASX 200, China 50, EURO STOXX 50, CAC 40, DAX, FTSE.AT, HSI, FTSE MIB and Nikkei on cash and futures CFDs.
Shares
Choices are aplenty for XM stocks trading as their platforms will give you access to various shares of popular companies in the US, Australia and EU (Austria, Belgium, Finland, France, Germany, Greece, Italy, Netherlands, Norway, Portugal, Russia, Spain, Sweden, Switzerland and UK).
Crypto
There are over 50 crypto assets available on their MT4 and MT5 platforms. This includes some of the most popular cryptocurrencies in the market today like Bitcoin, Ethereum, Dogecoin, Shiba Inu, Ripple and others.
Spreads
No matter what account type or trade size a client has, XM offers tight spreads. As with the interbank forex market, XM offers variable spreads. Fixed spreads are usually more expensive than variable spreads, so an insurance premium will be required if you trade fixed spreads. Forex brokers who offer fixed spreads often apply trading restrictions around news announcements - which can render your insurance useless. XM doesn't apply such restrictions.
With the tight XM spreads, the prices don't need to move as much in order to make a profit.
The spread for the EUR/USD currency pair is 1.8 pips which is already considered to be better than what most brokers can provide.
Fees
There is no fee for opening an account and deposits and withdrawals are also free of charge.
However, they will charge you with a one-off $15 dormant fee if your account has been inactive for 90 days or around 3 months.
All of XM's fees are clearly indicated on the platform and this includes the following:
Spread
Swap or Rollover
Commission Fee
Dormant Fee

Take note that the commission fee is automatically calculated based on the volume that was traded.
Quotes and Prices
It is always important to trade with a forex broker that has accurate market prices because this is where your decision will be largely based on.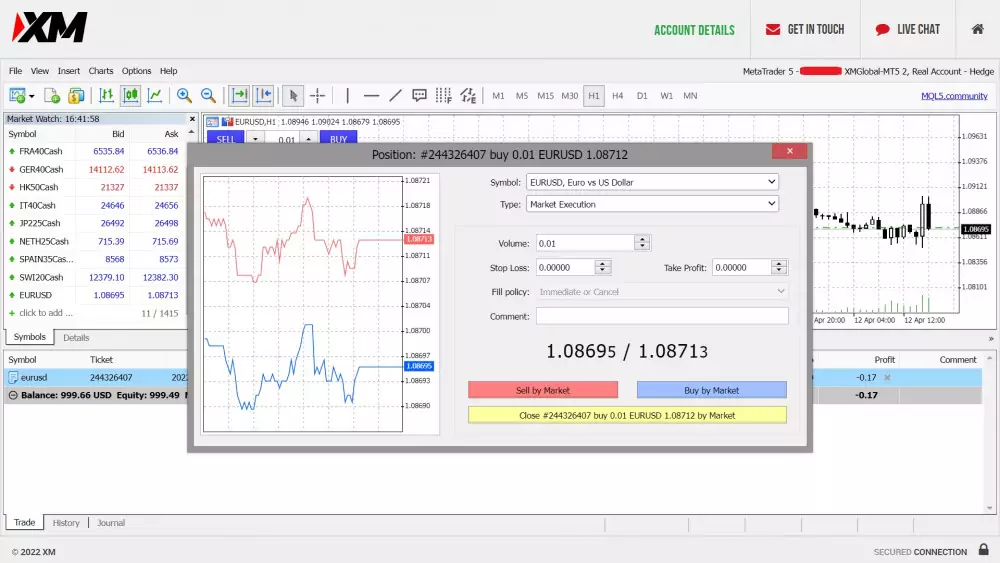 And as it turns out…
The several tests that we've done with their platform showed no signs of delays or manipulation with their quotes and the same price is shown for both pre and post deals.
08
How to Withdraw Funds?
---
Withdrawal
All withdrawal requests are processed within 24 hours if the funds are transferred to XM Cards or any of the supported e-wallet methods.
Meanwhile, credit/debit card and bank wires on the other hand can take 2 to 5 business days.
Based on the several withdrawal tests that we made, they were able to fulfill these requests and we were able to get the money back just as they promised.
Customer Service
XM Group can be reached via phone, fax, email or live chat.
That means you have the option to contact them in almost every channel possible and saving you a lot of time and effort.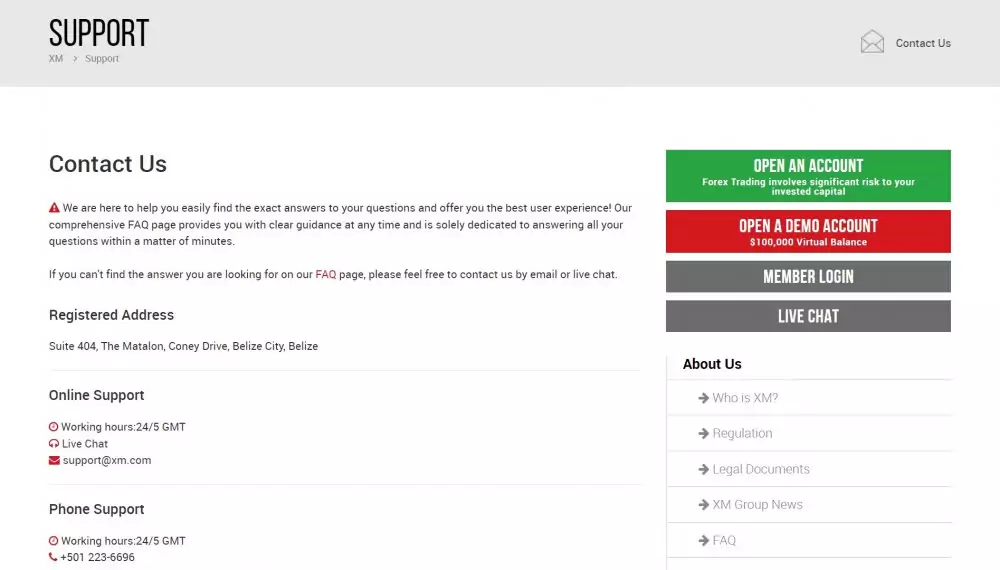 So how was our experience with XM's support team?
Based on our actual conversation with their support agent, we find them to be very direct in providing answers to any of our questions and we never experienced any sort of marketing schemes that other agents from other forex brokers usually do.
Overall…
Our discussions with them ended with positive results. Yes, it can be improved but as per our experience, we were already very satisfied.
Reputation
XM Group is a group of regulated online brokers.
Trading Point of Financial Instruments Ltd is established in 2009 and it is regulated by the Cyprus Securities and Exchange Commission (CySEC), Trading Point of Financial Instruments Pty Ltd is established in 2015 and it is regulated by the Australian Securities and Investments Commission (ASIC) and "XM Global Limited was established in 2017 with headquarters in Belize and it is regulated by International Financial Services Commission (000261/158).
What's notable about XM Group is that they are very popular in the forex trading community.
In fact…
Most of the reviews and comments praise them for having multiple online trading platforms, very flexible trading conditions, and a diversity of educational resources.
This is based on the verified and professional user comments and reviews that we've collected from several trusted review sites, forums, trading sites and social media.
Regulation
XM Group is licensed and regulated by the following:
Financial Services Commission (FSC): XM Global Limited (Belize) with license number 000261/158.
Australian Securities and Investments Commission (ASIC): Trading Point of Financial Instruments Pty Ltd (XMAU) with license number 443670.
Cyprus Securities and Exchange Commission (CySEC): Trading Point of Financial Instruments (XMCY) with licence number 120/10.

This means that they are abiding by the rules and regulations that are set by these trusted financial authorities so you can trade with peace of mind.
User Reviews
Below are some of the verified comments from actual users of XM:
07/11/2022
⭐⭐⭐⭐⭐
Richard L. says:
I have been using XM for over 4 years now and it has only improved over time. The platform is so easy to use, and I just love the way they neatly organize everything. It also helps that they keep adding new features which make my trading even smoother. I would highly recommend this trading platform.
28/10/2022
⭐⭐⭐⭐
Maria H. says:
I have been using the XM trading platform for a couple of months now and I have to say, this is by far the best trading app I've used. I'm not usually that good with navigating through some of the complex interfaces so this was a breath of fresh air for me. The interface is super-easy to use and it's totally worth checking out.
15/10/2022
⭐⭐⭐⭐⭐
Kenny G. says:
I use the XM platform to trade with, and it has been the best thing I have ever done. I can't imagine going back to trading on other platforms now that I've had so much success with XM. The platform itself is very user friendly and easy to understand. I highly recommend using XM for your trading needs!
Conclusion
Aside from the fact that XM Group is a group of regulated online brokers, there are plenty of other compelling reasons why they topped our list of recommended forex brokers today.
To begin with…
The wide range of tradable instruments, the multiple online trading platforms, the fast processing of withdrawals and the highly flexible trading conditions are just some of its strong advantages.
In addition to that…
An unlimited demo account and extremely low deposit is also worth mentioning. And when it comes to educating traders, this is arguably one of the most generous in providing information and resources for their clients. We haven't seen any broker as dedicated and passionate in keeping investors informed.
So it all adds up to this:
XM Group has all the attributes of being a trusted and superior broker for any forex and CFD trader. Seriously, if you're searching for a good brand, then this definitely should be on top of your list.
With all that information you have, you're definitely ready to start trading with XM so it's time to open an account.
CFDs are complex instruments and come with a high risk of losing money rapidly due to leverage. Check XM's website at www.xm.com for the percentage (%) of retail investor accounts losing money when trading CFDs with this provider. You should consider whether you understand how CFDs work and whether you can afford to take the high risk of losing your money.