The Plus500 trading platform is one of the leading providers of CFDs (Contract-for-Difference) exchange services. By signing up for an account and using the Plus500 trading app, you can trade CFDs on cryptocurrencies (Availability subject to regulations - cryptocurrencies are not available to retail clients in the UK), indices, forex and shares.
| Broker | Score | Minimum Deposit | Trade |
| --- | --- | --- | --- |
| | 98 | $100 | |
| | 97 | $10 to $1000 (country-specific) | 77% of retail CFD accounts lose money |
| | 94 | $5 | 74.89% of retail CFD accounts lose money |
Don't have a Plus500 account yet? Opening a demo account takes less than a minute!
The platform offers capabilities that make life easier for traders such as easy monitoring of profits, trading with a leverage of up to 1:30, tight spreads and more plus features like risk management and trading analysis tools. The platform charges zero commissions while producing quick and reliable execution of trades. This section will cover all the topics related to the use, features and benefits of the Plus500 Trading platform.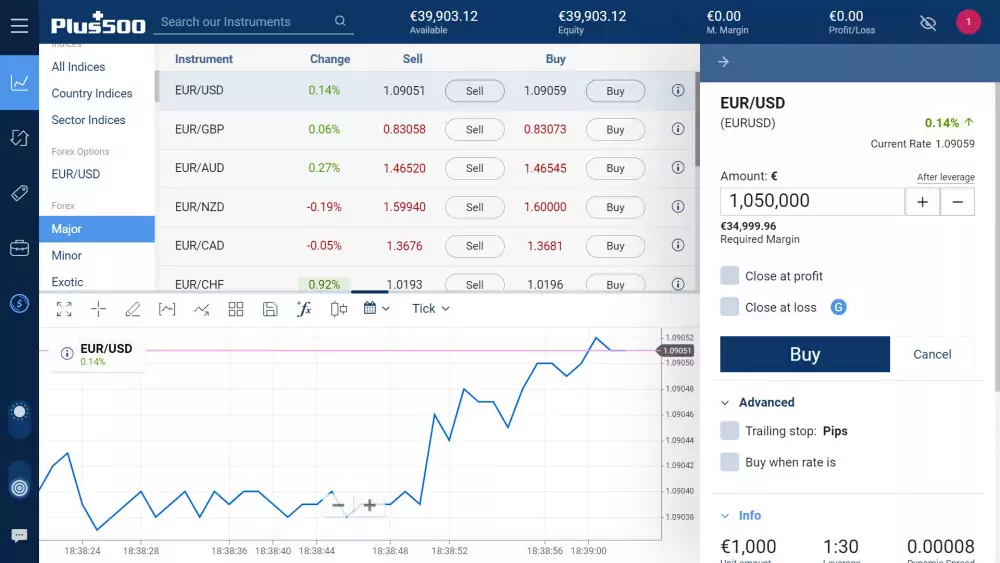 01
First, What Is CFD Trading?
---
CFD Defined
CFDs or Contract for Difference are financial instrument products that enable customers to take advantage of all the features and benefits of holding stock, foreign exchange, ETF, index, option, or commodity positions without physically possessing the underlying instrument. When a trader purchases a CFD, the difference between the quoted price and the final price of the CFD becomes the amount to be settled, henceforth the term "Contract for Difference" or CFD.
Simply said: A CFD is a financial derivative that is closely regulated and observed by financial watchdogs. Traders enters into a contract with the CFD issuer when they Buy or Sell a CFD. The contract does not involve a purchase or sale of an asset, but rather traders potentially earn from the price movement of that asset.
02
Where to Access the Plus500 Trading Platform?
---
Trading Platform
The Plus500 Trading platform can be accessed on any device running on Android and Apple systems by downloading the Plus500 app on their smartphones, tablets or iPads. The platform can also be accessed using the WebTrader trading browser or the Windows 10 Trader on a desktop or laptop computer.
03
Getting Started with the Plus500 Trading Platform
---
Getting Started
When using the platform for the first time, you must take note of these three most important tabs on the interface:
Trade: Clicking this tab will take you to the whole trading platform displaying all the financial instruments available to trade. The interface also shows each instrument's Buy and Sell prices.
Open Positions: This tab is where all your executed trade and open positions are shown.
Orders: This is where the list of your pending orders is displayed.
04
Types of Plus500 Trading Accounts
---
Account Types
The Plus500 trading platform comes with both a demo account and a live account. The Demo account is the mirror image of the real-time trading platform. It is created for users to practice and develop their trading strategies. Traders — both beginners and experienced ones — can easily switch from the Demo account to the Live Account anytime they want.
Remember:
When making trades, make sure you are in the correct account since Plus500 cannot cancel or reverse a trade made in the Live Account that is supposed to be only tested on the Demo Account.
05
Assets Available in Plus500's Trading Platform
---
Tradable Assets
When using the Plus500 trading platform, you are introduced to a wide variety of financial instruments to choose from. Here are the following assets available to trade in the platform:
Forex: This include trading currency pairs using many of the world's most trusted and popular currencies such as the United States Dollar, Japanese Yen, the Euro, Pound Sterling, Canadian and Australian Dollar, Swiss Franc and more.
Cryptocurrencies: When trading crypto CFDs, you don't need to use a special wallet since you can trade cryptos by using the leverage method. Popular cryptos offered in the platform includes Bitcoin, Ethereum, Litecoin and more.
Commodities: This includes all the world's commodity items such as Natural Gas, Oil, Gold, Silver and even Corn.
Shares: You can do CFD trading on every sale of shares listed on major exchanges such as the Tokyo Stock Exchange, NASDAQ, the London Stock Exchange and the New York Stock Exchange.
Indices: Otherwise known as the stock market index, indices are a collection of leading industry shares within an economy such as the FTSE 100 which represents the 100 largest companies listed on the London Stock Exchange.
ETFs: Exchange-Traded Fund as it's called, is a financial instrument that allow traders to invest on a whole market via a single commodity or stock to spread out potential rewards or risks.
Options: Options trading involves future price speculation of a financial instrument such as a commodity and stock. Plus500 offers two option CFDs namely Put options and Call options.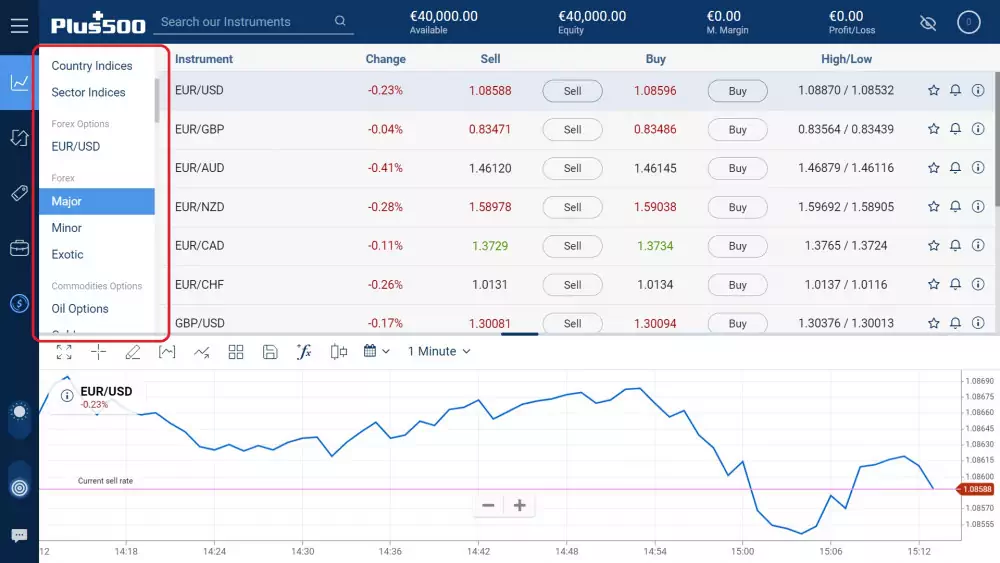 06
Basic Plus500 Trading Terms You Should Know
---
Trading Terms
To familiarize yourself better with the Plus500 Trading platform, you will need to understand these basic trading terms
Bid/Ask: The "Bid" is the price at which the Plus500 trading platform will sell you a specific financial instrument while the "Ask" is the price that it will offer for you to buy.
Spread: The "Spread" is the price difference between the "Sell" and "Buy" of a financial instrument at a given period of time.
Contract Size: This is the minimum unit size of a CFD contract ready to be traded on the Plus500 trading platform.
Pip: Shortened from "Price interest point", the Pip represent the smallest unit of change in the price of a financial instrument. Normally, it is the last decimal in the price of an instrument.
Order: This is a request made when opening a position at a given price. The term refers to an instruction to open a trade when certain criteria (like a predetermined price level or percentage change) are met. These orders are usually called limit orders. Whenever the underlying market's price moves past a trader- specified entry level, a limit order will be activated, providing the price at which the position can be opened.
Now that you know more about trading with Plus500, it's high time that you open an account to get started.
79% of retail investor accounts lose money when trading CFDs with this provider. You should consider whether you can afford to take the high risk of losing your money.