Plus500 offers the majority of its services to its users for free. For the few transactions where fees are charged, it is all made transparent for users before they sign up for a trading account — in short, there are no hidden fees. The majority of Plus500 earnings comes from fees of bid and ask spreads, which are all based on internal monitoring. This section will let you understand more about Plus500 fees.
Don't have a Plus500 account yet? Opening a demo account only takes less than a minute!
01
What are Buy/Sell Spreads Fees?
---
Spreads
Plus500 earns compensation through the Bid/Ask (Buy/Sell) spread when a trader opens a position. Basically, a trader pays the spread and the amount of the spread is already included in the quoted rates of the financial instrument and is not an additional fee charged to Plus500 traders.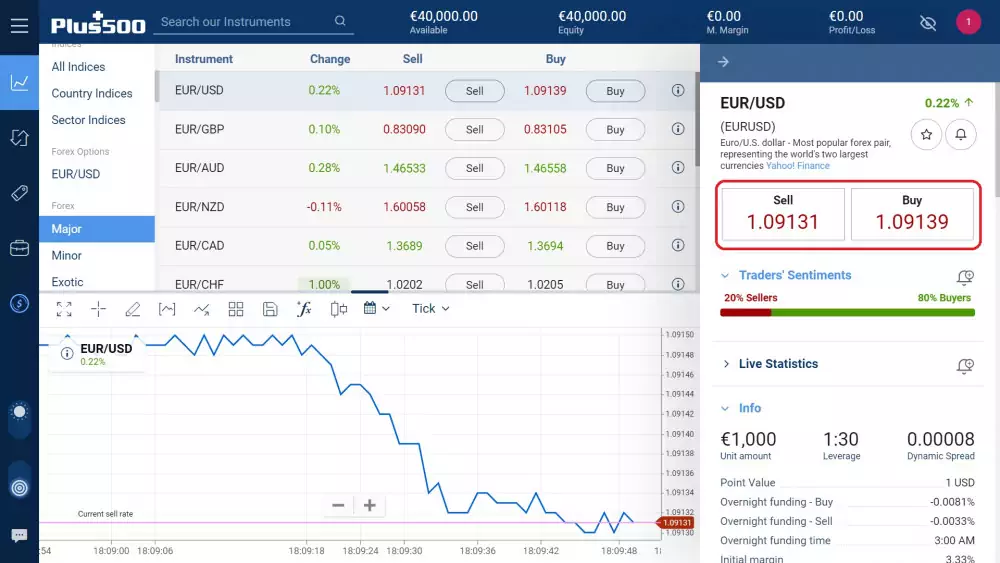 Spreads are calculated by subtracting the selling price from the buying price of the financial instrument.
02
Is the Spread Considered as Fees?
---
Spread as Fees?
Basically yes. A "spread" is the fee collected based on the difference between the buy / bid and the offer / sell price of a financial instrument. Simply said, a spread comprises only a very low percentage of amount added to the trading transaction.
03
What Is the Definition of a Spread Then?
---
Spread Definition
Spread is defined as the difference between a "Buy/Bid" price and a "Sell/Offer" price at a specific moment in time.
For its instruments, Plus500 offers two spread mechanisms:
Dynamic spread: This spread adjusts itself based on the market spread throughout the duration of an open position
Standard spread: This spread does not typically adjust with market fluctuations while a trade position is open, but when the market is volatile, it may change to reflect the underlying market conditions better.
04
How to View the Spread of a Specific Asset?
---
Viewing Spreads
To view the spread of an asset or financial instrument you want to buy, simply follow these steps:
Log in to your Plus500 account.
Look for the financial instrument you want to view.
Click on the (i) icon (Details icon) and scroll down to view the info section.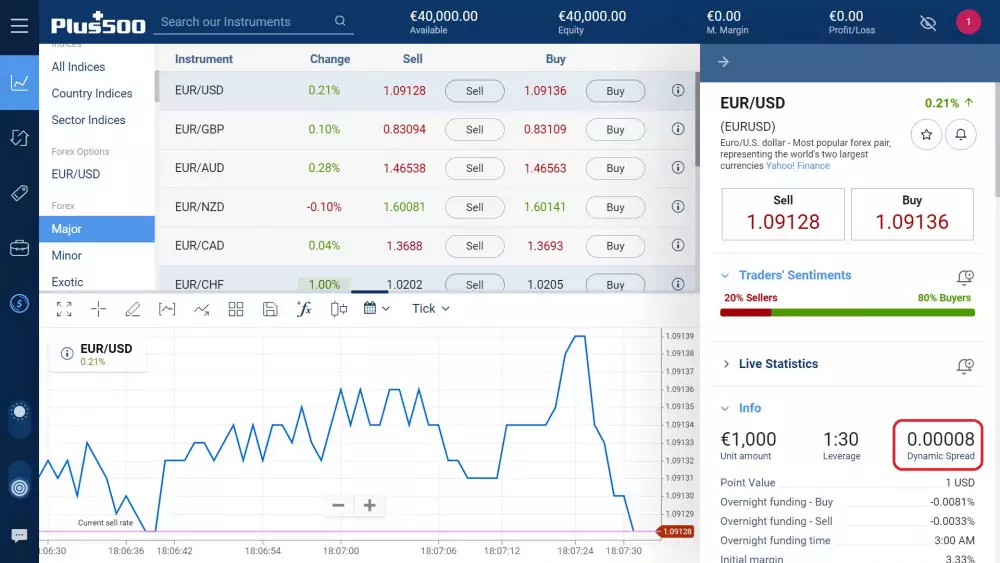 Additional Fees
Here are the additional fees that Plus500 charges to its trader users:
Overnight Funding Fee: this fee is charged to traders when they hold a position after a length of time. The overnight funding fee is either subtracted from or added to your account.
Currency Conversion Fee: This fee is charged when a trader transacts a trade on a particular financial instrument that is denominated in a currency not similar to the trader's currency account. This fee is automatically reflected into the unrealized profit or an open position.
Guaranteed Stop Order Fee: This type of order helps you manage risk by assuring the stop-loss level. This feature promises that your position will close at a specific rate, and as such is subject to a wider spread or fee since it guarantees that your position closes at a specific rate.
Inactivity Fee: Plus500 charges a fee of up to $10 a month in instances of inactivity or when a trader fails to log in to their account for at least three months. This fee will be charged every month from the time of the three-month inactivity until a login is made into the account.
06
Does Plus500 Charge Withdrawal and Deposit Fees?
---
Deposits & Withdrawals
No. Plus500 doesn't charge its users for any withdrawal or deposit transactions.
07
Is There a Fee for Transferring Money to Plus500 Account?
---
Money Transfers
The fee for transferring money to your Plus500 account depends on your issuing bank and not on Plus500.
08
Does Plus500 Charge Trading Fees?
---
Trading Fees
The "market spread" is the main method by which Plus500 is compensated. When trading EUR/USD for example with a buying rate of 1.14080, and a selling rate of 1.14084 (this means the market spread of 0.6 pips is payable by the trader to Plus500). Unlike other providers who charge commissions on every trade, Plus500 does not charge any trading commissions.
09
>Plus500 CFD Trading Fees
---
CFD
Plus500 does not charge trading fees when a trader engages in a contract-for-difference (CFD) trade. The only "fee" a trader will pay is the "spread" which is always included in the price of the financial instrument.
10
Does Plus500 Charge Forex Transactions?
---
Forex Fees
Plus500 doesn't charge any forex transaction fees. Again, the spread is already included in the forex buy price.
Now that you know more about Plus500's fees, it's high time that you open an account to get started.
79% of retail investor accounts lose money when trading CFDs with this provider. You should consider whether you can afford to take the high risk of losing your money.