A Plus500 demo account provides users with a platform to practice and get a feel of what it is like to trade, develop strategies, practice CFD trades, and gain valuable experience without taking the risks associated with real-life trading. The demo account — which uses a virtual money — isn't just for beginners; Plus500 offers the demo account to every trader with a live trading account where they can test, polish and develop their trading strategies.
| Broker | Score | Minimum Deposit | Trade |
| --- | --- | --- | --- |
| | 98 | $100 | |
| | 97 | $10 to $1000 (country-specific) | 77% of retail CFD accounts lose money |
| | 94 | $5 | 74.89% of retail CFD accounts lose money |
Don't have a Plus500 demo account yet? Opening one only takes less than a minute so be sure to sign-up so you can try it out.
The Plus500 demo account simulates real-world trading market conditions in real time thus providing users an opportunity to understand the complex concept of trading without risking losing real money.
Plus500 account holders can easily transfer between their demo and live accounts anytime they wish since the demo account is unlimited and free of use.
01
Can I Lose Money by Using the Demo Account?
---
Risk-Free
No. You won't be losing any money as the demo account is totally free of any risk because you won't be trading with your money when using it.
02
How Much Virtual Money the Demo Account Has?
---
Virtual Funds
Your demo account comes with a virtual money equal to EUR 40,000 which you can use to simulate trades.

03
Can I Request for Additional Virtual Money?
---
Requesting Demo Funds
You don't have to. Once the balance of your virtual money goes down to EUR 200, the initial EUR 40,000 virtual money will be automatically added to your demo account.
04
What Are the Features of the Plus500 Demo Account?
---
Features
EUR 40,000 virtual money for you to use in practicing trades and developing trading strategies
Unlimited time to practice
Provides users a platform to learn the ins and outs of trading
Zero fees required
Bundled tutorial videos
It simulates real trading market conditions
More importantly, it presents zero trading risk
05
Other Trading Features of the Plus500 Demo Account
---
Other Trading Features
Since Plus500 Demo Account mirrors the real money account, it also comes with these features:
Close at Profit: You can practice with this feature to learn when to set a trade to close automatically once it achieves a desired profit level.
Close at Loss: You can practice with this feature to learn how to set up a trade to close automatically so it can limit trade loses at a certain level.
Guaranteed Stop: You can practice with this feature to learn how it can be a useful tool when trading volatile assets.
Price Alerts: This feature will teach you on how to set a price alert once an asset is traded for a specific value.
06
How to Open a Plus500 Demo Account?
---
Opening a Demo
If you want to open and use your demo account to practice trading right away, you can do so during the registration process. Simply select "Try Fee Demo", instead of "Start Trading Now". This will take you to the demo account registration page.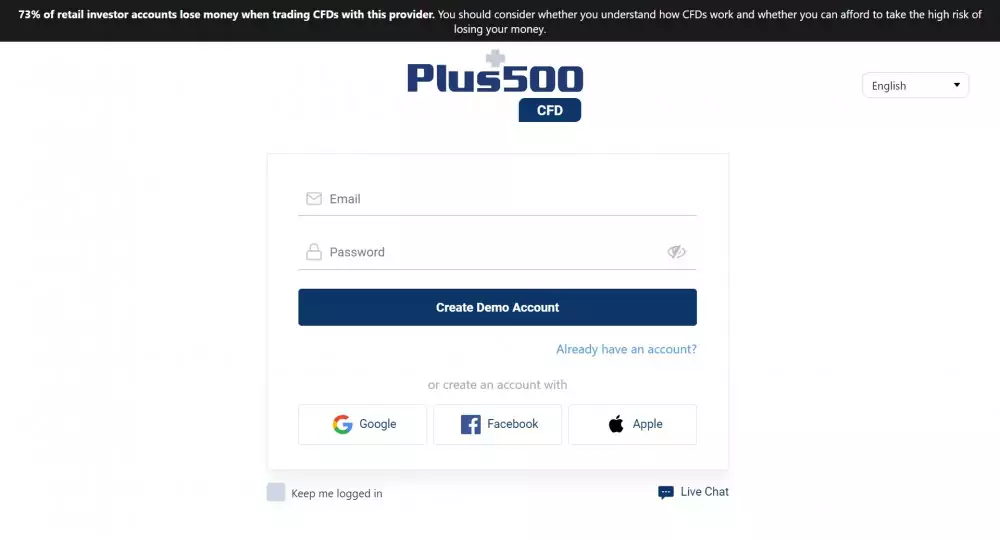 If you already started using your Plus500 trading account using real money, you can also easily switch to your demo account by clicking the "Switch to Demo Mode" on the main page's dashboard or from the Plus500 app's menu.
07
Switching from the Demo to the Real Money
---
Demo to Real Money
If you think you already had enough practice time using the demo account, you can now test your newfound trading knowledge in the real world by switching to your real Plus500 trading account.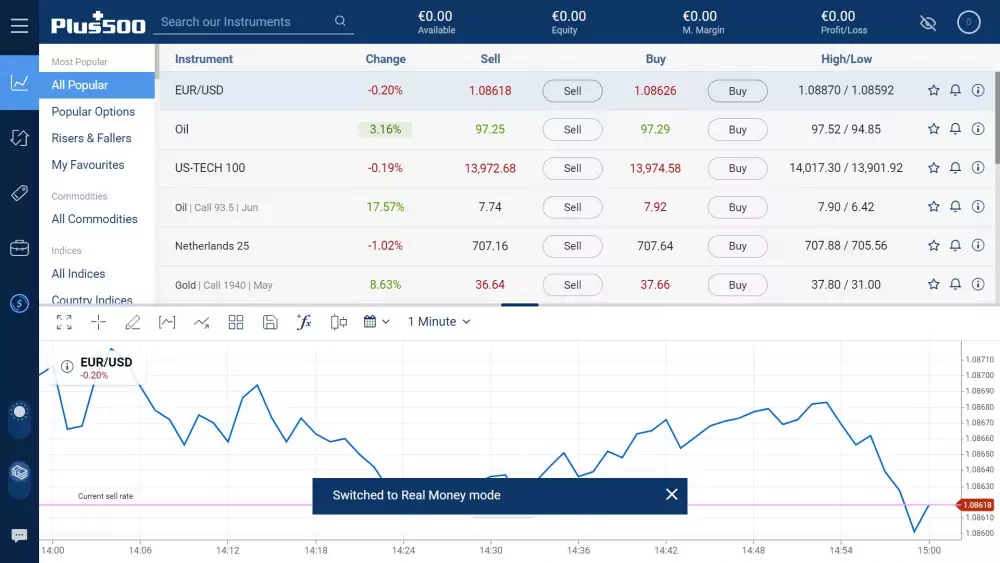 To do this, simply click on the "Switch to Real Money" in the main page of the Plus500 dashboard on your browser or from the Plus500 app's menu.
To switch back to demo account, just click "Switch to Demo Mode"
08
Difference Between the Demo and the Real Money Account?
---
Demo vs Real Money
When talking about real market conditions, there is no difference whether you trade using the demo account or your real money account. The only difference — which is the most important thing to remember — is that when you use the demo account, you are not risking your real money thus you can afford to lose on some trades as you gain trading knowledge and skills.
09
Is There a Time Limit in Using the Plus500 Demo Account?
---
Expiration
Because learning is a lifelong process, Plus500 doesn't set any time limit when using the demo account. You can use it as long as you desire in order to familiarize yourself with the trading platform and develop a successful trading plan or strategy.
10
Should You Use the Plus500 Demo Account Before Trading?
---
Why Use the Demo?
Absolutely, yes. Due to its simplicity, ease of use, and trading tutorials, the Plus500 demo account is an excellent, full-featured, user-friendly trading platform perfect for both beginners and even experienced traders. Getting started is easy thanks to Plus500's quick sign-up process, and the excellent customer support staff who are on available 24/7 to answer your questions.
Now that you know more about the Plus500 demo, it's high time that you open an account to get started.
79% of retail investor accounts lose money when trading CFDs with this provider. You should consider whether you can afford to take the high risk of losing your money.