The Plus500 app has an easy-to-use interface that allows traders to invest and trade thousands of financial instruments available worldwide. Trading transactions made on the app are all commission-free, therefore saving users additional money for use in their trades as opposed to paying for commission charges other stock brokers charge. With a widely connected network, the Plus500 app gives traders a platform to easily access stocks listed on popular exchanges like the NYSE, Euronext, the London Stock Exchange and so on, as well as the ability to trade shares on CFDs, forex, options, cryptocurrencies and more.
Don't have a Plus500 account yet? Opening a demo account only takes less than a minute!
01
Where to Download the Plus500 App?
---
Downloading
When using a computer, you can access your Plus500 account via the Plus500 WebTrader browser platform, which is available online as a web platform. But if you prefer to use a dedicated Windows app, then you can download it as a software directly from the Plus500 website via this URL www.plus500.com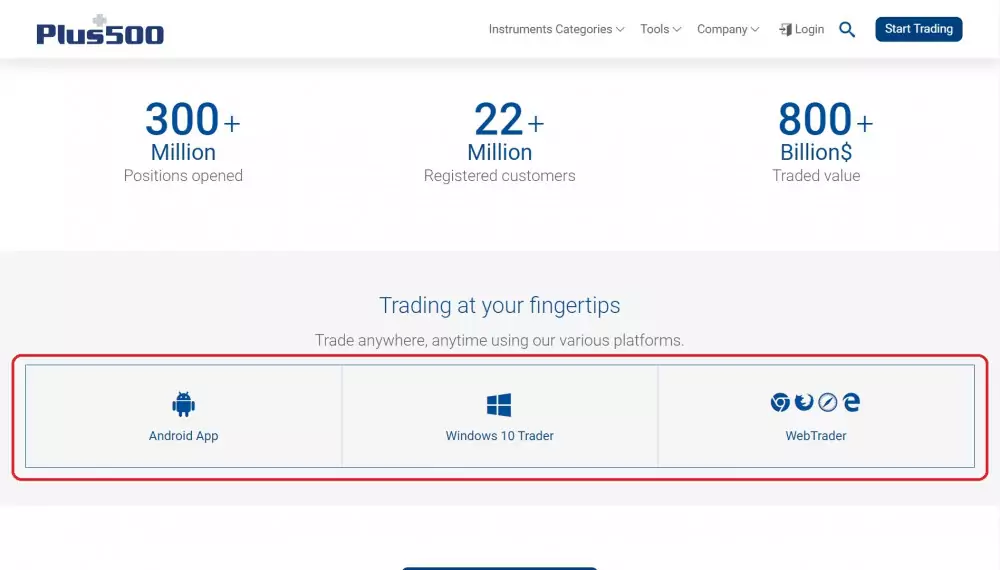 If you will open it on your mobile or tablet devices, you can download the Plus500 trading app on Google Play and the Apple App store and use it on your Android phones, iPhone or iPad.
02
What are the Financial Instruments Tradable on the App?
---
Tradable Assets
The Plus500 App gives traders access to more than 2,500 CFDs across a diverse range of a variety of assets, that includes the following financial instruments:
ETFs
Forex
Indices
Company shares
Commodities
Options
Cryptocurrencies
03
Is the Plus500 App Available in Other Languages?
---
Languages
Yes. Traders can download the Plus500 trading App in 32 different languages such as English of course, Spanish, Traditional and Simplified Chinese, Arabic, German, Italian, French, Swedish, Finnish, Estonian, Hebrew, Greek, Romanian and Russian just to name a few.
04
Highlights of the Plus500 Trading App
---
Highlights
Most user reviews mention these as the main highlights of the Plus500 Trading App:
A user-friendly interface.
Highly accessible and available to all devices.
It has a collection of features that suits every trader's trading methods.
It continuously adds more features to make life easier for trader when using it.
It has tools such as "Charting tools" and "Instrument Trading" that provides market charts good for tracking movement in the market and other economic indicators to traders.
It's robust charting tools provides 13 different chart types, more than 100 different indicators, and over 20 drawing tools that includes Pitchfork and Fibonacci.
It has a "Watchlists" tool where traders can monitor asset categories, follow popular financial instruments as well as keep tab on high gainers and losers. This tool can be also used in creating your own list of financial instruments to track.
The app also has a Demo Account that traders can easily switch to in order to practice trading strategies and develop trading skills using virtual money.
05
What's the Difference Between WebTrader and the App?
---
WebTrader vs App
In comparison, both the Plus500 Trading App and the Plus500 WebTrader browser platform almost mirror each other with both platforms offering the same set of features and functionality.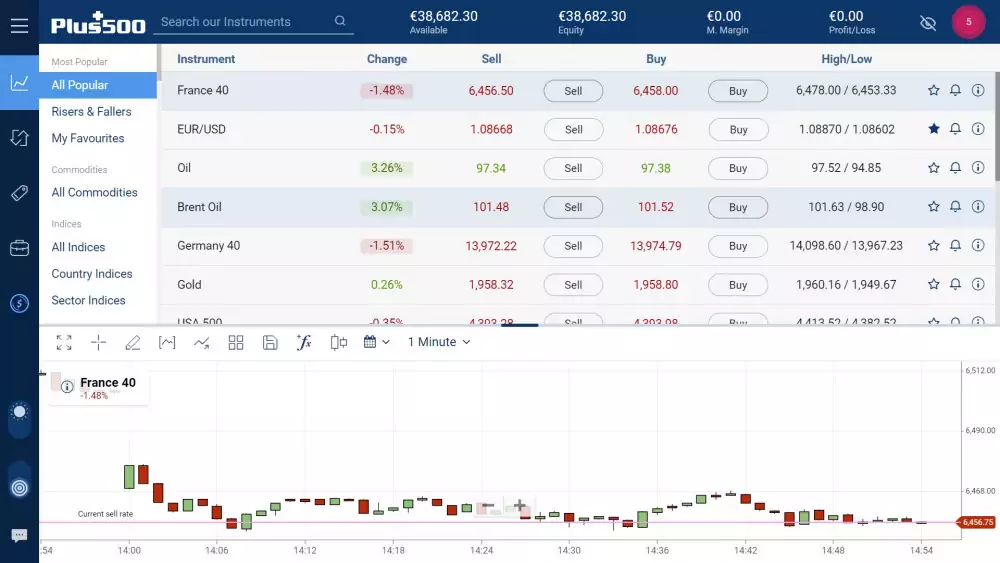 Simply said: Using the Plus500 WebTrader browser platform on your computer and the Plus500 Trading App on your smartphone or iPad doesn't cause any difference when it comes to trading functionalities.
06
Is There an App for Android Devices?
---
Android App
A mobile app is also available for Android users and this can be downloaded directly from Google Play. This platform has been designed specifically for mobile devices so the interface is a little different although the looks and feel are very much similar from the web-based version.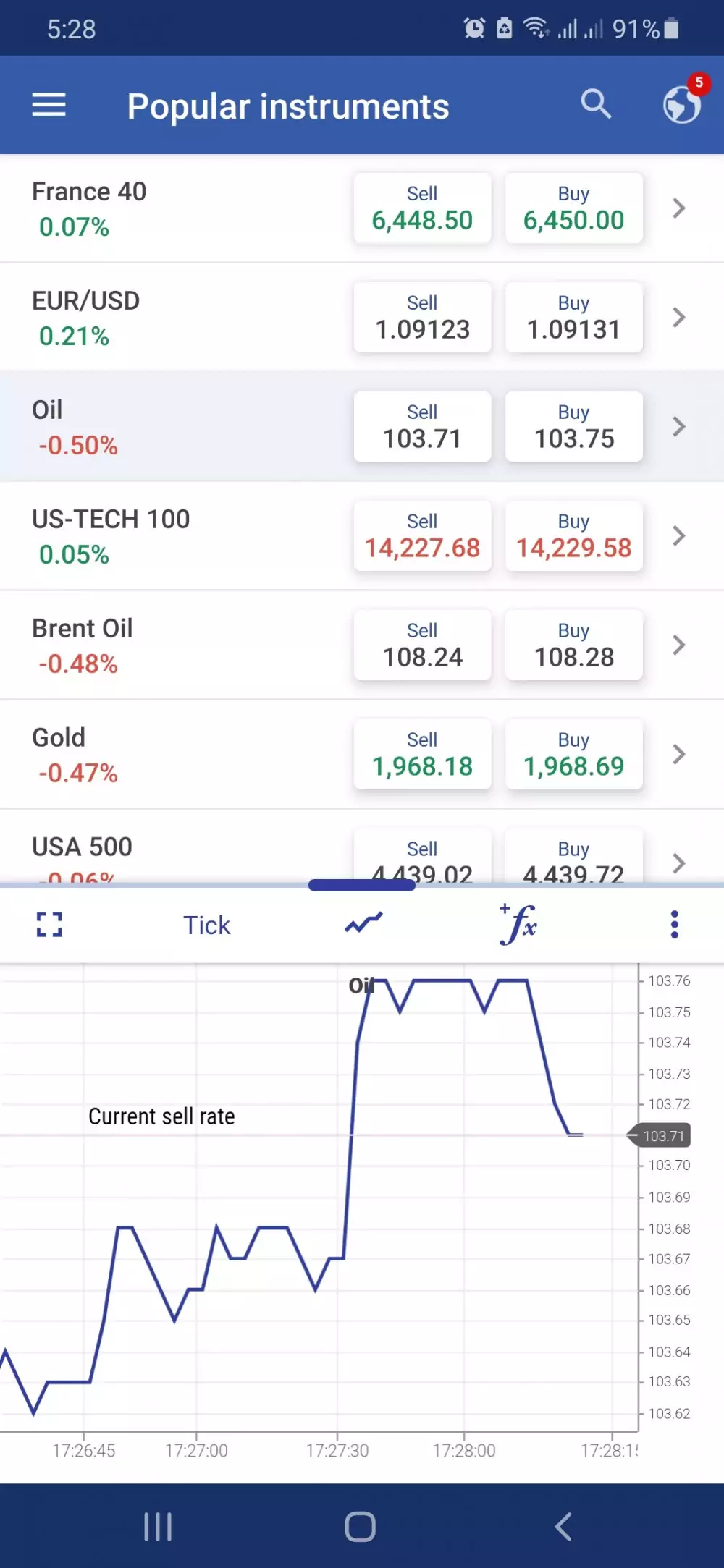 To directly download the Android app, you need to access Play Store on your mobile or visit the Google Play website. In most cases, the app is compatible with various devices but just in case your device is not compatible, you will see a notification there.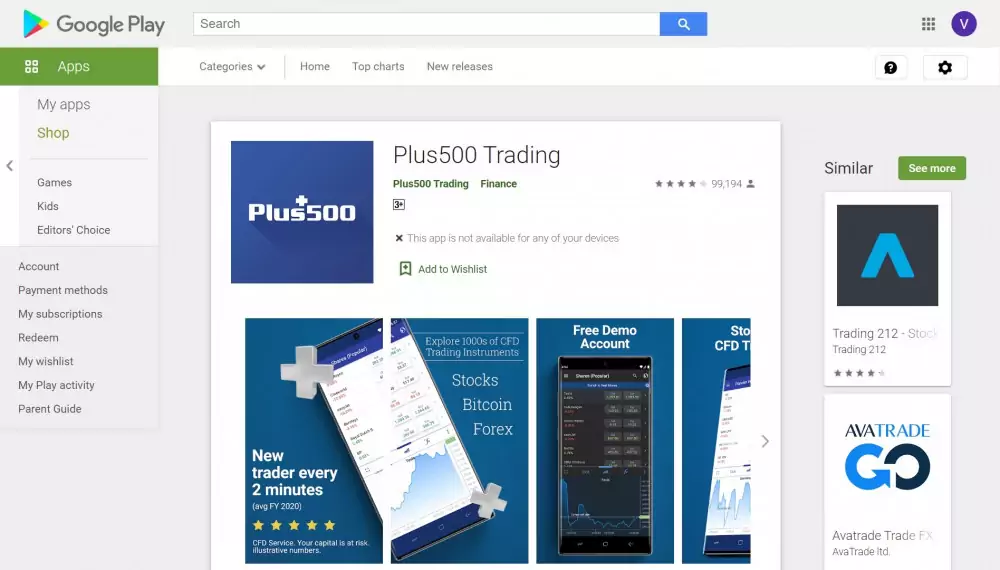 07
What are the Plus500 App Login Security Features?
---
Login Security Features
The Plus500 app is equipped with a 2-step authentication and biometric authentication to ensure a safer login process.
08
Does the Plus500 Trading App's Have Alert Tools?
---
To help traders keep on top of their investments, the Plus500 App has come up with these "alerts" tools:
Traders' Sentiment: This is an alert tool showing % of buyers and sellers of a particular instrument.
An alert that can be set to daily, hourly or even a 5-minute increment for any change in percentage of a specific financial instrument.
An alert system notifying traders of changing conditions of a particular financial instrument's price, trader sentiment and change percentage.
Economic Calendar: This is an alert tool that displays worldwide economic indicators and all financial-related events.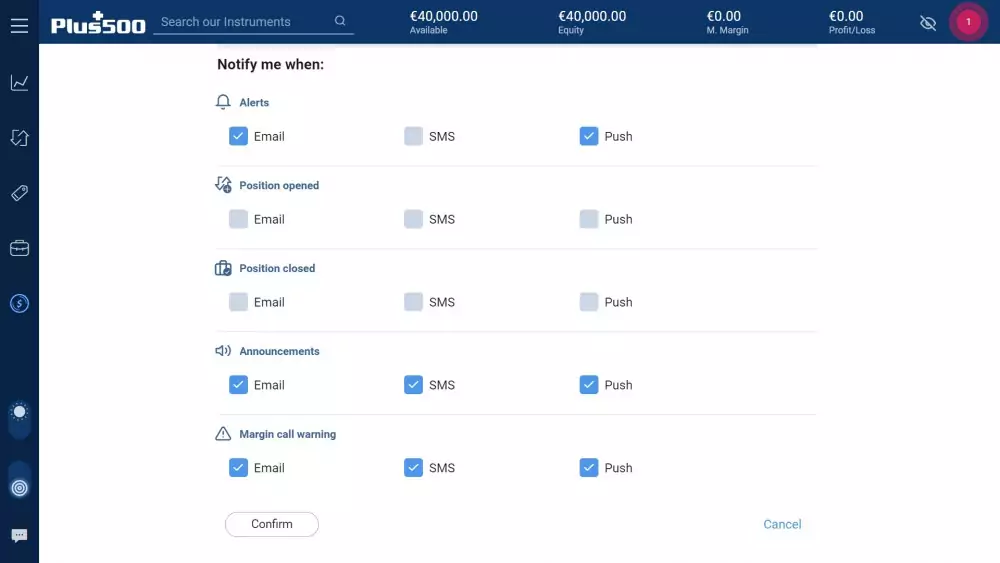 09
What Risk Management Tools are Available?
---
The Plus500 App is also bundled with tools that help traders manage risk when trading.
Close at Profit: You can set this tool when you open a new position or modify an existing position. If you enabled "Close at Profit", you can minimize your loss by setting a specific price at which your position will automatically close, in order to safeguard your profit.
Guaranteed Stop: By adding a "Guaranteed Stop" order to your trading position, you limit your potential losses. Your position will automatically close at a specified price even if the value of the instrument moves significantly against you.
Trailing Stop: You can lock in profits by placing a "Trailing Stop" order. As long as the price moves in your favor, a Trailing Stop will remain open. However, if the price changes direction by a particular amount, this order will close it automatically.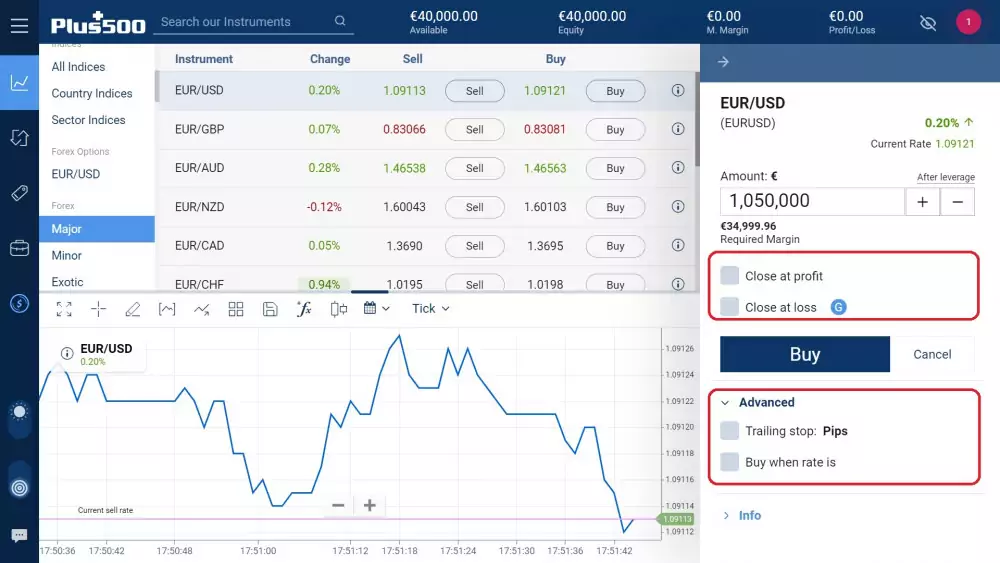 Now that you know more about trading the Plus500 app, it's high time that you open an account to get started.
79% of retail investor accounts lose money when trading CFDs with this provider. You should consider whether you can afford to take the high risk of losing your money.