Last updated: June 8, 2023
Summary
Plus500 has a proprietary and innovative trading platform where you can choose from a wide selection of financial products to invest on. Via this online brokerage, you are provided with multiple options so you have total free reign in using the mobile application version of the platform, accessing it via the internet using browsers and of course, its downloadable version that you can use in your personal computers and laptops. If you're looking for a legitimate online investment platform that has plenty of assets to trade and one that has good customer service, then Plus500 is the best choice.
| Broker | Score | Minimum Deposit | Trade |
| --- | --- | --- | --- |
| | 98 | $100 | |
| | 97 | $10 to $1000 (country-specific) | 77% of retail CFD accounts lose money |
| | 94 | $5 | 74.89% of retail CFD accounts lose money |
Plus500's demo account comes with $50,000 virtual funds and has no expiry so you can test the platform without any risks!
So, do you want to know more about Plus500?
Let's continue exploring the vast potentials, the advantages we get to have with Plus500 in the succeeding sections of this review. They are all meant to keep you wondering and to keep you interested.
02
Should You Trade With Plus500?
---
What We Like + Don't Like
The user-friendly and stable platform is just one of the many things that we liked about this online brokerage. It can be accessed on any browser and you can also install their apps on your PC, tablet or smartphone. It also has very competitive spreads and won't charge you for any commissions when you trade with them. They have also significantly increased the number of tradable instruments that they have and it's currently more than 2,800 so you'll have a lot of markets to choose from. And lastly, there's a demo account that pretty much has the same features as that of a live account so you can test the platform without risking your real capital.
There were also a few things that we didn't like about Plus500. Since it made its own platform, it doesn't have the MetaTrader 4 or 5 so if you're used to its interface, then you'll need to learn how to use Plus500's platforms although it wouldn't really take a lot of time since it's very simple and has a nice UI. If you're from the United States, this broker is not for you because they don't accept US residents.
03
Analysis of Plus500's Main Features
---
Analysis
Pros
Very stable platform
Attractive spreads
Zero commissions
Over 2,000 tradable instruments
Unlimited use of demo account
The simple plain truth is…
This CFD service is not perfect but any one of us can take the lead in learning from these advantages and disadvantages and how these will work for us, not against us.
Continue reading below if you want to know the details!
04
How to Sign-up with Plus500?
---
Registration
In general, Plus500 accepts users from different countries except for few including the USA, Canada, Vietnam and Thailand.
Unfortunately, they don't have a complete list even if you check their website but if you want to make sure if you're country is supported, you just need to access their website and try to register from there.
It will detect your location and you will see a notice if your country is supported or not.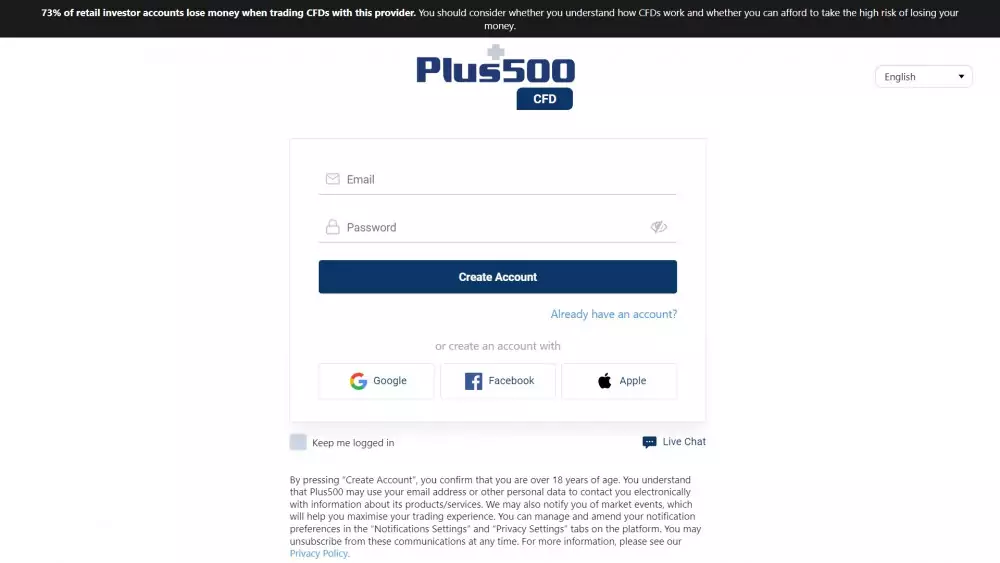 So how to sign-up with Plus500?
Opening a demo account can be done in a minute as it requires only an email and password. A real account, on the other hand, requires filling in a questionnaire, and uploading documents to verify your account and there are also several documents to read.
And you know what?
You can also sign-up using your Facebook or Google account!
This is a great option if you want an easy access to your account so you won't have to enter your email address and password every time you need to login.
Ready to sign-up with Plus500? Then the first step is to accomplish their online registration form to get started!
Accounts
Another unique move that Plus500 have had initiated is that the only kind of account you can open or create with them is an individual account.
Everybody here are all the same. Everybody holding an individual account gets to enjoy the same benefits and perks since there are no tiered memberships.
No fancy words like corporate, premium, and company accounts that makes your head spin, and breaks the coffers, which are in real world terms require large sums of money to open.
This rational simplification enables opening a trading account with Plus500 more attractive, more appealing, making the brokerage company well-liked by many people from all walks of life.
After opening an individual account, you also gain access to the demo account but of course, no one would like staying in this mode all the time. We are in the real world where money makes the world go round so you need to step out of your comfort zones so you'd would want to level up and use the Real Money mode of the platform.
But in order to reach this stage, you need to have your account verified. No one is exempted to undergo this very essential procedure. If you're unable to complete the verification process, you are therefore not allowed to use the Real Money mode.
The following are needed for identity verification:
A government-issued ID or identification document showing all of the itemized information below:

Your photo
Your identity number
Your complete name
Your birth date
The ID/document's expiry date



A document showing proof of residency, conspicuously showing your full name and address. This residential verification document should be issued by a financial institution, utility company, government agency or a judicial authority and can be one of the following:

Bank statement
Credit card statement
Electricity bill
Water or gas bill
Council tax bill
Tax letter
Phone bill
Cable or television services bill
Internet bill
05
Does Plus500 Have a Demo Account?
---
Demo Account
A lot of us are very aware of creating accounts, maybe for a phone app, an online magazine subscription and an avalanche of enticing offers called unlimited usage.
But knowingly at the back of our minds, we already are set for unmet expectations for we already know that there's nothing that can be used for free.
And that's just sad.
Sooner or later, the free use will expire and we have to decide if we really want to shell out some real funds in order to continue using that specific online service.
The cool thing is…
The Plus500 demo account does not expire. You can use it anytime and anywhere you like.
You would not burn hard earned cash when you use your demo account which is funded with $50,000 worth of virtual cash to spend as you try to get familiar with your trading account and get a real-time feel on how you would like to get your ears wet in the world of trading.
And as soon as your funds go down to $200 (or the equivalent currency amount), it will automatically go back to $50,000 and you can use it as many times as you want without any worries that it will expire very soon.
Yes, you read that right. It won't as of the time of writing unlike with others whose demo accounts can only last for one week long only.
Beginners and long-time traders can mine the educational and training benefits of the demo account, for beginners will have the chance to become familiar with the platform.
By doing trades and spending virtual money on trades that use real-time accurate quotes, you can either be conservative or liberal on how you will spend your virtual money on a specific asset.
In addition to that…
If you're a beginner, it is advisable that you focus only on a handful of assets. 2 or 3 is the maximum, for you have to develop yet your trading plans and strategies.
The simple truth is…
Everybody have to start from zero and even experienced traders know that very well.
If you want to test Plus500's platform, you can do so by quickly opening a demo account!
Login
The requirement for logging in is your email and password. Or, you can also login with your Google, Facebook or Apple account.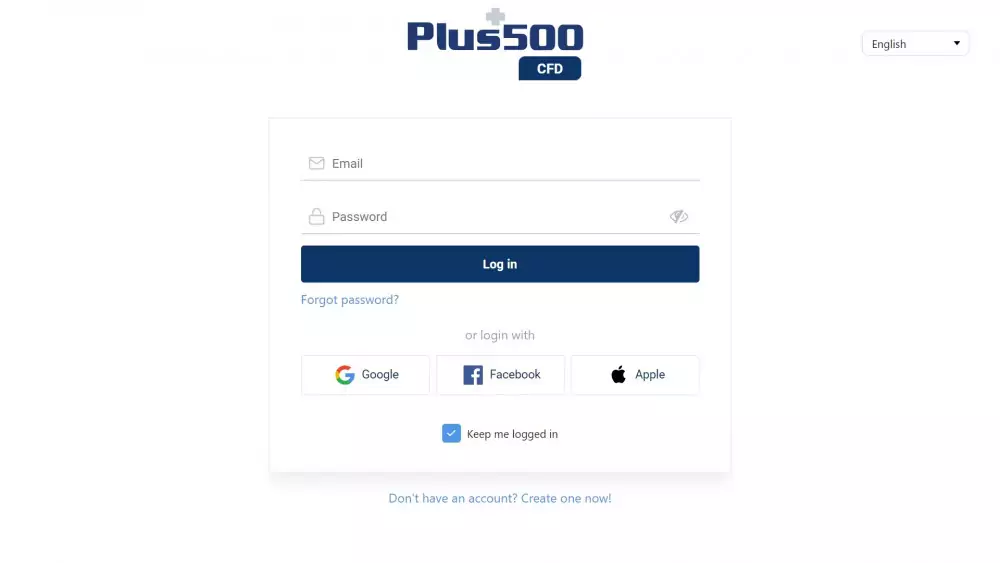 Other than the Plus500 website, you can sign in to your Plus500 trading platform using the Plus500 app on your Android phone, iPhone, iPad and the Windows app. Whatever method you choose, the Plus500 login requirements are basically the same.
Here's the deal: Plus500 recommends the use of only a single trading account so clients can better concentrate on managing their account. Plus500 reserve the right to close additional accounts. However, every case is examined on a different basis. If an additional account is allowed, it should be independently managed plus Plus500 rules disallow transfer of funds between the two trading accounts.
07
How to Make a Deposit?
---
Deposit
Funding your Plus500 account is quick and easy, requiring less time thinking of what to do and how to do it.
In fact…
It is a no fuzz task that could be done using standard payment methods which are truly uncomplicated and simple.
This would not cause you any trading delays nor will it affect your trading plans and strategies. No headaches, nothing to worry about and a no-brainer. That's how ridiculously easy it is.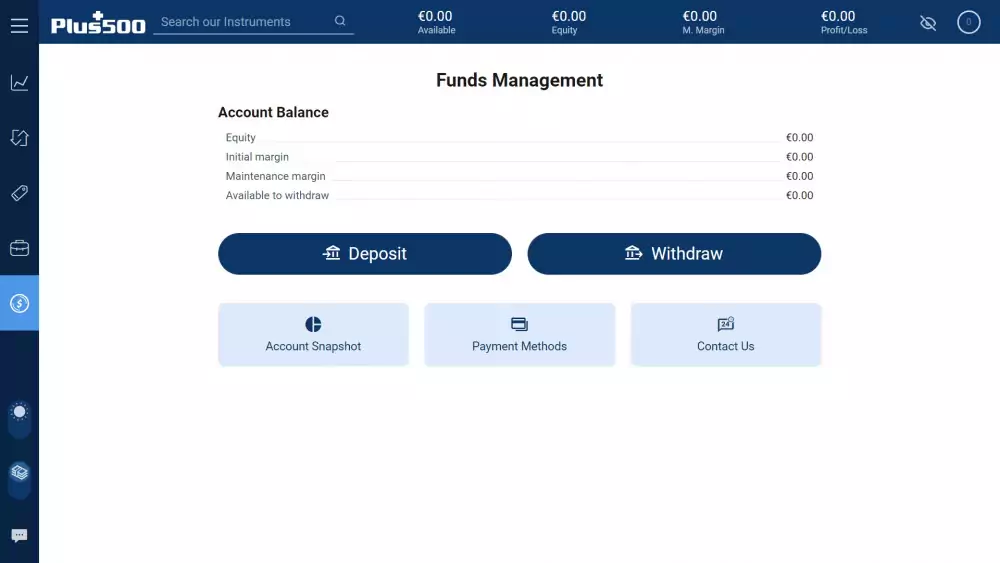 The following are the payment methods that you can use for your Plus500 account:
Debit and credit cards: MasterCard or Visa are accepted. Please take note that there might be some limitations per region when you are using your credit or debit card so, always check first with your respective banks. Additionally, if it's your first time transacting with Plus500, you will be required to submit some documents proving ownership. This is just a one-time verification process.


Digital wallets: PayPal and Skrill are supported. Take note that you must be logged in to your respective digital wallet accounts in order to make the necessary deposits.


Bank transfers: Also known as Wire transfer, this is an established and also a reliable form of funding your Plus500 account. However, compared to other deposit methods which process the funds immediately, the processing time for this payment method may take 1 to 3 business days.

But there's a catch...
Verification of the source of your funds is also required and needed when making a deposit.
To prove the legitimacy of ownership of the funds deposited to your Plus500 trading account, you may be asked to provide a copy or scan of one or more of the following documents (depending on the payment method you used):
Front face of your debit/credit card
Bank/credit card statement

Fact: The above standard verification processes are followed and implemented by financial institutions like banks, insurance companies, indexes among others throughout the globe.
No one is exempted from this strict rule and regulation if you want to engage in the trading business.
Minimum Deposit
It is a known fact that for beginners and newbies alike in the trading industry, money would always be a main concern.
To a certain few, it might not a limited resource but to the rest, to a lot of people, remaining liquid at all times is a daily challenge.
There are other brokerages that require a huge sum of money in setting-up an account thus limiting opportunities to trade for those who are interested to test the waters of the trading business.
Let's face it…
Not everybody owns a business and keeps a good sum of money in their bank accounts.
What makes Plus500 stand out is that the amount of deposit needed to open an account will not require you to borrow nor sell your possessions.
This is to make a point that Plus500 is for traders, beginners or professional traders, allowing people from different walks of life to get a fair share, leveling the brokerage industry's playing field, which for only $100, an amount to set up a trading account is way below the deposit requirements of other brokers.
This is very encouraging and a welcome relief to many who would like to try.
Would this make a dent or difference for serious traders, it may not be an issue for they are very likely to continue depositing after their initial deposits, for their business is to trade.
Please bear in mind that specific deposit channels like PayPal, Debit/Credit Cards and Wire Transfers have their own minimum deposit level.
We highly advise you to talk first or make a phone call to your credit card providers and banks to clear out any misunderstandings prior to funding your account.
Platforms
What distinguishes and sets Plus500 from the rest of their competition is that they developed without the help of any third-party providers their engaging and easy-to-use platform.
To begin with…
In the highly cut-throat and competitive world of brokerages, what is highly admirable with Plus500 is that they independently developed their own set of platform instead of soliciting the services and depend on third-party service providers.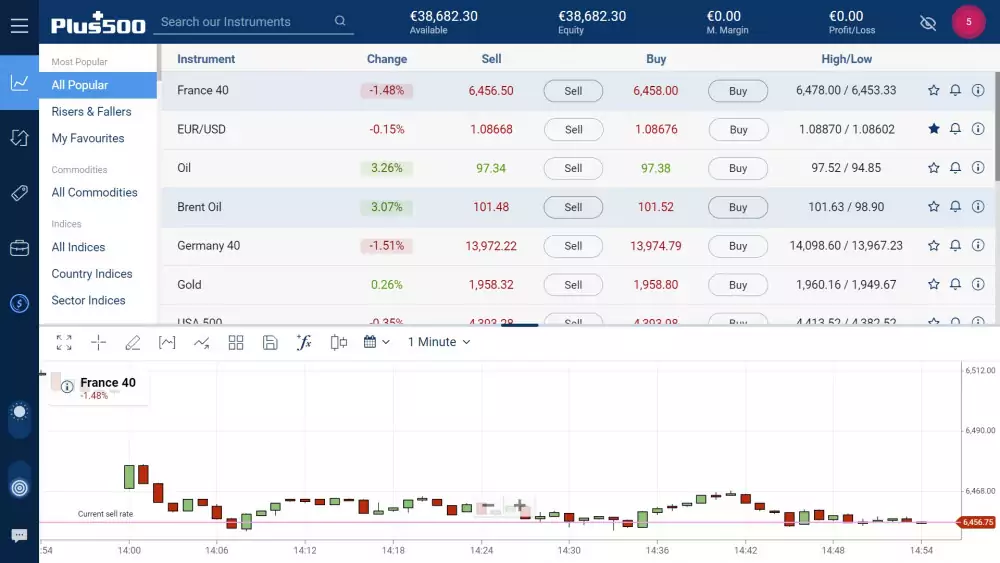 Below are the platforms that they offer as of this writing:
Web Trader
Windows 10 Trader
Android App
iPhone / iPad
Windows Phone App

Just a word of advice:
Ensure that your smartphones or tablets meet the minimum requirements so that you can successfully download the Plus500 app.
Generally, the apps will work on most devices unless your unit is over 10 years old.
Financial institutions are very strict and do always keep their guards high with regards to their platform's stability, confidentiality, proprietary and security.
With Plus500's highly customized platform, they got to receive a whopping perfect score on our chart for this criteria alone.
The look and feel are all seamless and uniform. No way you will get lost every time you switch accessing their platform via the internet, using your personal computer or through your phones like an iPhone or an Android smartphone operating system.
Getting familiar and the ability not to be confused nor get lost on its interface is surely a win-win factor for traders who are taking the trading business seriously.
And another thing…
As you see how the website looks, there are lots of white spaces. Having an off-white background and easy-to-read fonts, their minimalist approach is geared towards to focusing only to trading.
Whether you are in Real Money mode or Demo mode, you get to browse through and scan the whole platform without any interference or any hindrance.
Plus500 has creatively adapted such a minimalist approach for it is very practical and free from trimmings that is highly applicable in websites and platforms alike in the vast worldwide web, mobile applications and downloadable versions of applications.
Just take a look at the three platforms below:
See how similar the themes and the arrangement of the menus are? This makes it convenient for you to switch from one platform to another without the need to adjust or familiarize yourself anymore.
And if that's not enough…
No way the internet-based version nor the downloadable versions will eat up precious system resources.
The platform appears and loads up immediately showing no visible form of slowing down nor distracting glitches making the platform user experience smooth and engaging.
With 4G and 5G internet speeds now available, brokerage companies are highly scrutinized for their real-time and of course their loading speeds and the good news is that Plus500 did not disappoint.
Assets
Who would ever resist if you will be given lots and lots of trading opportunities. The more opportunities you get to explore, the more you can diversify your trading portfolio.
Who would just pass on an opportunity?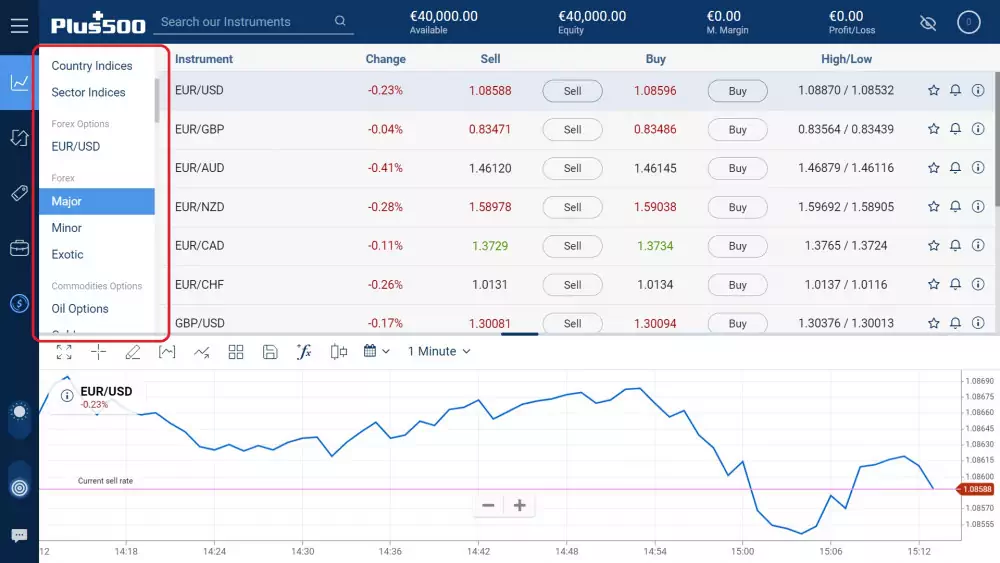 Plus500 has a whole gamut of instruments and they have covered a selection of categories:
Forex
Currencies are staples in the trading industry and Plus500 offers the most popular currency pairings.
This includes the most liquid and heavily traded with the likes of EUR/USD, USD/JPY, GBP/USD, USD/CHF, AUD/USD, USD/CAD and NZD/USD.
They also offer other currency pairings which you can explore freely on their platform.
Commodities
With Plus500, there are a wide selection of commodities to choose from.
You can invest not only on the most popular ones like oil but other varieties such as Brent oil, heating oil, gasoline, low sulphur gasoil and natural gas.
They also offer gold and other precious metals including silver, copper and palladium.
You can also trade on soft commodities such as coffee, corn, cocoa, soybeans, sugar and wheat.
Indices
Their indices have 2 groups:
The Country Indices category has most of the popular international indices including Germany 30, USA 500, USA 30, Japan 225, ASX 200, Netherlands 25, Swiss 20 and US-TECH 100.


On the other hand, the Sector Indices is a unique asset type which is not offered by other brokers out there. These specialized indices track the performance of specific sectors so you can spread out your potential profit/loss via a single instrument rather than selecting stocks. These are currently the available sector indices from Plus500:



Cannabis Stock Index
UK Brexit High 50 Index
Crypto 10 Index
China Internet Giants Index
NYSE FANG+ Index
Lithium & Battery Index
Gaming Giants Index
Real Estate Giants Index
Shares
You can trade shares from all popular markets in the UK, USA, Germany, Italy, Hong Kong, Japan, Ireland, Australia, Singapore, Spain, Austria and more.
In addition to that…
You can also invest on popular cannabis shares including Aurora Cannabis, Tilray, Cronos Group, GW Pharmaceuticals, Canopy Growth and Aphria.
Cryptocurrencies
Via Plus500, you can trade on popular cryptocurrencies (Availability subject to regulations - cryptocurrencies are not available to retail clients in the UK) including Bitcoin, Ethereum, NEO, Litecoin, Ripple XRP, Stellar, EOS, Bitcoin Cash ABC, Cardano, Tron and Monero with leverage.
Take note that this is different from buying/selling cryptocurrencies from an exchange.
Options
You can execute a Call and Put options on various indices, shares and commodities and take advantage of the market volatilities via this category.
ETFs
Trading on the most popular Exchange Traded Funds (ETFs) on commodities and indices is possible via this CFD service.
For sure…
With such a vast array of categories to choose from, you will never go wrong with Plus500's 2500+ instruments, thus enlarging your scope, widening your trading potential.
Spreads
A pip is an acronym for "percentage in point" and is defined as the difference between the prices of a currency pair. These changes may be for the advantage of one currency at the expense of the other or vice versa.
Pip values are very important every time you want to enter into Forex trading. The higher the pip, the higher your chances you earn more from a successful trade so always remember to put in your mind the right timing whenever you decide that you want to enter and exit a Forex trade.
Plus500's spreads are considered to be tight and in to be in the upper class amongst its competition in the brokerage industry.
Fees
Plus500 offers the majority of its services to its users for free. For the few transactions where the Plus500 fees are charged, it is all made transparent for users before they sign up for a trading account — in short, there are no hidden fees. The majority of Plus500 earnings comes from fees of bid and ask spreads, which are all based on internal monitoring.
Plus500 earns compensation through the Bid/Ask (Buy/Sell) spread when a trader opens a position. Basically, a trader pays the spread and the amount of the spread is already included in the quoted rates of the financial instrument and is not an additional fee charged to Plus500 traders.
Spreads are calculated by subtracting the selling price from the buying price of the financial instrument.
Quotes and Prices
Positions especially in live trading are very essential. It is the life-blood of traders, especially the very serious live traders.
Moreover…
Positions determine whether a trade is a success or a failure, thus hand in hand with positions quoting accuracy must at all times be dependable.
There's no if's or but's here. No one wants to be scammed, duped nor fooled by giving you old and inaccurate information.
Get this: The most in-demand stocks get to swing up and down in a very short span of time and the delay or much worse, the absence of live quotes would prove disastrous to sane and logically minded live traders.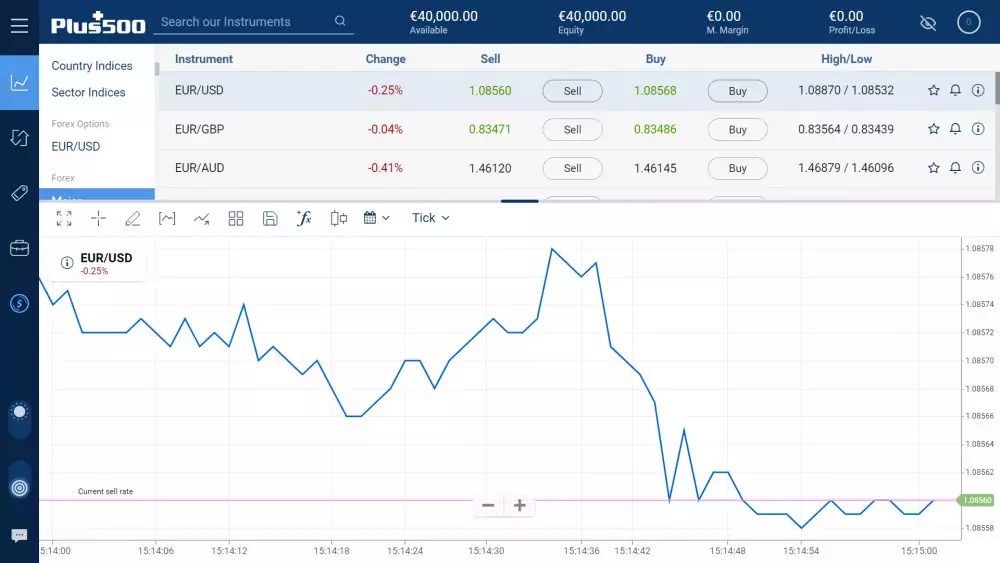 The good news is…
Plus500 is at the forefront of technology, thus real-time quotes are provided day in and day out and there are no re-quotes.
Price movements or so called dramatic price fluctuations is a common fare in the financial markets so better stick with Plus500 who has your back for they really guard their trustworthiness and credibility in terms of quote accuracy.
08
How to Withdraw Funds?
---
Withdrawal
We cannot discount that availability of funds is one of the most fundamental requirements in live trading and when this fund which are rightfully ours do not come at its most appropriate time, we get frustrated.
And who wouldn't be?
Unfortunately, as practiced by other brokers, we may not really know the underlying reasons and circumstances on why some brokers tend to intentionally delay the processing of withdrawals that clients have had requested.
This practice is unacceptable and unfair to whoever hear and read this kind of malpractice and injustice, no one has the right hold on to and be in possession of other people's money.
When it comes to withdrawals, Plus500 can practically erase this kind of doubt for its potential and loyal clients.
With the standard turn-around time of 1 to 3 working days, withdrawal requests are processed on time. It may not be the fastest but it's still a quick way of handling withdrawal requests.
Trustworthiness is a badge of honor for Plus500 knowingly and proactively assuring its clientele will get to receive the money that are rightfully and truly owned by the respective clients.
At this point, you will realize how Plus500 takes their clients seriously.
Customer Service
Questions, queries and inquiries all mean the same and are waiting for answers, and usually the need to be immediate.
Nothing sucks when you discover that the well-written and well-intentioned email you seriously pondered upon, thinking that your query will get to receive the utmost attention was simply set aside or on a worst case scenario, gets to be totally ignored.
No one would let go, especially when it involves money until they get to receive the answer they truly deserve.
Knowing that a company you are patronizing and accustomed with is really taking you seriously is a great motivation in continuing business with.
This will surely mean a lot to you. To be given the right answer at the right time without any unreasonable delays and that's how Plus500's customer support is up to the task as they truly met our expectations.
Plus500 can be reached using two channels: though email, live chat and WhatsApp.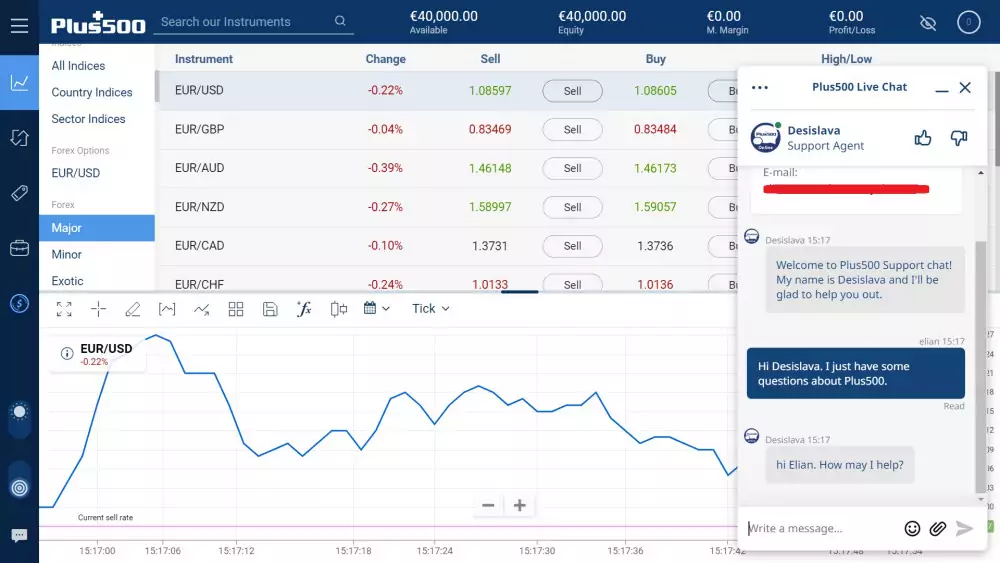 So how was it?
Emails that are queued get to be answered averagely within ten minutes. Based on our personal experience, we were able to exchange emails with their support team within such timeframe.
There's also the option to get in touch with them via live chat. This however is only accessible when you're logged in to the platform. It is conveniently placed near the lower right corner of the screen just as how most live chat interfaces are placed.
From both channels, we find their responses free from any form of gibberish, giving us concise and truthful answers to our queries, making the experience a breeze as we started and ended our discussion.
We could say that this service is of the highest caliber. The high quality customer service that we were looking for and we were pleasantly surprised at how they diligently attended to our questions and professionally and efficiently catered to us.
The downside? There is no phone support but this is actually a minor issue for us since the other options are a lot more convenient to use and won't cost you anything as compared to international phone calls.
But the silver lining is:
You can also take a look at their FAQ section. It's a very informational page and has detailed answers to most of the client concerns or issues so it's worth checking out.
Reputation
Plus500 is a CFD service that was founded in 2008. It is regulated and controlled by financial authorities fully assuring its traders that they are partnering in the trading business a company that has passed and strictly complied with their rules, regulations and guidelines.
Additionally…
Plus500 UK is listed on the Main Market of the London Stock Exchange which is an indication that they are a huge company.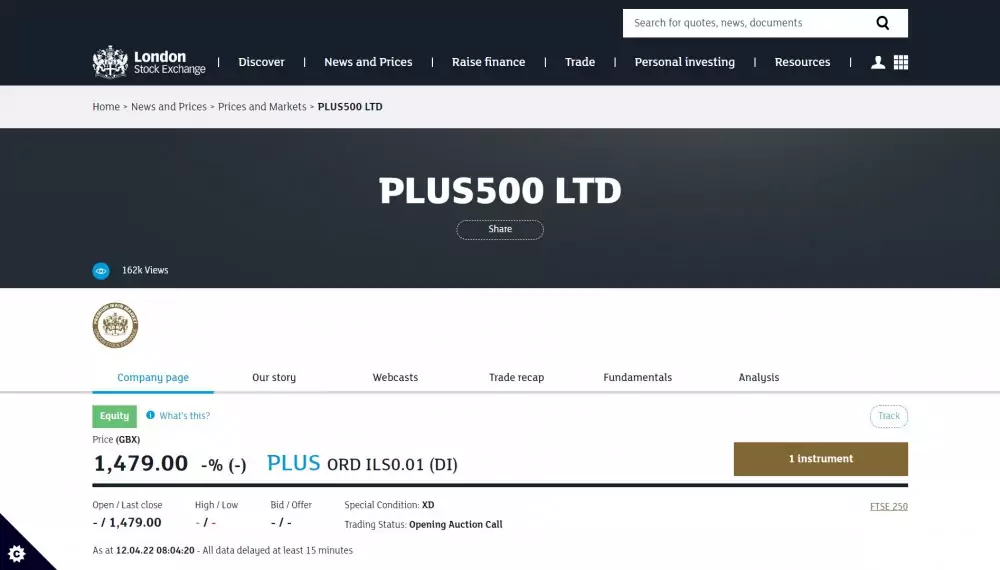 Aside from this, they are also praised by a lot of traders for having competitive spreads and no commissions on any transactions.
Here's a fact: Some of their biggest competitors charge different commissions for trading on different share categories depending on the country or market but with Plus500, their clients can trade with 0 commissions.
This can be easily proven by the good number of positive feedbacks that you can find on dedicated forex trading sites, forums and reviews.
Credibility is a serious business with Plus500 and they will not put into waste a decade long pursuit of excellence and stability.
Regulation
Knowing that a broker is regulated means that they are operating under the strict guidelines that were set by these financial authorities and the good news is that Plus500 has several licenses:
Plus500CY Ltd authorized & regulated by CySEC (#250/14).
Plus500UK Ltd authorised & regulated by the FCA (#509909).
Plus500SG Pte Ltd, licensed by the MAS (#CMS100648-1) and IE Singapore (#PLUS/CBL/2018).
Plus500AU Pty Ltd (ACN 153301681), licensed by:
ASIC in Australia, AFSL #417727, FMA in New Zealand, FSP #486026; Authorised Financial Services Provider in South Africa, FSP #47546. You do not own or have any rights to the underlying assets. Please refer to the Disclosure documents available on the website.
Plus500SEY Ltd is authorised and regulated by the Seychelles Financial Services Authority (Licence No. SD039).
User Reviews
Below are some of the verified comments from actual users of Plus500:
16/11/2022
⭐⭐⭐⭐⭐
David C. says:
I am a long-time trader and once in a while I need help with my trades. I always keep my eyes peeled for new, easy-to-use trading sites and Plus500 has been the best one yet! They have an especially well-designed mobile platform, which makes it easy to trade on the go.
28/10/2022
⭐⭐⭐⭐
Carol B. says:
Plus500 is the best platform for investors who want to regularly trade CFDs or contracts for difference. They offer a large selection of commodities, currencies and indices and the spreads are really competitive. Plus500 is also one of the few brokers that offers both demo and live trading accounts so you can trade without risk.
02/10/2022
⭐⭐⭐⭐⭐
Ernest L. says:
I've been an investor for the past year and Plus500 has been great so far. The customer service is excellent, they offer variety of assets, they're regulated by top-tier authorities like FCA & CySec, and their fees are also incredible. I'm already up 600% and it's all thanks to Plus500.
Conclusion
With its more than a decade of operation and an established reputation, which is a great feat by itself, Plus500 managed to attract a good number of followers all across the globe with an advanced platform that was honed and developed by their in house talents.
This suite of platforms are stable and free from any form of interference and influence from outside parties and not to forget their dynamic spreads and their more than ample choices of 2500 plus instruments.
Though Plus500 is a very user-friendly platform, CFDs are complex financial products thus the Plus500 platform is suitable for experienced traders only.
Most importantly…
No one could simply ignore that and of course, their praise-worthy professionalism and efficient customer support team. This is such a breath of fresh air in a world where excellent customer service is seriously hard to find like a pin on a ton of haystack.
Plus500 earned an overall rating of 90/100 based on this comprehensive test. The next step is to open an account!
79% of retail investor accounts lose money when trading CFDs with this provider. You should consider whether you can afford to take the high risk of losing your money.