Last updated: May 23, 2023
Summary
Pepperstone has most of the top features that traders are looking for in an ideal broker. It has an increasing variety of instruments and products, which has dramatically grown from just a few hundreds to more than 1200, a diverse selection of platforms with plugins, tools, and social and copy trading features. When it comes to client support, they have well-trained agents that are ready to assist and are available 24/7. Best of all, you can open an account and deposit whatever amount you prefer since there's no minimum deposit requirement which we believe is a great deal especially for those who want to start trading with a small capital.
You can test out Pepperstone's platforms without any risks by using their demo account. Opening one is quick and easy.
We've updated this review to a more comprehensive and detailed one so that you will have a better idea if the services offered by this broker and its features are matched to your trading preferences and risk tolerance.
02
Should You Trade With Pepperstone?
---
What We Like + Don't Like
The ease of opening an account is among the many reasons why we like this brokerage. Another advantage of Pepperstone is that it has a license from several regulatory bodies including the CySEC, FCA and many more. Making a deposit is also very convenient since it supports a wide variety of payment methods and with no minimum deposit requirement (although they recommend that you start with $200), this gives you more flexibility on how much capital you'd like to start with to invest on over 1200 markets via their platforms. Their spreads are also quite low and trade execution is really fast. Lastly, it only takes a day for processing withdrawal requests so you can expect to get the money in no time.
On the other hand...
We're a bit unhappy with the demo account having an expiration of just 30 days so be sure to use this feature especially if you're a newbie. If you a resident of the United States then you will not be able to open an account with this broker since they don't accept US-based traders.
03
Analysis of Pepperstone's Main Features
---
Analysis

So what are you waiting for? Continue reading this updated review to know more about Pepperstone!
Pros
Ultra low spreads
1-day withdrawal processing
Variety of supported payment methods
Regulated
Over 1200 tradable instruments
Cons
USA traders not accepted
Demo account valid only for 30 days
No copy or social trading
04
How to Sign-up with Pepperstone?
---
Registration
In order to trade with this broker, you need to register for an account. Opening one is FREE and does not cost a thing. During the initial sign-up process, you will be asked of the following:
Email address
Account type
Country of residence
Password

Another alternative and a shortcut is to sign-up using your Facebook, Google or LinkedIn account. Keep in mind that using this option will officially link your account to Pepperstone. This is a good option if you're not a fan of entering your login details all the time.
Now the question, is my country supported?
The thing is, they don't have a specific list of countries which they don't support but what their website does is that will detect your location. It will then show a notification whether your country is restricted. If it's not, then you will see the registration form active when you try to sign-up for an account.
Note: Be sure to open an account without using a virtual private network (VPN) so the website will know your actual location.
Ready to open an account with Pepperstone? It will only take just a few minutes to complete the registration process.
Accounts
During the sign-up process, you will already be asked regarding the type of account that you'd like to open and you will be given the following options:
Joint
Individual
Company
Trust
Trust Corporate
Introducing Broker
Demo

Each account type has its own features and benefits. The retail traders, the Individual account is the best option since you will be trading with an account that is registered under your name.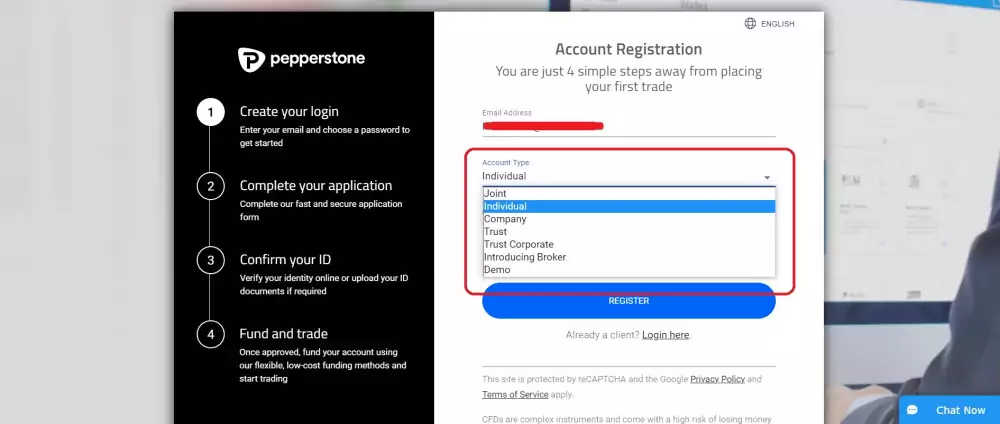 Now what about bonuses?
The thing is, Pepperstone does not offer them. This can sound unfortunate but the reason for this is that they are in strict compliance with financial regulators that are imposing rules on giving such promotions or incentives.
05
Does Pepperstone Have a Demo Account?
---
Demo Account
The platform is best learned through opening a demo account when you're new to trading or want to practice your trading methods in a risk-free environment.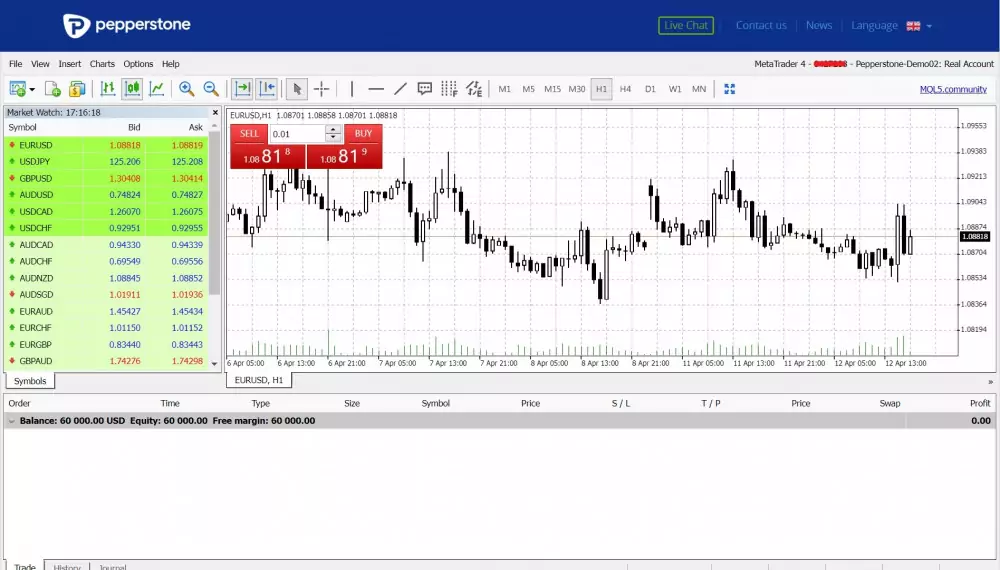 When you have decided which Pepperstone demo account to use, click the link on its website to start the download of the trading platform and use the login information supplied for you to begin trading. If you have started the registration procedure for your Pepperstone demo account but find yourself with no time to complete it, don't panic. You may set up a simple email reminder to finish at a later time.
Login
The basic way to login to access your Pepperstone account is by entering your registered email address and the password.

However, if you're the kind of user who hates recalling your login credentials, then you can opt for signing in via the following accounts:

This is a great alternative and in fact, now more common since more users now prefer to just link their third party accounts to avoid the hassles of entering their sign-in details. It's a lot more convenient and a faster option.
07
How to Make a Deposit?
---
Deposit
Good news:
Pepperstone accepts a selection of banking methods so funding the account is certainly not an issue.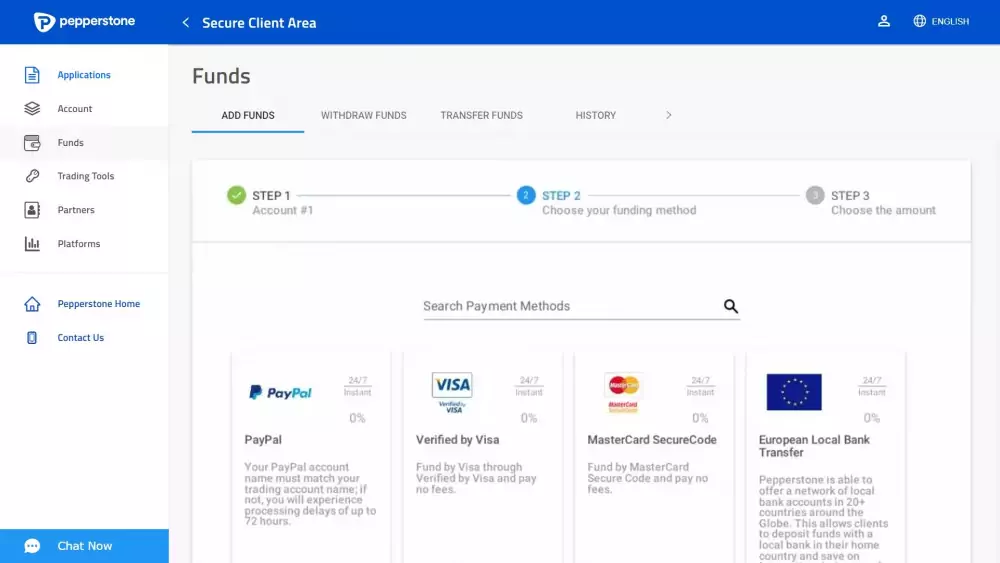 Among the supported payment systems include the following:
Credit and debit cards (Visa and MasterCard)
PayPal
POLi
China Union Pay
Bank Transfer (Domestic and International)
BPay
Skrill (Moneybookers)
Neteller
EMPESA
Minimum Deposit
What's great about Pepperstone is that there is no minimum deposit to open an account although they recommend to start with $200.
So how does it compare?
Having a broker with no minimum deposit requirement gives you more flexibility and freedom to transfer whatever amount you wish into your account. You'll be able to control the capital that you'd like to use for investing.
Platforms
As of this writing, there are a total of 11 platforms so can conveniently trade your way and whenever you want.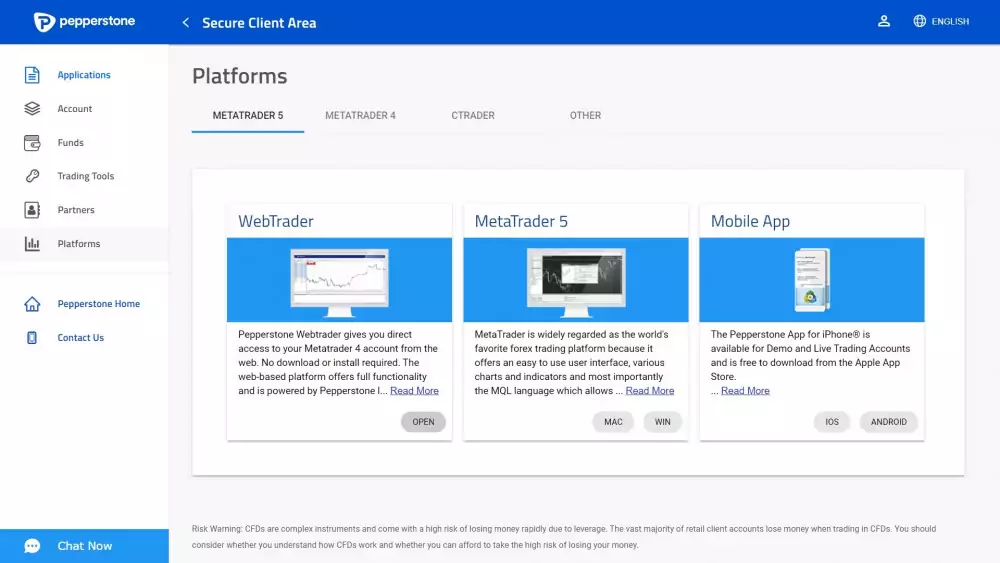 The Pepperstone MT4 has the standard MetaTrader 4 for Windows, MetaTrader 4 for Mac, MetaTrader 5, WebTrader and mobile applications for devices running on iPhone, Android and iPad or Tablet.
These all come with Smart Trader Tools.
And there's more…
There's also the Pepperstone cTrader platform which is available in three different versions:
cTrader WebTrader
cTrader cAlgo
cTrader Mobile

Pepperstone have smartly made the layout of the platforms well-organized and very easy to navigate.
How is that so? You can easily track your positions, monitor the instrument prices and access all the tools that you need on the main trading screen.
Assets
Currently they have more than 1200 tradable assets that includes forex, gold, oil, CFDs and many more.

And the best part?
These can all be accessed across all of their multiple platforms allowing you to explore different markets on almost any device.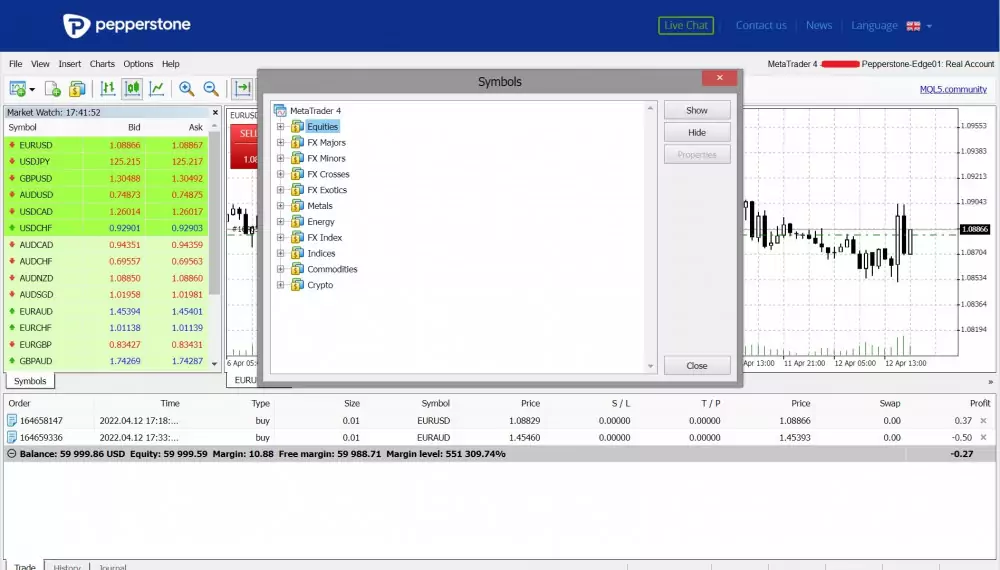 The following asset classes are currently available and can be traded as CFDs (contract for difference) only:
Indices
In this asset class, you can find the most common country indices counting the Netherlands 25, Germany 30, USA 500, US-TECH 100 and Japan 225 amongst many others.
Forex
Via their MetaTrader platforms, you'll be able to find all the currency pair types that you can imagine (60+ choices):
Majors (EUR/USD, USD/JPY, GBP/USD, USD/CHF, AUD/USD and USD/CAD)
Crosses (EUR/CHF, EUD/CAD, GBP/ZHF, NZD/JPY, CAD/JPY and many more)
Exotics (EUR/TRY, USD/TRY, USD/SEK, USD/NOK, USD/DKK, USD/HKD, USD/MXN and many more)
Commodities
You have the choice to invest in both type of commodities: Hard and Soft.
Soft commodities include sugar, cocoa, coffee, corn whereas hard commodities include copper, oil, gold, platinum, silver, etc.
Shares
You can place a sell or buy position on particular stocks from different countries counting Germany, USA, UK, Italy, Hong Kong, Japan, Australia, Ireland, Singapore, etc.
In comparison…
The other services also provide some stocks, however, they are mostly from a few countries only. This is because they have shares in the markets of UK, US and some European countries.
Cryptocurrencies
This newest category of assets has the option to sell or buy CFD order through digital currencies such as Ethereum, Bitcoin, NEO, Ripple XRP, Litecoin, Monero, EOS, Stellar, Bitcoin Cash ABC, Tron, and Cardano.
ETFs
You'll find contracts of over 80 choices for commodities and indices.
Spreads
Pepperstone spreads usually start at 0 pips and is entirely flexible, making it one of the world's major FX brokers on the AUD/USD pair. It shows how Pepperstone appreciates its customer's time and money. Pepperstone wanted to deliver institutional-level resources to individual traders by minimizing the costs of providing an excellent service that satisfies customers' needs.
The spreads on the MetaTrader 4 platform varies but even during liquid times, it can still go for as low as 0 pips even on major currency pairs like the EURUSD.
Here's the deal: When it comes to the Pepperstone spreads, you may expect a lot of differences, just like with other brokers. The basic concept remains the same, but the types vary significantly based on the market you're trading in at the moment.
Fees
The Pepperstone trading fees use a fixed commission per transaction specified by the broker. There are times when the strength of buy and sell orders is in high demand, causing the spread or price difference to drop to zero; however, this does not always mean that the spread is 0 pips.
Quotes and Prices
Even if there is high liquidity, the quotes displayed by their platforms are in real time based on the several tests that were done.
Trade executions were also fast, regardless if there is volatility in the market or not.
08
How to Withdraw Funds?
---
Withdrawal
Take note:
You need to fill-up a withdrawal form if you want to cash-out your funds and if you will be able to send it before 21:00 GMT (07:00 AEST), the request will be processed on the same day.
Otherwise, it will be done on the next business day.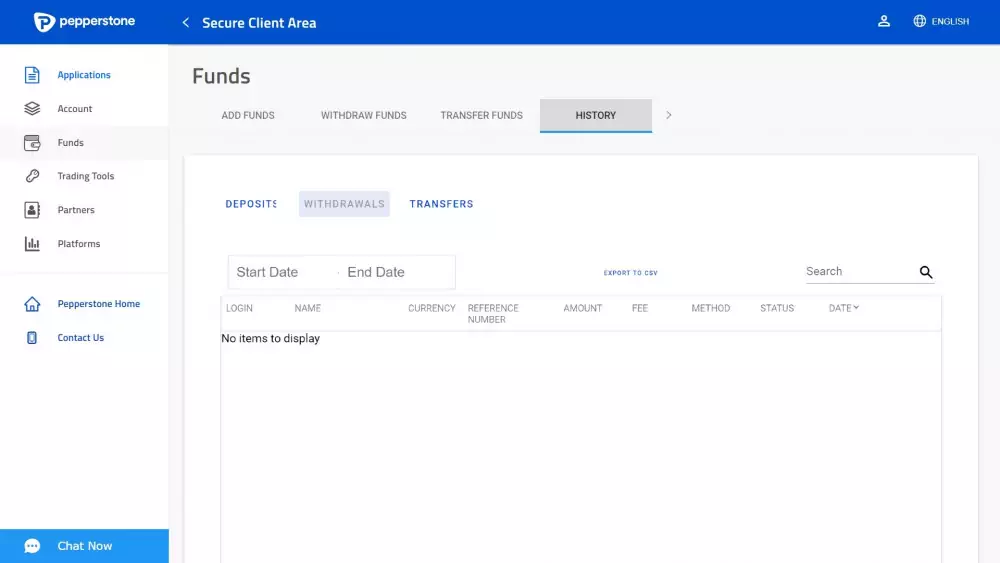 Customer Service
Let's not forget:
One of the most important concerns in choosing a particular broker is dependability in customer service.
They must be able to deliver everything that you need from them and if they go the extra mile just to attend to your requirements and answer your queries, that's even better!
We have tried to contact Pepperstone by sending a list of inquiries to their email support, and this department was able to answer them straight away with a fast response time.
The thing is…
Usually, it would take around a day or the next day to get an answer from the email support of the majority of brokers which is why Pepperstone's reply time via this channel is way faster.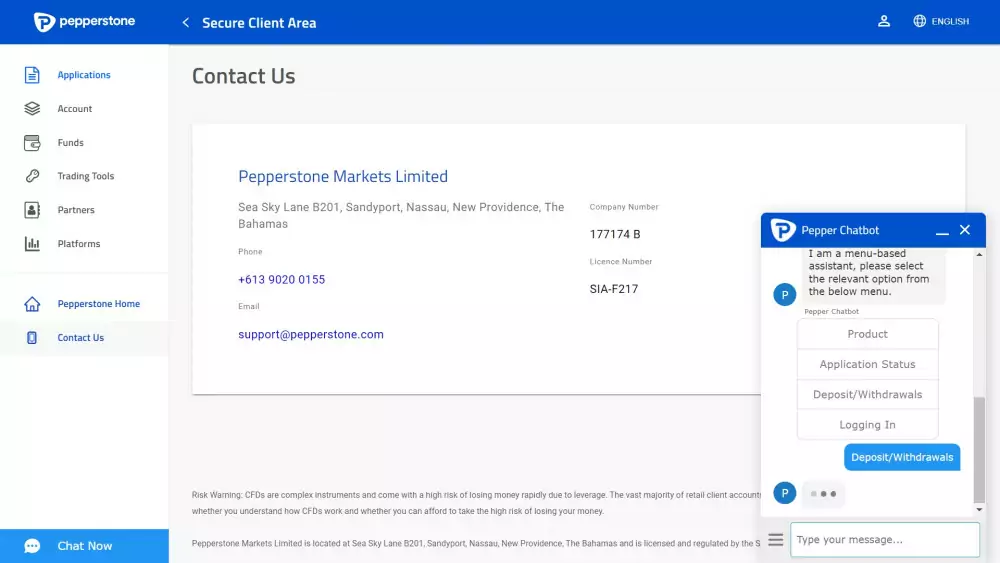 The live chat option is also a great option to get in touch with their agents. Their responses are very quick and they don't go around the bush to give you what you want.
And even if you're not using the platform or not even logged in, you can access this channel directly from their website.
So it all adds up to this…
Pepperstone has the kind of client service that we are looking for and we were really amazed at how effective their support team is.
The customer support service of Pepperstone is very quick, sincere and honest. They are well-trained and can answer all of your questions and within no time.
Reputation
Based on our extensive profiling of this brokerage, Pepperstone's reputation remains strong in many countries.
Aside from this…
They have been recognized by many trusted award-giving bodies. Here are some of the awards that they received over the past few years:
2021 InvestinGoal Best Broker Awards
2019 Professional Trader Awards
2019 Global Forex Awards
2018 Investment Trends Australia Leverage Trading Report Winner
2018 UK Forex Awards
2017 Australia FX Report Investment Trends Winner

Additionally, we were able to find a lot of positive user comments about the Pepperstone brand. Sure, there were a mix of good and bad comments but the positive ones were more common with most of them talking about the tight spreads and user-friendly platform.
As per the latest Google Trends statistics in Australia, Pepperstone has significant interest from users and it managed to beat known brands such as Plus500 and AvaTrade in several periods for the past 12 months.
The latest Google Trends stats in the UK also revealed that British traders also have increased interest on Pepperstone although Plus500 remains to be more popular in this country. It managed to beat AvaTrade on most periods for the past 12 months.
Regulation
Pepperstone Group has an active license from the following regulatory bodies:
Australian Securities and Investments Commission (ASIC)
Financial Conduct Authority (FCA)
Securities Commission of The Bahamas (SCB)
Cyprus Securities and Exchange Commission (CySEC)
DFSA (Dubai Financial Services Authority)
BaFin (Federal Financial Supervisory Authority)
Capital Markets Authority (CMA)

Being a multi-regulated firm is a solid indication that they are serious in complying with the requirement of these strict financial watchdogs. Given that they have all these licenses makes them even more credible and trusted.
User Reviews
Below are some of the verified comments from actual users of Pepperstone:
19/05/2023
⭐⭐⭐⭐⭐
June O. says:
I needed to open up an account with Pepperstone and was pleasantly surprised how easy the process was. All I had to do was talk to one of their representatives and they walked me through the entire process. The account opening took a minute, the whole thing is fully digital, and customer service provided quick responses to all my questions.
21/04/2023
⭐⭐⭐⭐
Alex C. says:
I've been trading on Pepperstone for over a year now and it's the best experience I've ever had. Previously I tried other brokers, but they were all make you jump through too many hoops. Pepperstone is transparent and straightforward with their offers, which makes it so much easier to trade.
07/02/2023
⭐⭐⭐⭐⭐
Jean B. says:
I would like to recommend Pepperstone to everyone. I came across this broker when I was just starting out and it gave me all the help and support I needed to succeed in my trading. They offer a selection of platforms, so that you can choose which one works best for your needs.
Conclusion
Pepperstone has a suite of platforms that provides access to low-cost pricing with fast execution and exceptional trading conditions.
Their compliance with financial regulators and the numerous awards and recognitions that they have will give you peace of mind that you are trading with a reliable brokerage.
The personalized customer service is also commendable. This gives you an assurance that there is always a helpline that you can contact immediately, something that most brokerage nowadays lack and fail to meet.
To sum it all up…
Pepperstone is the online forex and CFD broker that has it all. Simply say, if you want a good brand, then this is certainly the one to choose.
Now that you got all the information that you need, you're more than ready to trade with Pepperstone so sign-up for an account now!
CFDs are complex instruments and come with a high risk of losing money rapidly due to leverage. Between 74-89 % of retail investor accounts lose money when trading CFDs. You should consider whether you understand how CFDs work and whether you can afford to take the high risk of losing your money.