Last updated: June 8, 2023
Introduction
InstaForex was founded in 2007 and since the start of their operations they have been able to acquire more than 7,000,000 individual and corporate customers.
They have prioritized the importance in providing a full range of services to their clients starting from registration up to the withdrawal process.
Sounds very promising but are they able to deliver?
Interested to know more about this broker?
In this review, we'll evaluate all the important categories and see if InstaForex is able to meet the high standards that have been set by our financial experts.
Don't worry because this isn't going to be a dull and boring review.
We'll focus on all the essential details without making it too lengthy or difficult because we know that you simply want to find out if this broker can be trusted and reliable.
In addition to that…
We'll give you a summary of all the pros and the cons based on our actual tests.
So are you ready? If you're set, then let's begin!
| Broker | Score | Minimum Deposit | Trade |
| --- | --- | --- | --- |
| | 98 | $100 | |
| | 97 | $10 to $1000 (country-specific) | 77% of retail CFD accounts lose money |
| | 94 | $5 | 74.89% of retail CFD accounts lose money |
Pros
Over 300 tradable instruments
No deposit bonus for new clients
Unique regularly updated Forex Analytics
Leverage from 1:1 to 1:1000
Award-winning brand
Cons
Doesn't accept US traders
$10 fee for inactive accounts
02
How to Sign-up with InstaForex?
---
Registration
There are 3 parts of the registration process but in its entirety, it really doesn't take that long. This will probably take around just a few minutes to fully accomplish.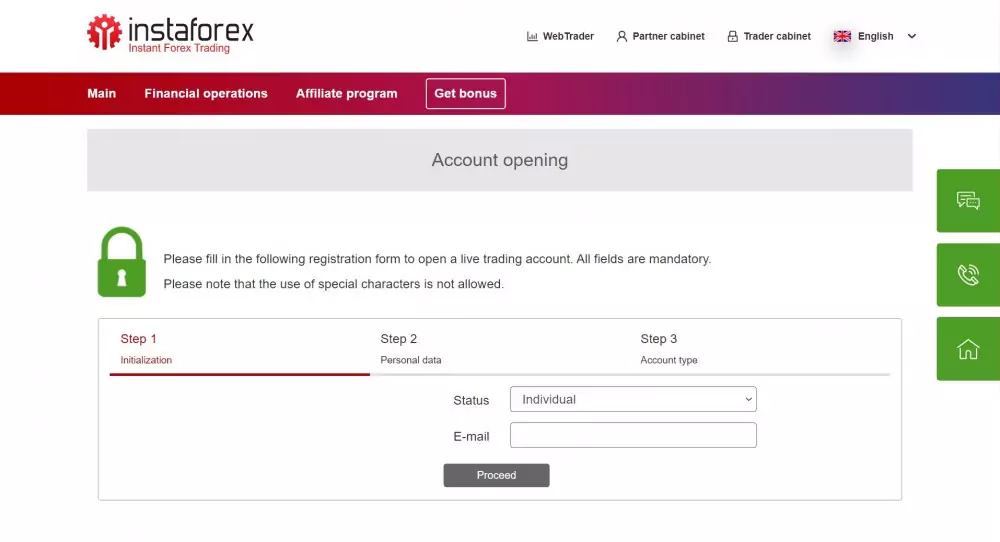 The first part of the registration via their website will initially require you the following information:
Status (individual or company)
Email address
The next step will require your personal data. Make sure that the details you entered are correct.
Full Name
Date of birth
Residential address
City
Region
Postal code
Phone number
The last step will be the information required for your account type.
Password
Code word
Account type (Standard or Eurica)
Trading server location (Asia, USA, Europe or UK)
Leverage (1:1 to 1:1000)
Account currency (USD, EUR, USD Cent or EUR Cent)
In general…
This entire sign-up process would only take you a few minutes or so to accomplish. The requirements are not that much and are usual for a typical online registration.
03
What are the Account Types?
---
Accounts
What's interesting about the trading accounts that InstaForex offers is that they created 2 types that are each split further into 2 and the difference is based on the method of accounting spreads and commissions.
This according to their website can assist their clients in creating successful trading strategies.
Here are the current available accounts for you to choose from should you wish to sign-up with them:
Insta.Standard
Insta.Eurica
Cent.Standard
Cent.Eurica
Every membership tier will have exclusive features and perks and of course, the higher your tier is, the benefits you get to enjoy.
As you can see from the image above, all accounts have the same minimum deposit requirement so you will have more liberty to choose which one is best for you without the need to worry about the amount that you need in your trading account.
Instead, you can decide based on more important factors to consider such as spreads, fee, minimum and maximum trades, leverage, order execution type, etc.
But wait, there's more…
Whatever account type you select, you will be able to trade on any of the financial instruments that they offer.
This is a great advantage since other brokerages limit the access of their clients to their tradable assets based on the account that they are subscribed to.
Bonus
What's interesting about this broker is that it offers a number of bonuses for their clients. In fact, it probably has one of the most number of bonuses as far as we know.
Each InstaForex bonus has its own terms and conditions so be sure to read them first before you claim any promotion that they offer.
04
Does InstaForex Have a Demo Account?
---
Demo Account
Don't forget: A demo account is your best option to explore the trading platform and see how it works.
What makes this feature very useful is because you can even do trades in practice mode so you won't have to use the real funds from your live account.
It's risk-free and best of all, free to use.
The InstaForex demo account comes with all the same features of a live account with live market prices and conditions and the only difference is that you will be using it in virtual mode.
It's already preloaded with a demo fund of $5,000 so you can start your trading career and learn to develop and test your strategies without any time limit.
Once the initial funds are all used up, there's no need to fret because you can ask for more virtual funds by simply contacting the customer support department and request for an additional top-up as many times as you like.
In comparison…
Other brokerages also offer demo accounts but most of them are only available for a certain period ranging from days to a few weeks.
With InstaForex, you don't have to check the date or time and worry about the practice account expiring because you can use the practice account as long as you want to.
In fact, you're free to open even more than 1 demo account if you want!
But remember:
Demo accounts won't yield actual profits or losses so if you want them to be for real then live trading is the next step to take once you're confident enough.
How to access the InstaForex demo account?
After you finished the registration process, you still need to open a demo account via the Account Summary Client Area page.
This process is very simple.
All you have to do is scroll down an look for the "Opening a demo account" section on the left column.
Just set your preferred currency, balance and email and since you're already registered, you might as well would want to use your current data (your full name and phone number). Otherwise, you can choose to enter new data.
Login
To access the trading account, you will need to sign in by entering your account ID and password. Keep in mind that the account ID is composed of numbers only and this will be provided to you after you register for an account. You'll also receive your login details via email.

There are no other InstaForex login options so be sure to remember your login credentials. Otherwise, you'll need to reset your password.
06
How to Make a Deposit?
---
Deposit
Making deposits and withdrawals to your InstaForex account is possible via a plethora payment systems and the good news is that they support the most efficient and trusted ones whatever your account type is:
Bank card (Visa and MasterCard)
Bank wire
Online banking
PayCo
Bitcoin
Litecoin
Tether
Local Transfers (Indonesia, China, Pakistan, Thailand, India, Malaysia, Singapore, Bangladesh, Africa and South Korea)
Looking at the list above, you're given with a variety of options including the most common ones and even via new methods such as online banking and cryptocurrencies.
Here's the thing:
If your broker supports more payment systems, you'll enjoy the convenience of transferring funds to and from your account and InstaForex is able to do that.
So how long does it take to see the funds in your InstaForex account?
The process will depend on the method you selected but generally, it won't take much time:
Bank cards: 24 hours
Payment systems: 2 minutes
Bank transfers: 1-3 days
Cash replenishment: 1-4 hours
And here's some additional good news:
You can top up your account without incurring any deposit fees from this broker.
Do take note though that some payment systems may have their own fees so be sure check if they charge commissions.
Minimum Deposit
Another notable thing about InstaForex is that their minimum deposit requirement is just $1 for REGARDLESS of the account type that you choose.
This is actually one of their biggest advantages over their competitors because they allow such universality whatever your preferred subscription is.
Typically, majority of brands would have minimum deposit requirements ranging from $10 to $100, but with this broker, they accept a buck as an initial deposit and that makes a huge difference particularly for newbies or for those who have a very conservative budget to invest.
Here's what you need to know…

Most brokerages offer account types based on the amount that they deposit and the common rule is, the higher the deposit, the higher the account type you can subscribe to and the bigger the perks.
As for InstaForex, they also offer different types of accounts that are designed to meet the experience and trading styles of their clients while still providing free access to all the available features no matter of how much was deposited into the account.
Platforms
Now get this:
Whatever your account type is, you'll have the liberty to select from any of the available platforms that they offer to match your trading goals and preferences.
And what's really notable able InstaForex is that they have a variety of trading terminals which are designed for specific trading objectives.
Let's take a look!
MetaTrader 4
Still known as the industry standard for most forex traders, MetaTrader 4 has a lot of features that are still very much relevant today which is why it is still the popular choice by the majority of the online trading community.
It comes with technical analysis tools and indicators, automated trading, signal, newsfeeds and almost anything essential to monitor quotes of various markets.
MetaTrader 5
This free and up-to-date platform is an improved version of its predecessor, the MT4, but what makes it different is that it features increased performance and has a lot of technological updates.
This includes an advanced set of technical tools, a built-in tab with an economic calendar, additional graphic charts and technical indicators, and a whole lot more.
WebTrader
Another unique platform that InstaForex has developed is the WebTrader platform.
This one is web-based so you'll be able to trade on straight from a web browser and it runs on any operating system.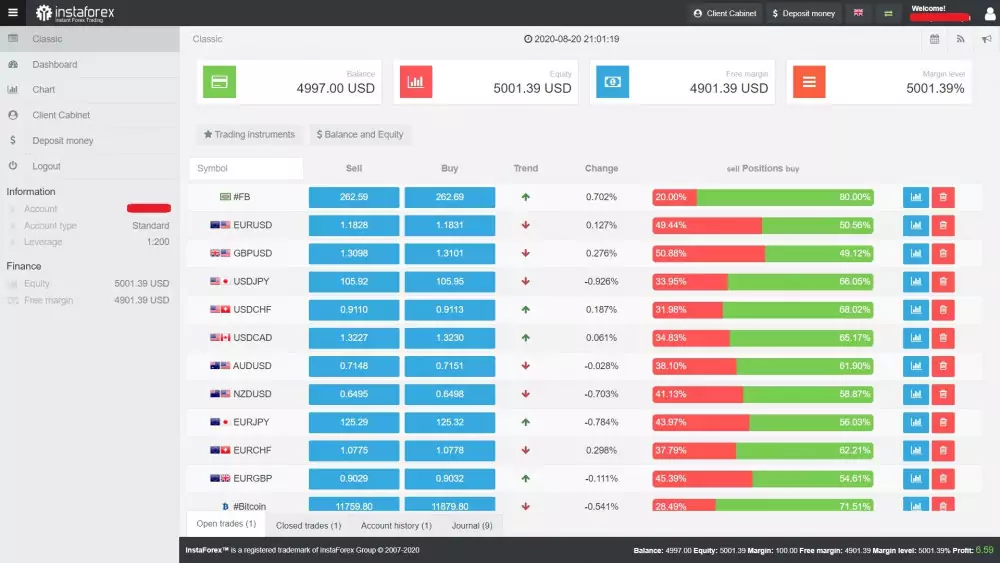 And even though that it's light to use and won't consume a lot of system resources, it comes complete of its function kits and suite of tools including the latest news and analytics, and tick charts.
InstaTick Trader
This unique and proprietary platform has been developed by InstaForex and as the name implies, it is designed for doing tick trades.
Similar to the WebTrader, this is also purely web-based so you can open it via any web browser and there's no need to install any software or plugin.
One of its primary features is its 6-digit quotes which allows traders make deals to boost their profits even during minor market fluctuations.
Mobile app
If you prefer to trade via your smartphone then you can simply install their mobile app which supports devices that are running in Android and iOS.
How can you actually use this?
Via these fully-functional and well-optimized apps, you'll be able to trade on the go and access most of the features just as you would regularly do on a PC or laptop.
The only difference here is that the menus have been optimized for smaller screens but in general, the logic is basically the same.
For the design, this category only applies to their platforms that they have developed since the MT4 and MT5 platforms are third party applications which cannot be skinned by any broker.
And while the WebTrader, InstaTick Trader and their mobile apps don't visually look the same, InstaForex managed to enhance their UI (user interface) for the benefit of their users.
So how do you trade via the InstaForex platform? For example, Bitcoin?
Here's a short animation that shows how you do it in action via their WebTrader platform:
Overall…
The comfortable interface of the platforms is another advantage of this broker.
They've done a great job with the design and layout which other brands are still struggling to emulate.
It's easy to determine what to click or where to find what you're looking for and this is definitely a major plus because you won't miss any trading opportunity that might come along the way.
The sleek interface has a navigation system that is usable and easy to learn.
Assets
This broker has a very wide selection of markets that consists not only of a diverse range of currency pairs but also other asset types. Currently they have more than 300 assets and such variety deserves a high score.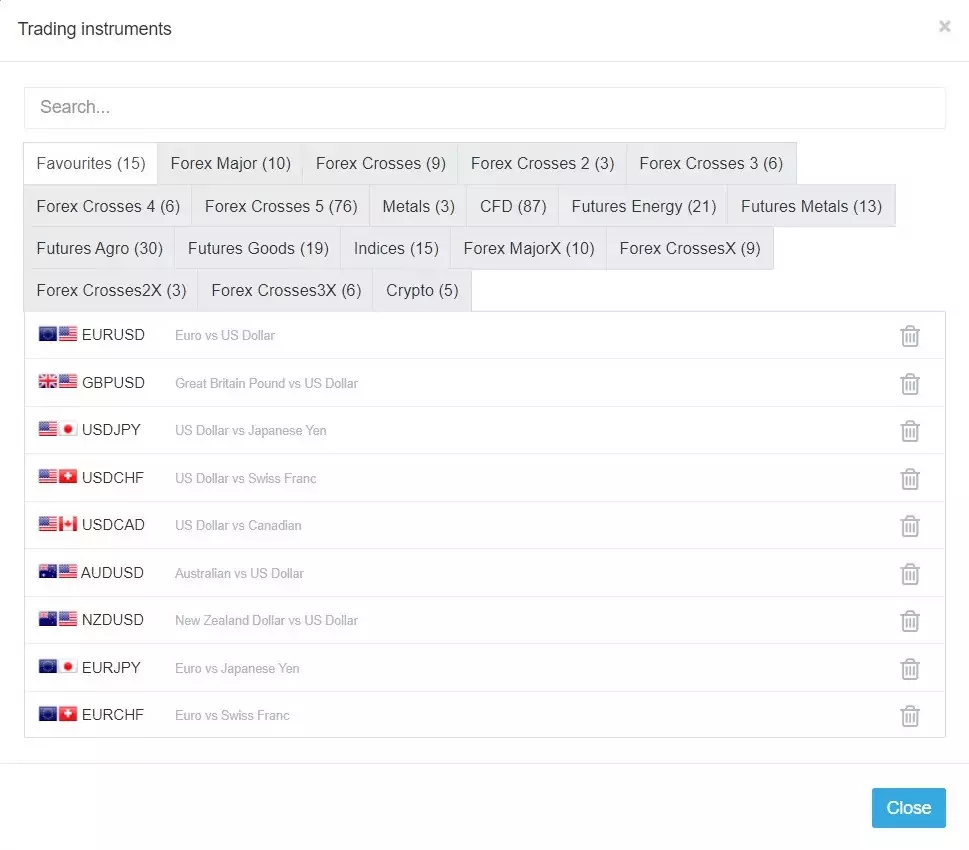 Below are the financial instrument categories that you can invest on with this online brokerage firm:
Currencies
If you're into forex trading then you'll be satisfied with what you can access from this broker's platform as it has over 100 currency pairs which is comprised of 10 majors (EUR/USD, GBP/USD, USD/JPY, USD/CHF, USD/CAD, AUD/USD, NZD/USD, EUR/JPY, EUR/CHF and EUR/GBP) and 100 crosses (AUD/CAD, CAD/JPY, NZD/CHF, GBP/JPY, USD/NOK, AUD/SGD and many more).
Commodities
Choices for commodity futures trading are aplenty with 50+ instruments to choose from (corn, soybean oil and meal, wheat, lean hog, feeder cattle, live cattle, cocoa, orange juice, coffee, lumber, sugar and cotton) plus 17 markets for oil and gas, and 4 spot metals including gold, silver and palladium.
Indices
There are currently 15 assets under this category including S&P 500, Dow Jones Industrial Average, FTSE 100, Nikkei 225, Hang Seng, DAX 30, NASDAQ 100, Swiss Market Index, IBEX35, Netherlands 25, FTSE MIB, STOXX Europe 50, Australia 200, CAC40 and the US Dollar Index.
Stocks
With more than 80 choices, you'll have plenty of company shares to invest on and this includes Apple, Amazon, Walt Disney, Facebook, Alphabet (Google), Coca-Cola, Microsoft, Netflix, Pfizer, Starbucks, Twitter and Unilever to name a few.
Cryptocurrencies
InstaForex also offers cryptocurrency CFD trading and as of press time, they have Bitcoin, Bitcoin Cash, Ethereum, Ripple and Litecoin.
But remember this:
Trading cryptocurrencies via CFDs is not the same as buying/selling cryptocurrencies from an exchange.
07
Are InstaForex Spreads High?
---
Spreads
It is best to be with a broker that offers low spreads which serves as their fee or commission.
With InstaForex, they offer fixed and floating spreads on every trade for their clients based on their account type or region.
Here's the deal:
Standard accounts use fixed spreads ranging from 3 to 7 pips while Eurica accounts also have fixed spreads but the rates are much lower and could go down as much as 0 pips.
For InstaForex.eu clients or those who are based in the EU, ECN accounts are offered with floating spreads with an average of 1.2 pips while the ECN Pro, which is ideal for professional traders, have access to floating spreads that are much lower and on average are around 0.8 pips.
Do take note:
Floating spreads utilize market execution values and may change depending on market conditions such as unexpected economic data or breaking news.
And always keep in mind:
The lower the spread, the less costly it will be for you to be able to open or close a trade.
Fees
The forex market commission or spread is the primary fee that is charged by InstaForex. This particular fee is the commission for buying or selling currency trades.
Aside from the spread, there's also a rolling commission, which is also known as overnight or rollover fees. This is only applied if a trade remains open and is carried over the next day.
Other InstaForex fees include the charges for opening an order, and the withdrawal fee.
Quotes and Prices
It's important for you to determine if the market prices shown by your broker are indeed accurate since your trading decisions will be mainly based on the financial data that you will see from their platforms.
What's more…
This is another way to see if they are really honest in providing you real-time market data or they are doing something suspicious to control the results of your order executions.
What we really liked about this broker is the the lack of slippage and the minimal requote.
Our comprehensive test on their platforms also revealed that the market prices shown were never manipulated, delayed or controlled to their advantage.
In short, the quotes on the InstaForex platforms were accurate.
And here's a tip:
If you want to avoid requotes, then be sure to place limit orders will so you can set the platform to place order only when the market value meets your specified price or even better.
Using a limit order allows you to skip executing trades with a different value so you can avoid dramatic losses in case the market goes the wrong way.
It's important to keep in mind:
In fast markets, requotes are common especially when there are major press releases or breaking news that could directly affect the market value of an underlying asset.
BUT, if you notice that there's too much requotes for no reason at all, then consider finding a broker that offers more liquidity.
08
How to Withdraw Funds?
---
Withdrawal
We can't emphasize enough…
A trusted broker will allow you not only to deposit funds into your trading account but also to withdraw them hassle-free and without any outrageous restrictions.
Aside from support various methods for cash-ins, they should also have several options for cash-out as well and this is a good indication that fund transfers in and out of the account with them will not be a problem.
To begin with…
To be able to file a withdrawal request, you need to select the withdrawal method, inputting your account details and the amount that you wish to withdraw.
And here's the thing:
You can only withdraw via the same payment method that you used to make a deposit with the same account details but if you used several payment systems then they will require you to make withdrawals in proportions and not all at once.
Also, they specifically noted that if you're going to cash-out via a payment system, its currency for the deposits and withdraws should be the same.
For example:
If you're going to withdraw in USD then your chosen payment method should also support USD transfers as well.
So how is the withdrawal processing time with InstaForex?
Below are the withdrawal processing times for the payment methods that they support:
Bank card: 1 to 6 business days
Bank wire: 2 to 4 business days
PayCo: 48 hours
Bitcoin: 1 to 7 hours
Litecoin: 1 to 7 hours
Tether: 3 hours
Local transfers: 1 to 7 hours
Withdrawals are processed by their finance within their working days and hours (Monday to Fridays, 10 am to 7 pm (UTC+3).
Now the question is, were they able to meet these published processing times?
The good news is that they did, based on our several tests.
They were able to process the requests on time and in fact, in most cases, it was even faster than what was published.
This has improved a lot compared to when we made a first review about this brokerage so such improvement in handling withdrawals deserves a HIGH score.
Customer Service
Let's not forget…
Good and reliable customer service is important in any type of business, online brokerages are no exception.
It is essential that they have a helpline that is available 24 hours a day for at least 5 to 6 days a week so they can cater to their clients wherever they are located since we all know that each region have their own timezones.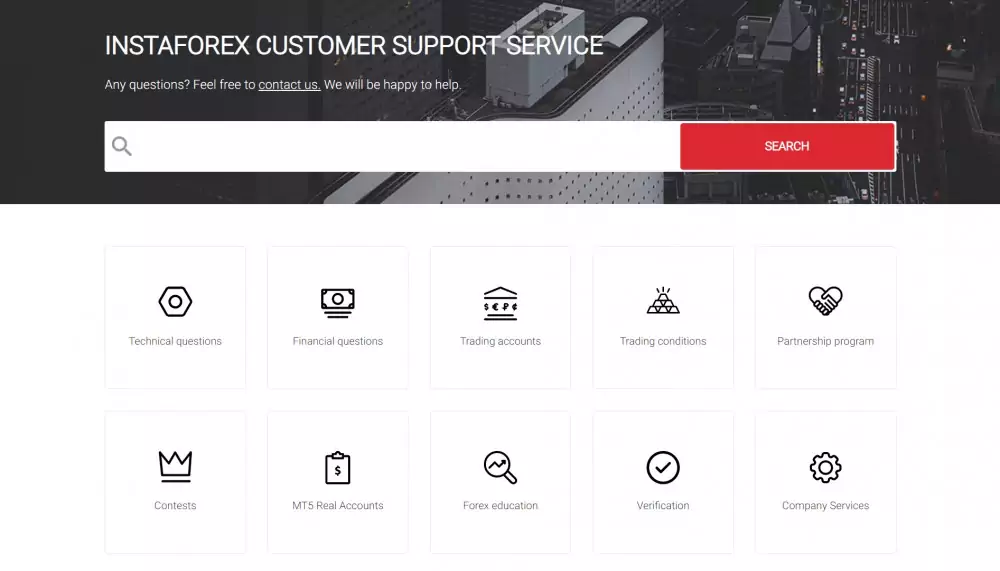 What we really liked about InstaForex is that they created a dedicated page for client support which is more than an FAQ page.
It covers a variety topics such as financial questions, forex education, technical analysis, account opening procedure and a whole lot more so be sure to check this page first before contacting their support team because chances are, you might find answers to basic questions here.
And another thing…
It even has a forum where you can discuss and have a conversation with InstaForex clients. It's a great channel to interact with other traders and you might even learn some tips especially from those who are welcome to help you.
Should you decide to get in touch with the customer support department, there are plenty of ways to do it and this includes the following:
Phone
E-mail
Live chat
Facebook
Twitter
Skype
Viber
Telegram
WhatsApp
QQ
We had the chance to test out most of these channels and the discussion that we had with their agents were impressive.
Here's how it went…
We tried calling the phone support and was surprised that there wasn't any queue so we were able to talk to an agent in no time.
Responses via our queries to the email support team were very detailed, on point and took less than an hour which is much faster than what we usually experience from the same kind of departments from other brokerages.
The integrated live chat on their website was convenient to use and we were able to get a live agent in less than a minute.
But that's not all…
InstaForex also supports other forms of communication which are very popular nowadays and this includes Skype, Viber, Telegram, WhatsApp and QQ.
This is one of their biggest advantages over other service providers out there because they offer plenty of ways to reach their support team and when it comes to diversity, they have done it remarkably.
Overall…
The answers that we got from their agents from these different channels were pretty much the same and consistent to the same questions that we asked.
And what's notable is that the support quality were straight to the point, detailed and doesn't come with any marketing strategies.
Reputation
Is InstaForex a scam?
It's one of the common questions about this broker and by looking at its credibility, we'll try to answer this question.
Look: A key factor to consider when you're determining if it is a scam or not is to look at its credibility in the market.
Now let's look at the facts about InstaForex:
First of all, it has over 7 million clients across the globe. A company that continues to operate for over a decade with such a huge number of customers certainly doesn't fit the qualifications of being a scam.
Second, the group of companies behind InstaForex has been a recipient of several awards and recognitions from the industry and these are just some to name a few:
This is just a preview on what the companies behind InstaForex have achieved from independent award-giving bodies in the market.
In addition to that…
They have signed known and trusted personalities as their brand ambassadors and this includes:
King of Biathlon Ole Einar Bjørndalen – a Norwegian professional biathlete and coach and is known to be the most medaled sportsman in the in Winter Olympic Games history.
Ales Loprais – a Czech rally raid truck driver and PR manager of InstaForex Loprais Team.
Oleg Taktarov – a Russian-American mixed martial artist and actor.
Daria Kasatkina – a Russian professional tennis player who won 2 titles in the WTA (Women's Tennis Association).
Aside from this, majority of the comments that can be found from the online forex trading community were generally positive while the negative comments were usually isolated cases and the good news is that most have already been resolved.
So with regards to this question, no, InstaForex is definitely NOT a scam.
Regulation
The company that operates InstaForex is Instant Trading Ltd. and it is authorized and licensed by the Financial Services Commission (FSC) under the Securities and Investment Business Act (SIBA), the British Virgin Islands (BVI) – a British Overseas Territory that has a legal system developed on the English common law.
Its license number is SIBA/L/14/1082 and as of this writing, the entity status is "Currently Regulated Entities" based on the official FSC site.
Here's what you need to know:
Instant Trading Ltd. continues to operate in accordance with the regulatory guidelines that were set by the FSC (under SIBA) and practices transparency to their clients in as required by the law.
Conclusion
InstaForex provides traders with a suite of robust platforms and they have invested in advanced technological solutions in order to offer the best trading conditions for over 300 financial instruments.
What's also worth mentioning about this broker is that they constantly update their range of services including their forex analytics, contests and campaigns to keep their clients interested.
But that's not all…
In terms of customer service, InstaForex is definitely above its competition as it is capable of providing quick and prompt support for their clients and are widely available across many channels.
Its numerous awards speak volumes of credibility and their 7 million+ customers solidifies their supremacy over other top online brokerage firms.
Therefore, we have an easy answer to the question "Is InstaForex a good broker?"
YES, it definitely is.
So take the next step and give it a go!