eToro charges zero-commission and no management fees on transactions made on the platform. This means no broker fee will be applied when opening or closing a trade position. However, fees are applied on other transactions such as forex exchange and overnight holding fees for other financial assets. eToro also charges fees on some withdrawals and various spreads. To learn more about eToro fees, here is a brief section to explain about it.
Don't gave an eToro account yet? Open one now in less than a minute so you can enjoy the aforementioned perks.
01
What are eToro Overnight Fees?
---
Overnight Fees
An overnight fee is a payment that you must make if you hold a position overnight.
Similar to the value of the position, CFD positions that stay open overnight generate a small amount of fee. These fees are made to reflect the forces of supply and demand influencing the financial markets and to cover the costs related with your position.
The fee varies depending on whether the position is bought or sold. A refund may be possible overnight in some cases.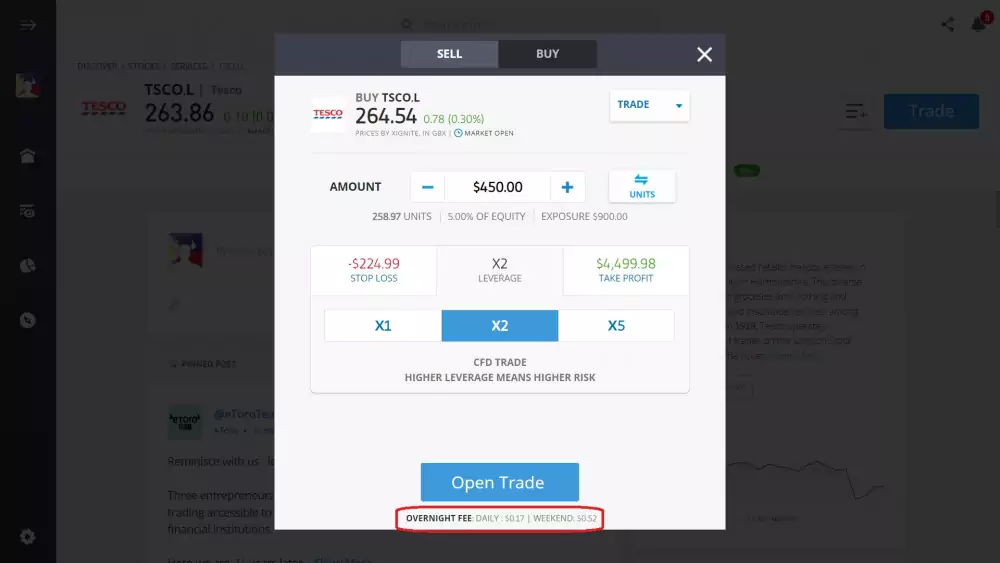 02
What About the eToro Rollover Fees?
---
Rollover Fees
Here's the thing: Rollover fees is the same as overnight fees thus it is usually referred to as "Overnight / Rollover fees".
Here is a sample computation of overnight / rollover fee:
(Overnight fees (per night): Fee * number of units)
Where to Check the Overnight Fees?
When you're at the trading page of an asset, you will see the "overnight fees" appearing at the bottom of the trade window just under the "Set Order" box.
03
How eToro Fees are Calculated for Spreads?
---
Spreads
Since most of eToro's compensation comes from spreads, this is where much of the platform's fees are concentrated. Here is a sample computation of spread in eToro:
Spread: (Spread * Price in USD * Number of units)
04
When Does Spread Fees Take Effect?
---
Spreads Taking Effect
Spread will immediately reflect after you open a trade, you will see a "loss" in the position. The spread is responsible for that "loss". Although the final calculation of the spread doesn't take place until the position is closed. The spread is then adjusted basing on the closing price in real-time.
05
Where to Check My History of eToro Fees Paid?
---
Paid Fees
You can keep track of the fees you paid by going to your portfolio page in the platform. From there, click the "history" tab to see the fees incurred for each trade and your other fees made in different periods of time.
06
When Are the Overnight Fees Charged?
---
Overnight Fees Time
Overnight or rollover fees are charged every night from Monday to Friday. It is usually at 5:00 P EST for all open CFD positions. The weekend fee (also part of overnight fee) is charged on Friday nights for most ETFs, CFDs, stocks and Indices and on Wednesday night for currencies and commodities. Overnight fees for natural gas and oil are also charged every Friday.
Cryptocurrencies meanwhile, incur overnight fees daily.
07
What Happens When If There's Not Enough Balance?
---
Not Enough Balance
Once eToro fees are charged when your account balance is not enough, it will then reflect a negative balance.
Are Bid/Ask Rates Considered as eToro Fees?
No. The "Bid" and "Ask" signify the "Buy" and "Sell" prices of financial assets on eToro. When a trade position is long / BUY, the "Ask" rate is then applied. But when the position is short / SELL, a "Bid" rate is generated.
08
Is LIBOR a Type of eToro Fee?
---
LIBOR
No. LIBOR is not an exclusive eToro fee. LIBOR is the benchmark rate given by banks when imposing a charge on other banks for short-term loan. It stands for "London Interbank Offered Rate". Other banks and trading platforms also incur a LIBOR fee for their users.
There are 35 varying LIBOR rates posted daily. This ranges from overnight to a year and based on 5 currencies. eToro is using the one-month US dollar LIBOR rate when computing for overnight fees on stocks.
09
How Much is the Inactivity Fee?
---
Inactivity Fee
eToro charges $10 every month for accounts that are inactive for at least a year. It's actually very easy to avoid getting this charge since you'll only need to access your account every now and then so that it won't be dormant.
The Flat $5 Withdrawal Fee
For every withdrawal, there is a $5 fee to pay and the allowed minimum amount that can be taken out from the account is $30. This is a flat fee so whatever amount you wish to withdraw, you will only be charged with $5 for each transaction.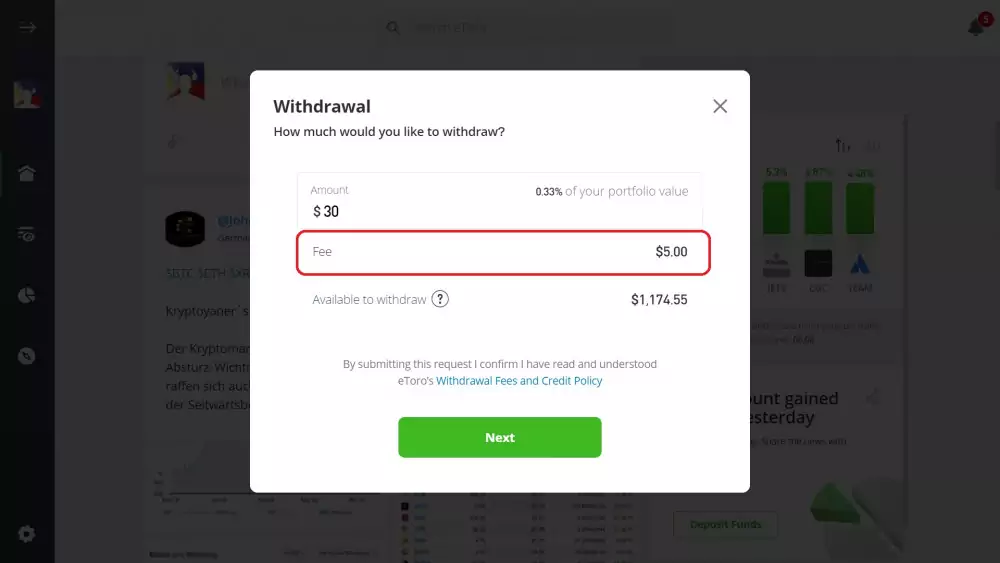 10
Are There Fees for Converting Currencies?
---
Conversion Fees
Since much of eToro's transactions are in USD, there are no fees associated with USD deposits.
Deposits can also be made in 14 other currencies: EUR, AUD, VND, RMB, GBP, THB, SEK, IDR, MYR, PHP, DKK, NOK, PLN, CZK.
And it's important to remember: A conversion fee is charged when converting the funds to USD.
During the Deposit Funds process, you can see the amount of your payment in USD as well as the conversion rate prior to sending it in.
So what are you waiting for? Open an account now so you can enjoy the 0% commission on real stocks and other trading perks.
eToro is a multi-asset platform which offers both investing in stocks and cryptoassets, as well as trading CFDs. Please note that CFDs are complex instruments and come with a high risk of losing money rapidly due to leverage. 77% of retail investor accounts lose money when trading CFDs with this provider. You should consider whether you understand how CFDs work, and whether you can afford to take the high risk of losing your money. Past performance is not an indication of future results. Trading history presented is less than 5 complete years and may not suffice as basis for investment decision. Copy Trading does not amount to investment advice. The value of your investments may go up or down. Your capital is at risk. Cryptoasset investing is highly volatile and unregulated in some EU countries. No consumer protection. Tax on profits may apply. eToro USA LLC does not offer CFDs and makes no representation and assumes no liability as to the accuracy or completeness of the content of this publication, which has been prepared by our partner utilizing publicly available non-entity specific information about eToro.