Making a deposit to your eToro account is the first step to opening your own first trade on the platform. How much is the minimum deposit? How to make a deposit? Is wire transfer allowed in making a deposit? All these questions and then more, will be tackled in this section about eToro deposit process.
No eToro account yet? Open one now in less than a minute so you can make your first deposit.
01
Depositing Funds to Your eToro Account
---
Making a Deposit
To make your initial deposit, just follow these simple steps:
Log in to your eToro account.
Click "Deposit Funds" found on the bottom of the left-hand menu.
Enter the amount you want to deposit.
Select the currency.
Choose your chosen deposit method.
Enter your information registered in your preferred deposit method.
Remember: You can make a deposit via PayPal, your bank's debit card, via online banking and via wire transfer.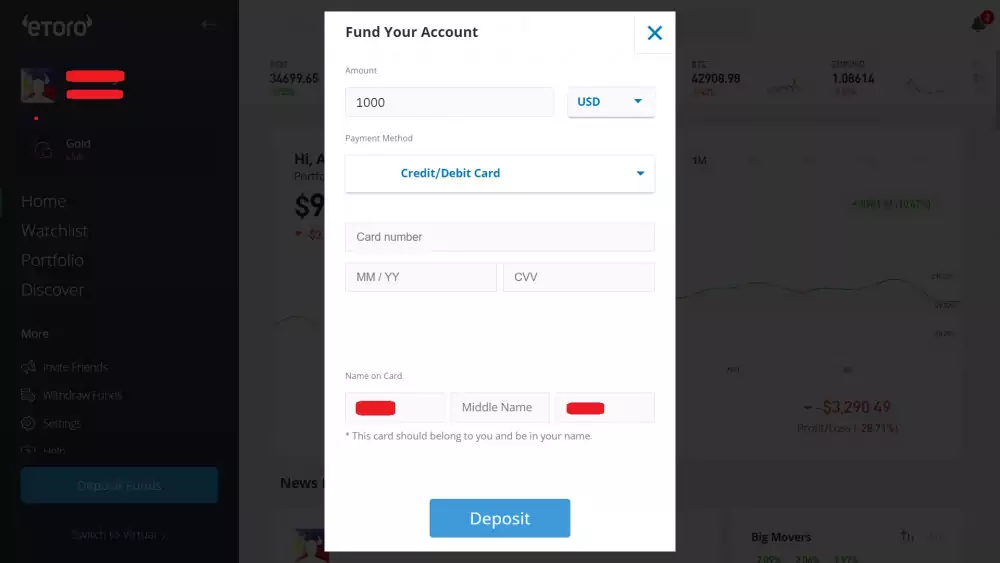 02
How Safe Is My Deposited Money on eToro?
---
Safety
Using Secure Socket Layer (SSL) technology, eToro guarantees safe depositing transactions made in its platform. All personal information related to the depositing process is also stored and secured from any forms of data breach and unauthorized access.
03
>Is Automatic Recurring Deposits Possible on eToro?
---
Automatic Deposits
Yes. Setting up your account to make a recurring automatic deposit is possible in eToro.
An "Automatic recurring deposit" process happens when a user creates a schedule for a specific amount of money to be automatically deposited to their eToro account from their debit or credit card.
The eToro user will need to set the schedule, currency and amount of money in order for this feature to perform.
How to Set-up the Automatic Recurring Deposit?
To initiate this feature, simply follow these steps"
Head to the "Settings" menu.
Select "Payments".
Click "Recurring Deposits".
Set the amount you want to deposit and choose its corresponding currency.
Choose the Credit or Debit Cards connected to your eToro trading account.
Set the number of times you want to make a recurring deposit. You can choose from once a week, twice a month or monthly.
Once you set the recurring deposit frequency, you have the choice to customize the date of the recurring deposit. Otherwise, the default setting is set to the 1st day of every month.
04
How to Make a Deposit Using a Credit or Debit Card?
---
Credit/Debit Card
Here are the basic steps in transferring funds into your eToro trading account via credit/debit cards:
Click "Deposit Funds" on the main page.
Select "Credit/Debit Card" from the drop-down menu.
Key in your card number, date of expiration and your card's CVV number.
Double check if the name appearing on the box below is the exact name on your card.
Click "Deposit".
Reminder: It only takes a few minutes before your deposit will be credited to your eToro funds.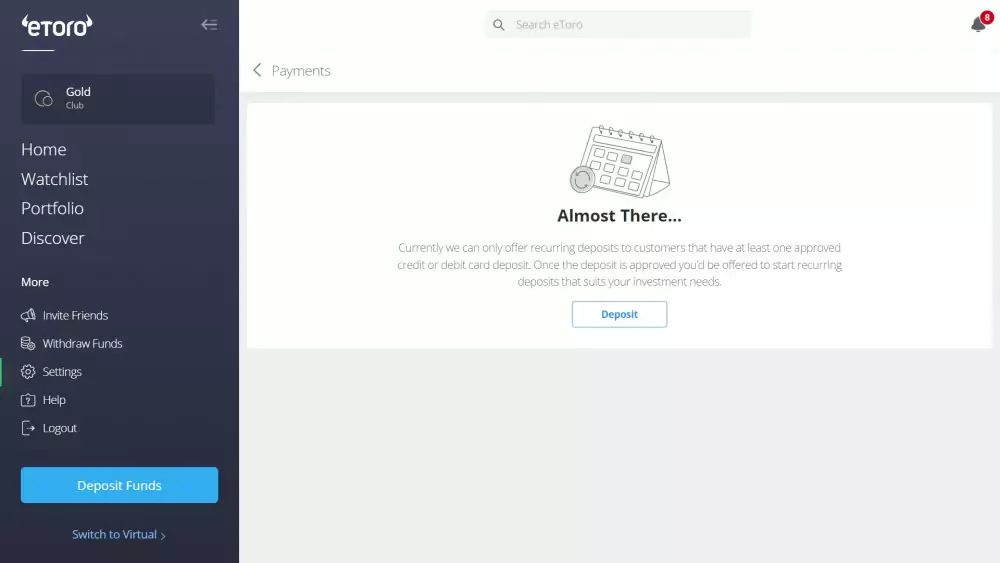 Recurring deposits will only be offered to you if you have at least one deposit via credit or debit card that gets approved. It is only then after the approval that you'll be given the option to use recurring deposits.
05
How to Make an eToro Deposit via Bank Transfer?
---
Bank Transfer
To make a deposit via online banking, simply follow these steps:
On your eToro main page, click "Deposit Funds".
A drop-down menu will pop-up, select "Bank Transfer".
Enter the amount of money you plan to deposit.
Click "Continue".
After selecting your bank, you will need to log-in to your e-bank account, and key in the verification code sent by your bank before clicking "Submit".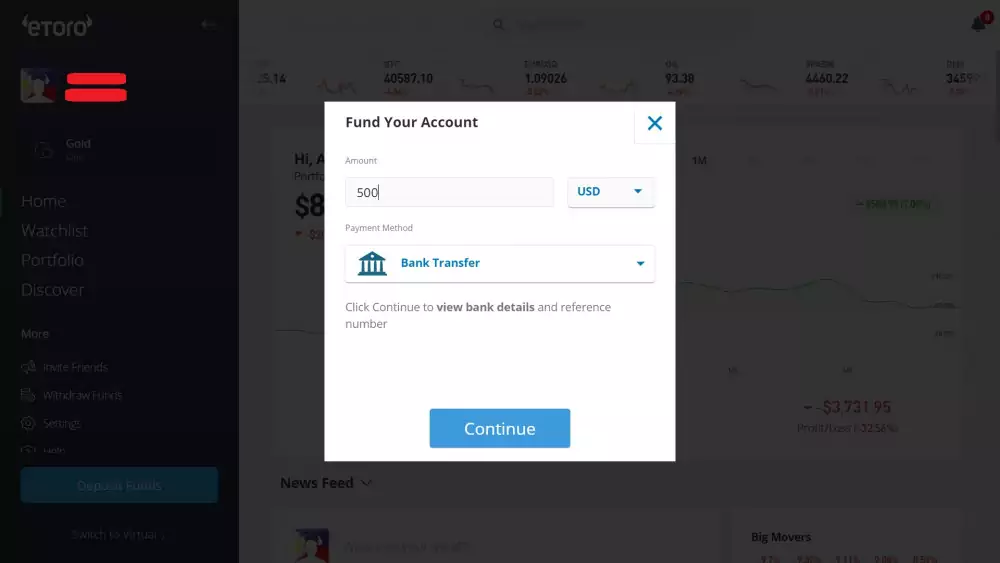 Depositing via bank transfer will only take a few minutes. If for some reason, your deposit is declined, you will immediately receive a notification stating the reason for its decline.
06
Making an eToro Deposit via a Crypto Wallet or PayPal
---
Crypto or PayPal
Here are the steps to follow if you prefer to make deposits using your crypto wallet or PayPal:
Choose the method of payment you prefer from the drop-down menu, enter the amount to deposit, and then click on "Continue".
A new page will appear to allow you to log into your crypto wallet. Enter your crypto wallet login details.
Review your deposit transaction.
After you verified all details, simply click "Pay".
07
Is There a Minimum for the Initial eToro Deposit?
---
Minimum
The minimum deposit amount varies by country due to different regional financial regulations. The range from which it differs is from $10 to $10,000.
Remember: For deposits made after your initial deposit (which differs from country to country), a minimum of $50 is required. Wire transfers however require a minimum of $500.
08
$50 Minimum for Succeeding Deposits
---
Succeeding Deposits
Initial deposits vary and is primarily based on your country of residence. However, for succeeding deposits, the minimum is the same and it is currently $50.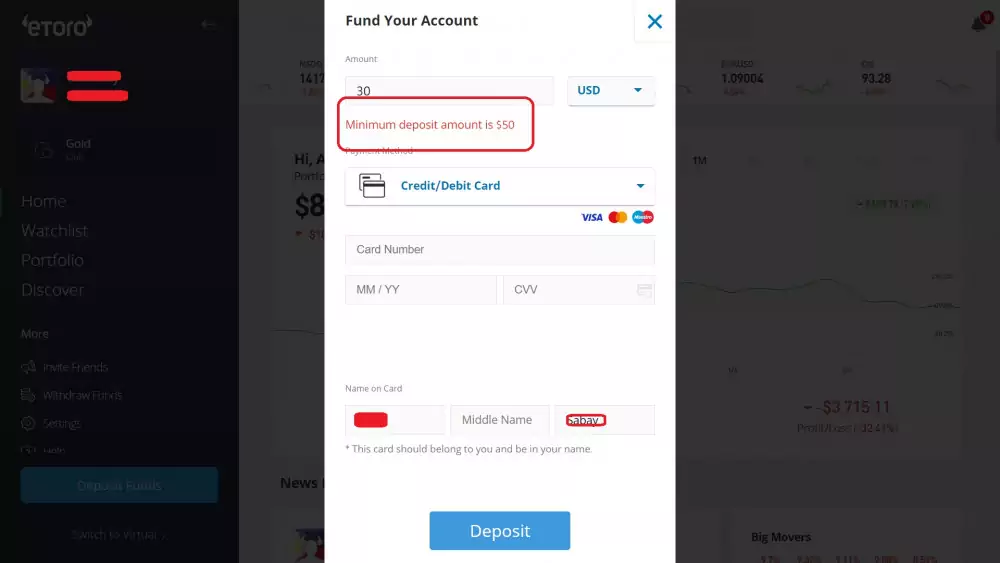 09
How Much Is the Maximum Amount When Depositing Funds?
---
Maximum
There is a maximum amount of $40,000 per transaction on deposits made via debit and credit card. For online banking, the maximum is $10,000 each day while for wire transfer, there is a maximum of $1,000,000 set per deposit transaction.
10
Can I Make an eToro Deposit from a Business Account?
---
Business Account
No. It is against eToro's terms and conditions to use any corporate method of payment to deposit into a personal eToro trading account. The option of opening a corporate trading account is available to you, however.
To set up a Business trading account, certain credentials will be requested, depending on whether your company is a corporation, sole proprietorship or a partnership.
If you wish to use your PayPal Business account for depositing, but it is not tied to a real business, then please downgrade it to a personal or premium account.
So what are you waiting for? Open an account now and make your first deposit so you can start trading!
eToro is a multi-asset platform which offers both investing in stocks and cryptoassets, as well as trading CFDs. Please note that CFDs are complex instruments and come with a high risk of losing money rapidly due to leverage. 81% of retail investor accounts lose money when trading CFDs with this provider. You should consider whether you understand how CFDs work, and whether you can afford to take the high risk of losing your money. Past performance is not an indication of future results. Trading history presented is less than 5 complete years and may not suffice as basis for investment decision. Copy Trading does not amount to investment advice. The value of your investments may go up or down. Your capital is at risk. Cryptoasset investing is highly volatile and unregulated in some EU countries. No consumer protection. Tax on profits may apply. eToro USA LLC does not offer CFDs and makes no representation and assumes no liability as to the accuracy or completeness of the content of this publication, which has been prepared by our partner utilizing publicly available non-entity specific information about eToro.