Last updated: February 07, 2023
Summary
eToro offers free stock and ETF trading, while forex and CFD fees are low. The interesting combination of online trading and social media will give you more opportunities to access the financial markets and place your positions based on the knowledge of more experienced traders or by taking advantage of useful tools and resources that they offer. They have also significantly increased the number of assets that can be traded on their platforms so there are lots of markets for you to explore. On the negative side, non-trading fees are high, including a $5 withdrawal fee.
eToro offers a free demo account that you can use without any risks. It comes with $100,000 virtual funds.

Want to know more about eToro?
Let's continue exploring the vast potentials and the advantages we get to have with eToro in the succeeding sections of this review. They are all meant to keep you wondering and to keep you interested.
The simple plain truth is…
This brokerage is not perfect but any one of us can take the lead in learning from these advantages and disadvantages and how these will work FOR YOU and not against you.
Let's look at the nitty-gritty details!
02
Should You Trade With eToro?
---
What We Like + Don't Like
There were a lot of things that we liked with this brokerage. First of all, they have dramatically lowered the minimum deposit requirement ($10 for US & UK traders) and the registration process is not lengthy or complicated. It's extensive and advanced social trading network is also among its top features and this is probably one of the primary reasons why users sign-up with them. It makes the trading process a lot more interesting since you have the choice of either trading on your own, or you can follow and copy the positions of more experienced users who are also members of eToro. And with more than 3,000 markets to choose from, there's a lot of trading opportunities.
There were also some things that we didn't like about eToro. They don't offer the MetaTrader 4 or 5 so if you're used to this standard platform, then this would be one thing to consider. It won't hurt to try their social trading platform though as it is more user-friendly as compared to the MT4 or MT5 which we find to be usually boring and even complicated especially for novice users.
03
Analysis of eToro's Main Features
---
Analysis
Pros
Low minimum deposit ($10 for US & UK traders)
Quick registration
Advanced social trading network
Over 3,000 instruments available
Real-time quotes
04
How to Sign-up with eToro?
---
Registration
Opening an account with eToro will only take less than a minute of your time so that's incredibly fast. Do take note that this is just the initial part of the sign-up process.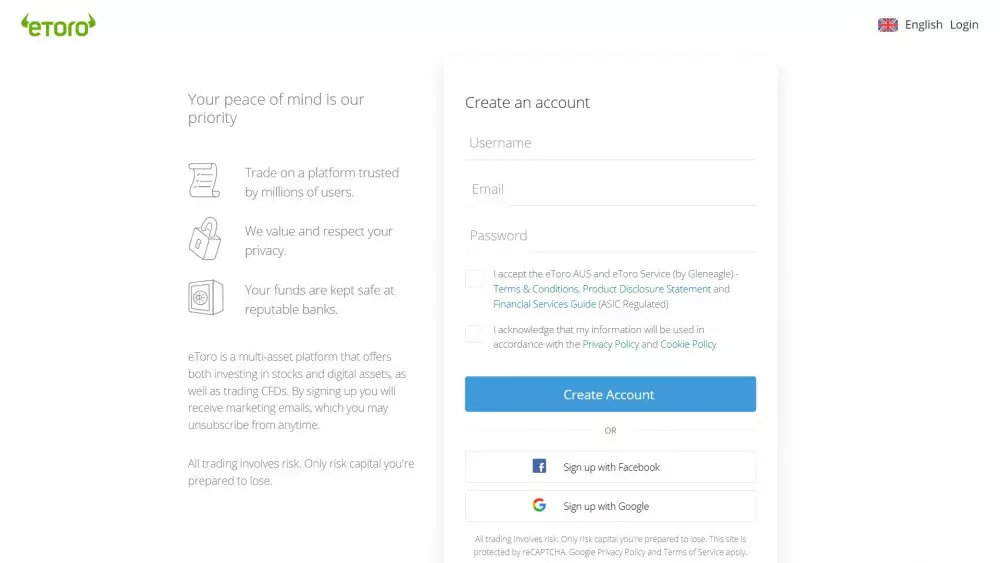 Registration is done online via their website or one of their mobile apps and you'll only need to provide the following details:
Username
Email address
Password
Here's a tip: If you don't like remembering usernames and passwords, then you should consider signing-up via your Facebook, Google or Apple account. This will automatically get your personal details and you can also use this method for logging in.
Getting started with eToro requires you to sign-up for an account. This process will only require you a minute or so.
Overall, the eToro registration process is plain easy and very straightforward. In fact, it's even faster then opening a bank account.
Accounts
Instead of account types, eToro has a tiered membership system called the eToro Club and this will be based on your equity rather than your deposit.
As of this writing, these are the club membership tiers that they have:
Silver
Gold
Platinum
Platinum+
Diamond
Every membership tier will have exclusive features and of course, the higher your tier is, the benefits you get to enjoy. Higher tiers get to enjoy exclusive access to educational resources such as market analysis and live webinars.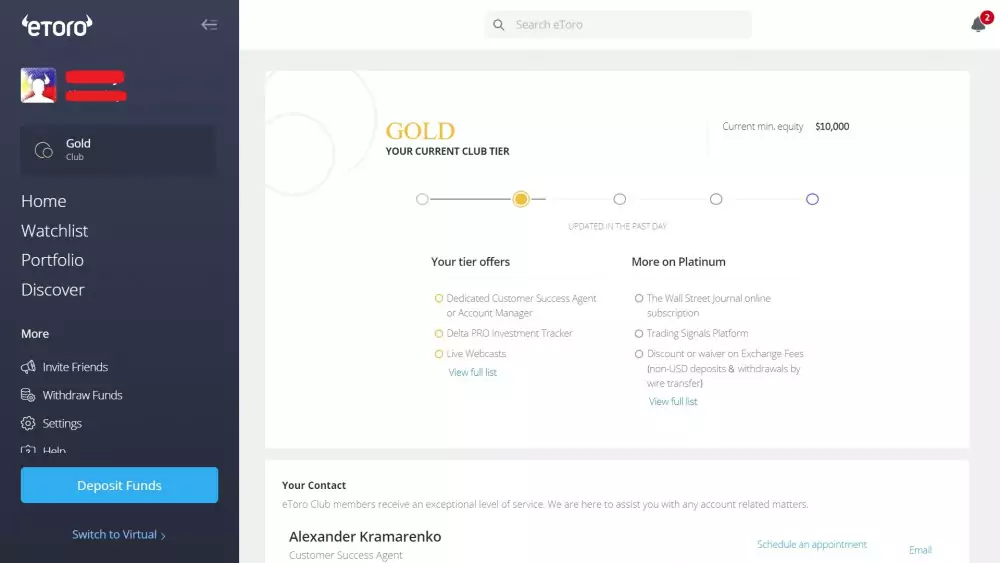 Here's the deal: You don't have to apply or request to be a part of the eToro Club because you will be automatically assigned to the right club tier after the equity requirements have been met.
05
Does eToro Have a Demo?
---
Demo Account
If you have no idea on how to use the platform or would like to explore it first without risking real funds then utilizing the eToro demo account is the best way to do that.
The only downside of course is that this is in practice mode so there are no real profits or losses here.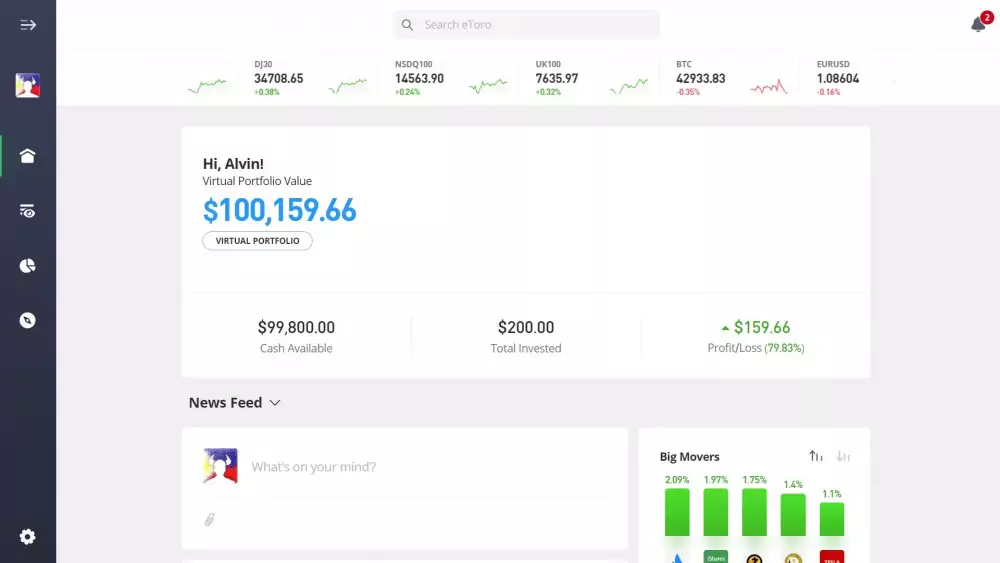 This account will have an initial fund of $100,000, which is most likely more than enough for you to use for doing practice trades and try out different strategies.
If your virtual funds have been used up, you can get in touch with their customer service team and request to have it topped up with additional funds.
The demo account is one of the best ways to test the platform risk-free. Opening one is fast and quick!
We strongly recommend that you take advantage of this feature especially if you're a newbie. You might also want to read their beginner's guide to trading in order to understand the basics prior to using the demo account.
Login
Traders who have already signed up for an account in eToro can login using their registered username and corresponding password or choose to login via their Apple, Facebook or Google account.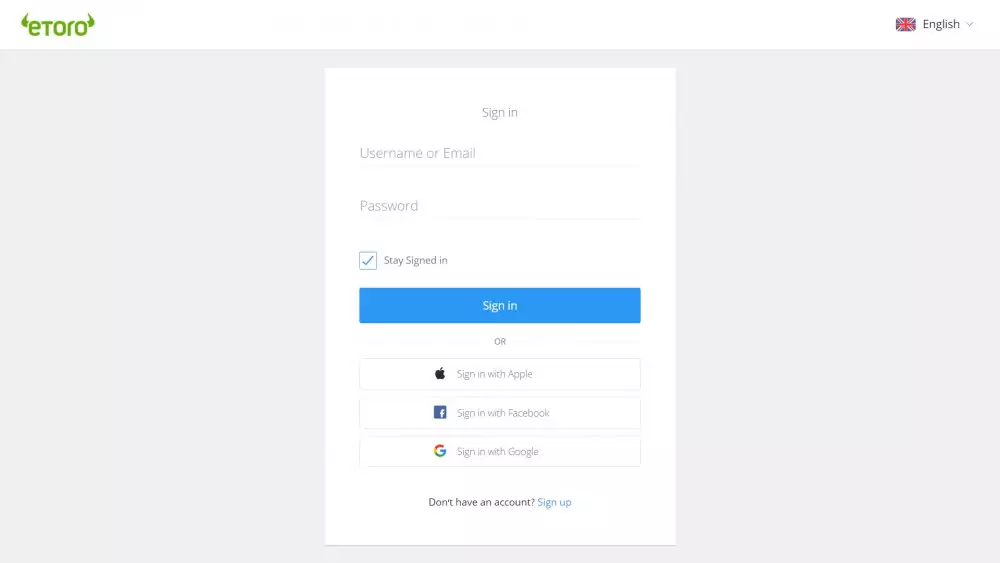 You can login to your eToro account via their official website on your computer's browser. Simply head to etoro.com/login and enter your credentials on the login prompts.
Alternatively, there's also an eToro login via the app if you have one installed on one of your smartphones or tablet device. You may also opt to login via your Apple, Facebook or Google account.
07
How to Make a Deposit?
---
Deposit
Making an eToro deposit is the next step to be able to access the platform in real money mode and start trading.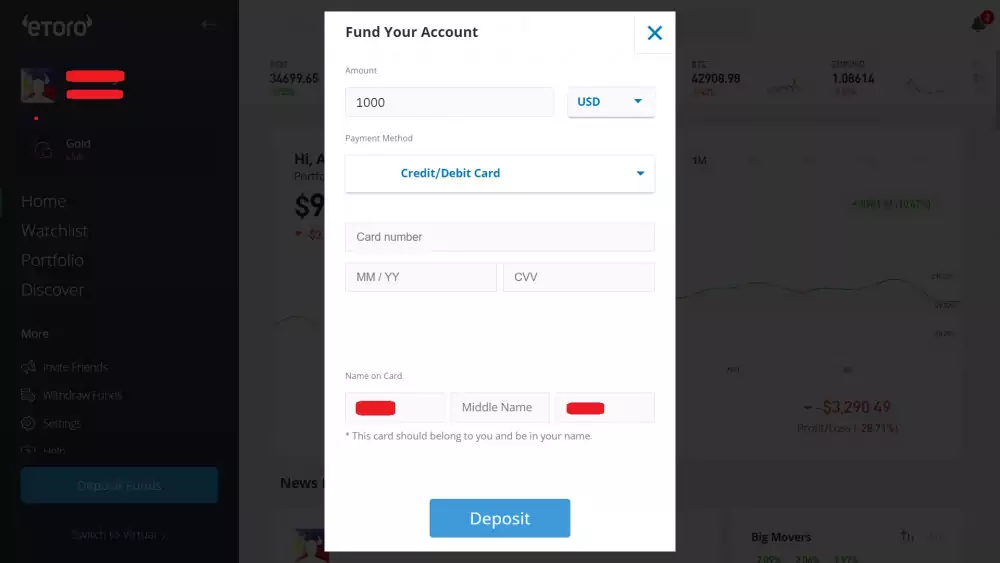 Here's some interesting data: Majority of the funded eToro accounts are from Europe including the UK while users from Asia-Pacific and the Americas including USA come in 2nd and 3rd place, respectively. There's also a significant growth in funded accounts coming from the Middle East and Africa.
It's easy to add funds to the account since eToro support a wide selection of banking methods. This includes the following:
Credit and debit cards (Visa, Mastercard, Diner's Club)
China Union Pay, Giropay (Sofortüberweisung)
Neteller
Skrill Limited UK
WebMoney
Wire Transfer
Wirecard- Wire and Credit Card
Yandex
PayPal

Do take note that the time it takes for the funds to appear in your trading account will depend on the payment method that you selected.
Usually, funds are instantly deposited via credit/debit cards and online banking while Wire Transfer may take 3 to 5 business days depending on the value.
Put it this way:
The more ways you can deposit, the better. Such variety of ways for funding adds more convenience and lessens the hassles. No doubt, this deserves a perfect score.
Minimum Deposit
Opening an account at eToro necessitates an initial deposit of $10 for US and UK residents and this amount is considered to be reasonable. For other countries such as Australia, France, Ireland, Italy, Philippines, Spain, Sweden, Switzerland, the minimum deposit is $50 while other eligible countries are required a higher initial deposit of $200 or $1000.
| | |
| --- | --- |
| $10 | US, UK |
| $50 | Australia, Austria, Belgium, Bulgaria, Croatia, Cyprus, Czech Republic, Denmark, Estonia, Finland, France, Greece, Guernsey, Hungary, Indonesia, Ireland, Italy, Latvia, Liechtenstein, Luxembourg, Malaysia, Malta, Monaco, Netherlands, Norway, Philippines, Poland, Portugal, Romania, Singapore, Slovakia, Slovenia, Spain, Sweden, Switzerland, Taiwan, Thailand, United Arab Emirates, Vatican City, Vietnam |
| $200 | Other supported countries |
| $1000 | Cayman Islands, French Polynesia, Gibraltar, Iceland, Isle Of Man, Jersey Island, Kuwait, Lithuania, Reunion Island |
| $10000 | Israel |
Such matter may be of a concern if you're a newbie but think of it this way:
If you're serious in trading, then such amount won't matter that much because you are most likely to make another deposit anyway in the future.
Now also consider this:
You already have just the right amount of funds which you can use for investing on a couple of instruments or copying traders in the platform.
Wallet
A secured wallet for multi-crypto storage purposes is also offered by this brokerage firm. Via the eToro Money wallet, you'll be able to receive, store and transfer over 120 cryptocurrencies.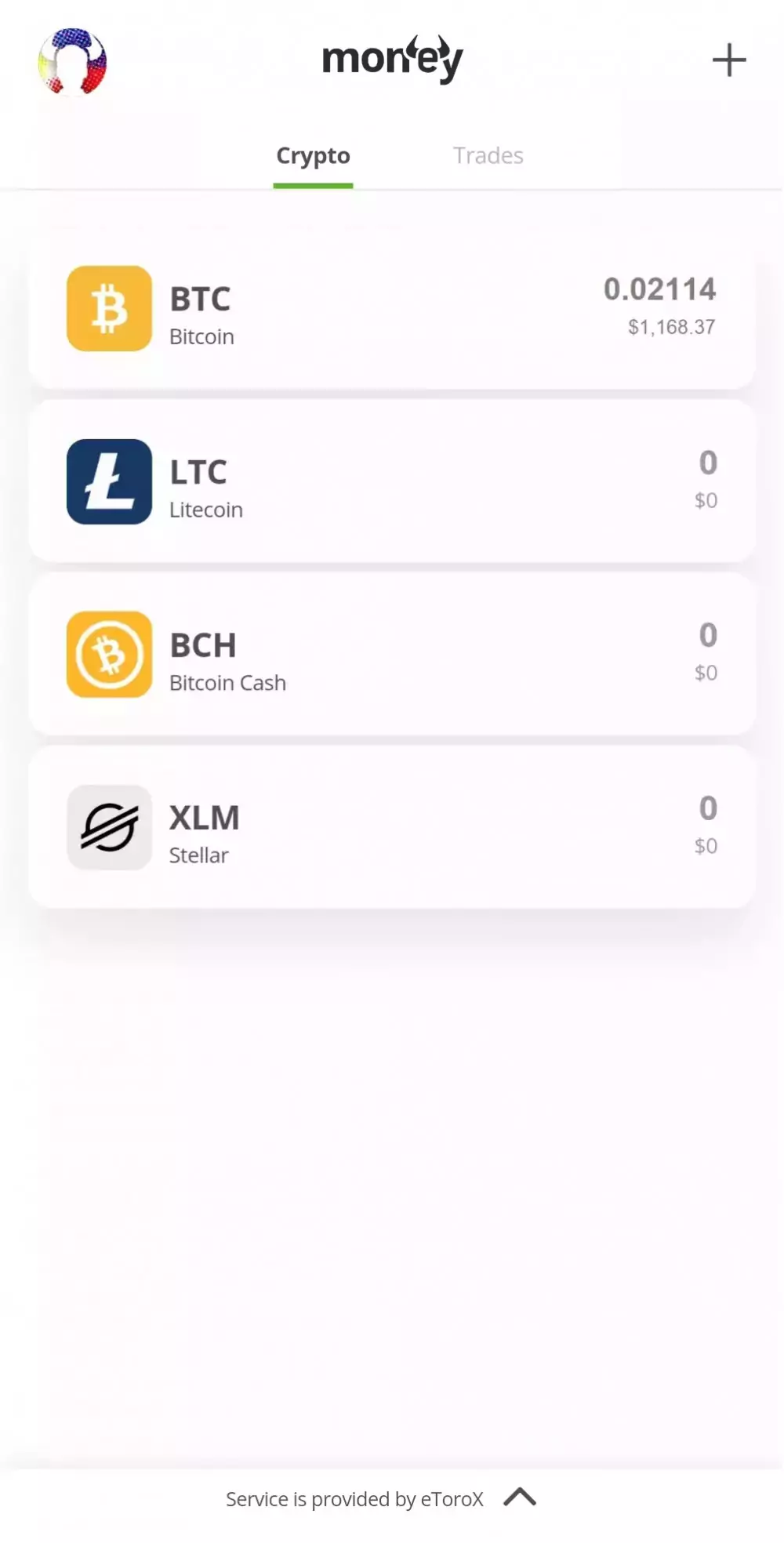 In addition, the eToro wallet also supports more than 500 different crypto pairs with its in-app conversion functionality. If you have a fully verified account and belong to their list of eligible countries, then you will be able to use this service.
To have your own wallet with eToro and start sending and receiving crypto, you need to open an account.
Keep in mind that if you have invested in any crypto assets on the eToro platform and would like to withdraw the tokens you purchased, then you need to transfer them to the wallet.
Platforms
They now have an all-in-one platform which integrates all the features of their previous platforms like OpenBook with all the tools you could possibly need to manage your trading portfolio.
If you're going to use a PC or a laptop, you won't need to download or install anything since this is purely web-based and can be accessed directly from a web browser.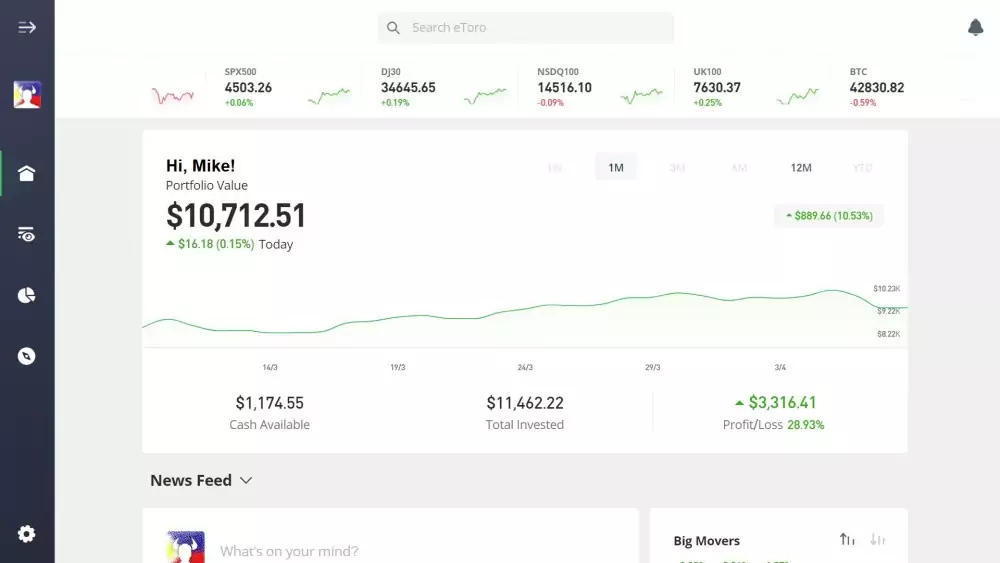 Unfortunately, they don't offer the MetaTrader platform but with such amazing features from their in-house platform, this minor downside for us is acceptable.
There's more…
If you're using a mobile device, then you can install their app for iOS and Android. These were optimized for smartphones and tablets so you'll be able to execute trades on while you're on the go.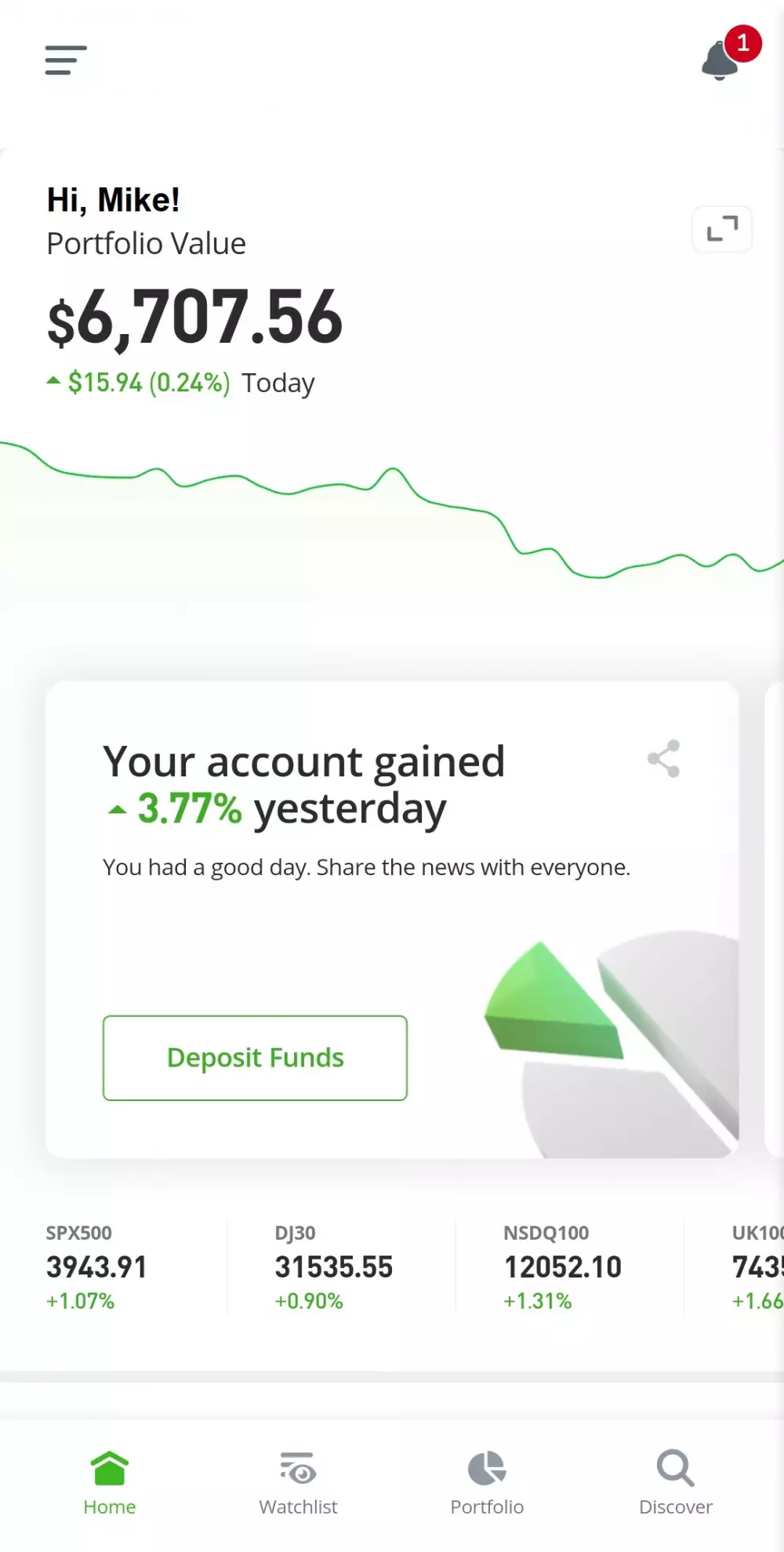 Whatever platform you choose, the thing is eToro has a very flexible social trading system so you can easily set the amount that you want to automatically copy.
Regardless if you're accessing the platform on a web browser or via their mobile apps, the user interface is very much the same so even if you switch between platforms, you won't get confused since the theme is uniform.
Assets
With more than 3000 markets available on the platform, it's very easy to find an instrument that has promising returns. Such diversity and number of markets to explore will give you more trading opportunities so you won't just settle for just a limited number of options.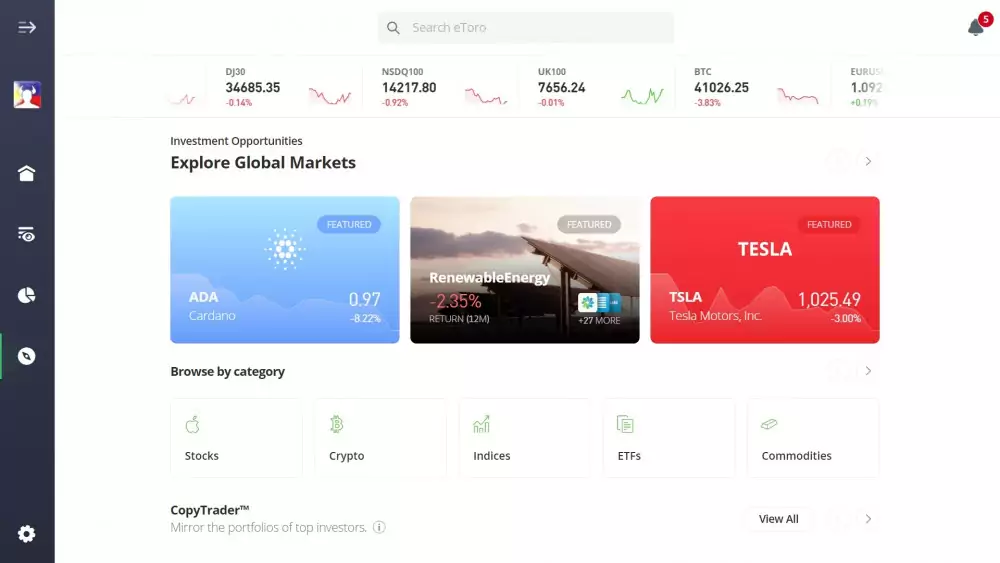 eToro's selection of trading instruments is grouped according to the following categories:
Currencies (Forex)
There's around 50 currency pairs that you can trade on the platform. You can invest not just on the majors but other types of pairs as well. Listed below are some of these currencies:
Majors: EURUSD, GBPUSD, NZDUSD, USDCAD, USDJPY, USDCHF, AUDUSD
Minors: EURGBP, EURCAD, GBPJPY, CHFJPY, NZDJPY, GBPCAD, etc.
Exotics: USDSEK, USDNOK, USDHKD, USDSGD, USDZAR, etc.
Stocks
If you're into trading shares then eToro is definitely one of the best brokers out there as they offer plenty of options. Currently, the platform will give you access to more than 2600 stocks.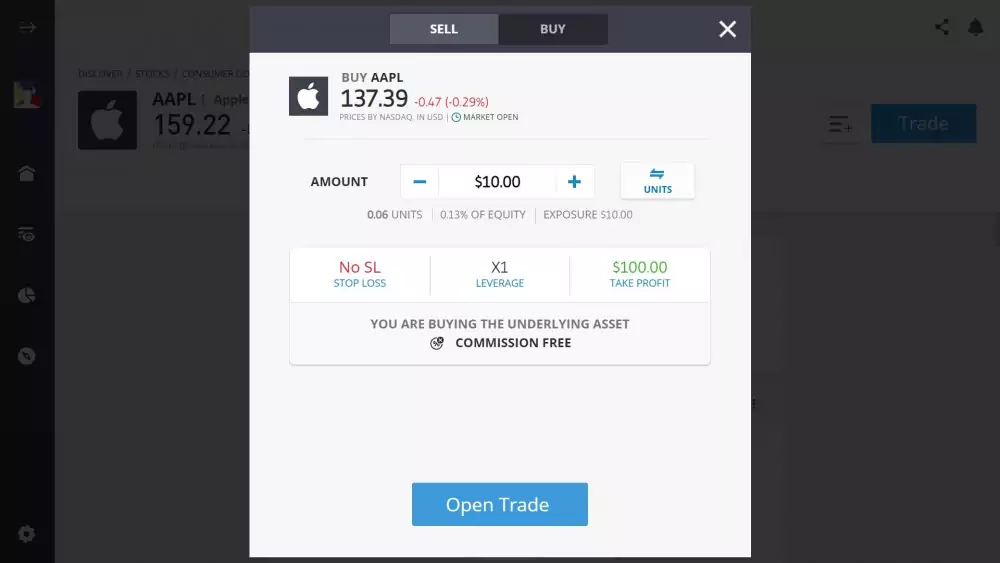 And with so many choices, their platform will allow you to explore the stocks by industry or exchange. And just to give you a preview on how they intuitively categorized this instrument type, we're giving you a preview on how the assets are grouped by industry:
London: These are companies listed in the London Stock Exchange such as Ryanair, Metro Bank PLC, On the Beach, Lloyd's, Next and Sports Direct.


Technology: Popular brands include Nokia, Twitter, Shopify, Facebook, Snapchat Inc., Oracle Corporation and Samsung Electronics.


Consumer Goods: Among the known names in this sector are Harley-Davidson Inc., Tata Motors, Novartis, Xiaomi Corp, Heineken and Danone.


Services: You'll have the choice of over 250 companies such as JC Penney, William Hill, Tesco, easyJet, Etsy Inc., Alibaba and eBay.


Financial: With 300+ stock brands in the financial sector, there are plenty of choices like Royal Bank of Scotland, AXA Group, Berkely Group Holdings, FinecoBank and DNB.


Healthcare: You can invest on known brands in the healthcare industry including Sartorius AG, Akorn, Sanofi, Pfizer, AstraZeneca, GlaxoSmithKline, Abbott Laboratories and Johnson & Johnson.


Basic Materials: Names like Nordex, Total S.A., BP, Royal Dutch ADR and Rio Tinto are listed in this industry.

What's notable about eToro is that it has around 3000 stocks which is quite a lot in comparison to other brokerages that only have around a few hundreds to a thousand choices.
Crypto
If you want to ride the wave of the cryptocurrency craze, then eToro is also a good choice because they offer a selection of digital coins including Bitcoin, Ethereum, Bitcoin Cash, Ripple, Dash, Litecoin, Ethereum Classic, Cardano, IOTA, Stellar, EOS, NEO, TRON, ZCASH, Binance Coin and Tezos.
Commodities
As of this writing, they offer the most commonly traded commodities in the market and these can be classified into 3 groups:
Energy: Crude Oil, Natural Gas
Metals: Gold, Silver, Copper, Platinum, Palladium, Aluminum, Nickel
Agricultural: Wheat, Cocoa, Cotton, Sugar
Indices
The number of instruments in this category is a bit limited (currently 13 assets) although they have the common indices such as AUS200, China50, DJ30, ESP35, EUSTX50, FRA40, GER30, HKG50, JPN225, NSDQ100, SPX500, UK100 and USDOLLAR.
ETFs
This gives you 260+ thematic investment options for various industries like biotechnology, wheat and natural gas futures contracts. eToro also has the edge over its competitors which either don't offer ETFs or only have a few to offer.
Spreads
Like with other trading platforms, eToro's spreads are the difference in price between a financial instrument's BUY and SELL prices. The spread is where eToro earns their compensation for every trading transactions made.
| | |
| --- | --- |
| Currencies (Forex) | Starts at 1 pip |
| Commodities | Starts at 2 pips |
| Indices | Starts at 0.75 points |
| Stocks & ETFs | 0.09% |
eToro spreads are still well within the competitive range as compared with the spreads of other popular brokers.
Fact is: Most of the assets have around 1 to 3 pip spreads which are standard for most platforms. It may not be the tightest in this industry but it is still considered to be very competitive compared with its peers.
And the good news is that they have scaled down the spreads for the top 10 actively-traded pairs on their platform.
For example:
The spread for the EUR/USD currency pair has been lowered from 3 pips on average to just 1 pip now.
Fees
eToro charges zero-commission and no management fees on transactions made on the platform. This means no broker fee will be applied when opening or closing a trade position. However, eToro fees are applied on other transactions such as forex exchange and overnight holding fees for other financial assets. eToro also charges fees on some withdrawals and various spreads.
Also keep in mind:
eToro charges $10 every month for accounts that are inactive for at least a month. eToro also charge a $5 withdrawal fee for users from outside the United States.
Remember: There is zero withdrawal fee of United States eToro customers but there is a minimum withdrawal of $30.
Quotes and Prices
It's highly essential to know if the quotes or market prices that you are receiving from your broker are accurate because this is where you will base your trading decisions.
In addition to that…
This is also a good way to test if they are indeed giving you the correct market prices or if they are controlling the values in their favor.
Allow us to explain:
In order to determine the accuracy of the quotes on eToro's platforms, we've done a series of stringent tests and after a thorough investigation, we were able to conclude the prices that they show were never manipulated or delayed.
Bottom line? eToro's platform quotes are synchronized with the actual market prices.
08
How to Withdraw Funds?
---
Withdrawal
Now how about the withdrawals?
While most traders complain about the delays in the processing time of their withdrawal requests with their brokers, our experience with eToro in this part of the test was very smooth and didn't take too long to accomplish.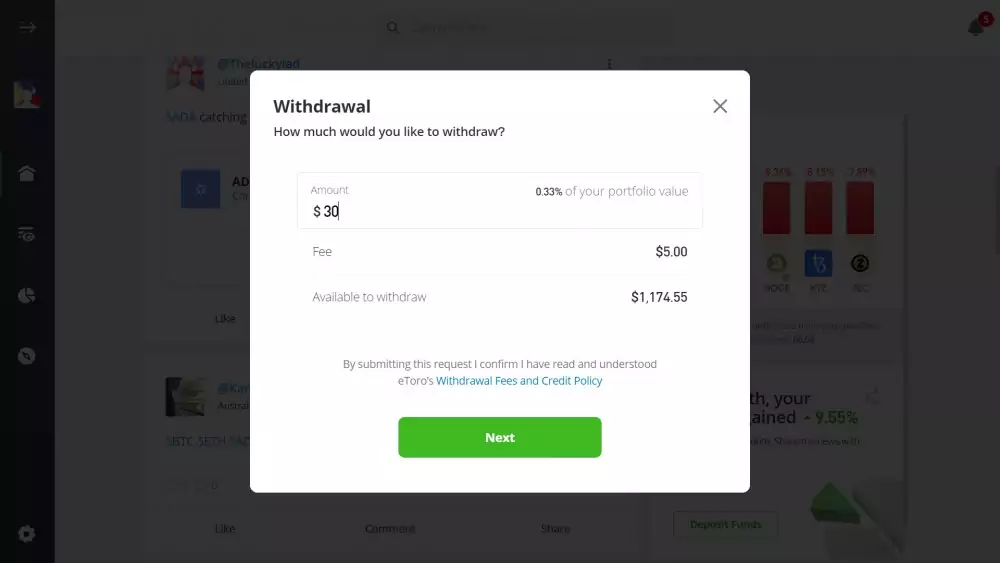 As long they have all the necessary information, the withdrawal processing time only take 1 business day while the time it takes to receive the payment may vary depending on your payment provider.
Customer Service
There are plenty of ways to contact the support department but is recommended that you first refer to their Help Center and enter your queries because you are most likely going to find the answers there.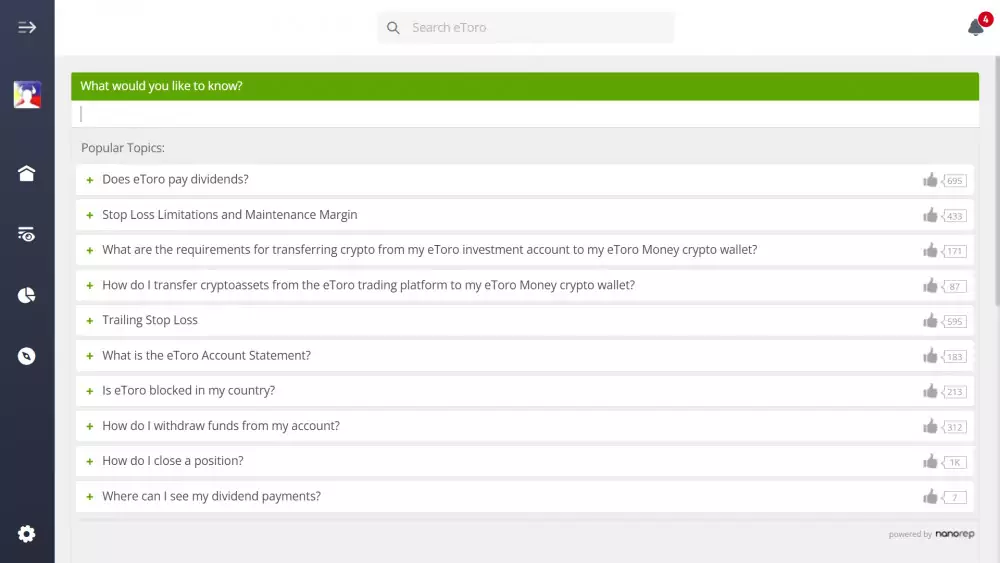 And if you can't find the answers, you can easily get in touch with one of their agents via the most common methods of communication: email or live chat. The choice is actually yours.
There's the live chat which is a very convenient way to contact them with just a few clicks. This is a great option if you want to talk to a real person and need fast answers. We suggest using this option for better communication.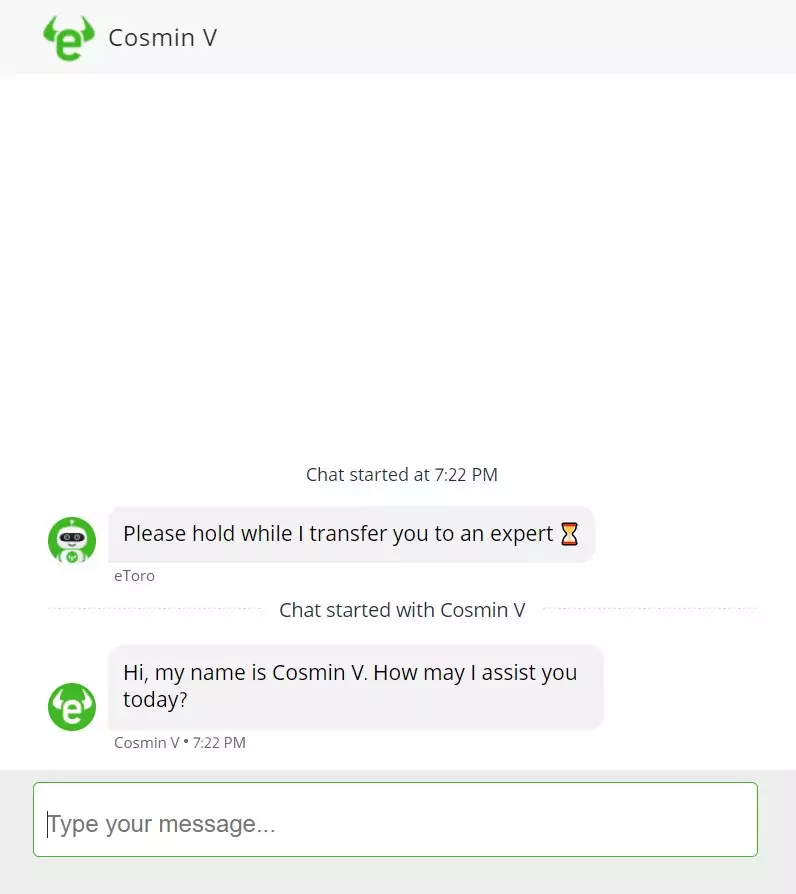 Via the email support, we got a reply from them within an hour and their responses were pretty detailed so we got the answers that we were looking for. Take note that phone support is no longer available.
Overall, we were very satisfied with our experience with eToro's customer support across all the available channels and most notably because of them fast and detailed answers.
Reputation
After doing an extensive research about this brokerage, we've learned that their reputation remains untarnished in many countries.
Since they started their operations in 2007, they easily managed to become world's most popular trading platforms.
eToro is widely known to be the pioneer in the social trading industry and that is proven by their massive 28 million global users. Such number is no doubt an indication that they are a credible brand.
Fact: eToro's number of registered users has dramatically increased from just 0.17 million in 2008 to 26.9 million in 2021. That's an increase of 15723.5% for a period of 13 years.
To top it off…
eToro is the biggest sponsor for the Premier League's latest season having partnerships with numerous clubs. In addition to that, they even aired a national commercial during the Super Bowl LVI championship game.
So what does that mean? Having such sponsorships and big budgets for advertising means that this is a real huge and financially stable company.
It all boils down to this: A brokerage like eToro that has built a solid reputation and integrity in this market deserves a notable score.
Regulation
eToro operates in various countries and has been able to get a license from the following international financial regulators:
Cyprus Securities & Exchange Commission (CySEC): eToro (Europe) Ltd. is licensed with company registration # HE20058.


Financial Conduct Authority (FCA): eToro (UK) Ltd. is authorised and regulated with company registration # 7973792.


Markets in Financial Instruments Directive (MiFID): eToro Europe and eToro UK both operate in compliance with this directive.


Australian Securities and Investments Commission (ASIC): eToro AUS Capital Pty Ltd. is the holder of an Australian Financial Services License (AFSL) 491139 issued by this regulator.
User Reviews
Below are some of the verified comments from actual users of eToro:
10/11/2022
⭐⭐⭐⭐⭐
Ryan A. says:
eToro has been an invaluable tool for me in getting into the cryptocurrency market. The site is very well designed, and I love the social aspect. It lets me follow in the footsteps of some of the most successful traders on the platform, which lets me feel more confident in my own decisions. eToro is perfect for any crypto investors who want to mirror their movements with those of other experienced traders, and it has helped my portfolio
29/10/2022
⭐⭐⭐⭐
Grace L. says:
The best thing about eToro is the community. There are hundreds of people that use this platform, and I can say for a fact that it's one of the most active communities I have ever seen. I love how there are always people to chat with when I come on. It makes me feel not so alone in trading my stocks and other financial products and has helped me learn new things from other people who share the same interests as I do.
19/10/2022
⭐⭐⭐⭐⭐
Norman K. says:
I've been a crypto trader for years and I have to say, eToro is the best platform for beginners. The interface is intuitive and easy to understand, making it an excellent choice for those who want to invest in cryptos. Furthermore, they offer excellent customer service which is needed when you're inexperienced with this kind of investing.
Conclusion
Based on the extensive test and evaluation that we did, eToro was able to pass most of our criteria for judging and was able to generate impressive scores.
What this brokerage provides a suite of online investment solutions where the turnover opportunities are very promising thanks to their innovative combination of online trading and social media.
Not only will you be able to trade and invest on financial assets across several categories but you will also be able to copy leading investors on their expansive social investment network of over 28 million users.
But that's not all…
Their credibility is not questionable as it has proven to be one of the most regulated brokers worldwide and among the most well-known names for social trading.
Regardless if you're a newbie that is looking for a safe entry into the trading scene or an advanced trader that is looking for higher rewards, eToro's global multi asset investment platform is your best choice.
eToro is a multi-asset platform which offers both investing in stocks and cryptoassets, as well as trading CFDs. Please note that CFDs are complex instruments and come with a high risk of losing money rapidly due to leverage. 77% of retail investor accounts lose money when trading CFDs with this provider. You should consider whether you understand how CFDs work, and whether you can afford to take the high risk of losing your money. Past performance is not an indication of future results. Trading history presented is less than 5 complete years and may not suffice as basis for investment decision. Copy Trading does not amount to investment advice. The value of your investments may go up or down. Your capital is at risk. Cryptoasset investing is highly volatile and unregulated in some EU countries. No consumer protection. Tax on profits may apply. eToro USA LLC does not offer CFDs and makes no representation and assumes no liability as to the accuracy or completeness of the content of this publication, which has been prepared by our partner utilizing publicly available non-entity specific information about eToro.