Establishing itself as one of the leading brokers in online trading industry, AvaTrade UK has charted a trusted track record of satisfying its users with an array of features that makes trading online easy. Additionally, AvaTrade UK was among the very first brokers to introduce CFD trading on stocks, indices and commodities trading.
01
Is AvaTrade UK Regulated?
---
Regulation
Yes. Several jurisdictions in the EU, Australia, Japan, South Africa, and the British Virgin Islands recognize Avatrade UK as a regulated broker. As a result, Avatrade UK are subject to stringent compliance requirements related to the handling of client's money, fund security, and financial reporting.
02
Benefits of Selecting Avatrade UK as Your Broker
---
Benefits
Ever wonder why a growing list of traders in the United Kingdom are opting to use Avatrade UK's trading platform? Listed below are some reasons why:
Avatrade UK offers more than 1,250 financial instruments to trade including stocks, indices, forex, cryptocurrencies and commodities.
Avatrade UK is available to use on a desktop computer, a tablet device and on a user's mobile and web-based trading using MetaTrader 4, or MetaTrader 5 and AvaTradeGO.
Avatrade UK has competitive fixed spread accounts.
Client or User funds are kept in segregated accounts for more security.
It has a wide range of automated or AI trading platforms and is also EA compatible.
03
How Many Users Does AvaTrade UK Have?
---
Users
Currently, there are more than 250,000 registered traders all over the world. This figure is steadily rising as months go by. These users account for more than 2.2 million trades transacted on Avatrade UK's trading platform every month.
04
How Do UK Traders Log In?
---
UK Login
As a user of AvaTrade UK, accessing your account is both straightforward and efficient. You just need to navigate to the AvaTrade UK homepage at www.avatrade.co.uk, then select the 'Login' option to be directed to your account's login page. This hassle-free process ensures you can get to your trading activities in no time.

To access your AvaTrade UK account, all you need are your email address and password - it's that simple. Additionally, if you've previously associated them during the sign-up process, you have the option to log in via the following accounts:
05
Is There a Demo for UK Traders?
---
Demo Account
AvaTrade extends the benefit of a demo account to its UK clients, mirroring the offer provided to all supported clients globally. This demo account delivers real-time market prices, precisely reflecting those displayed on the live trading platform, thus creating an accurate trading simulation. This feature enables you to acclimatise to the trading environment, allowing you to trade rationally without emotional interference.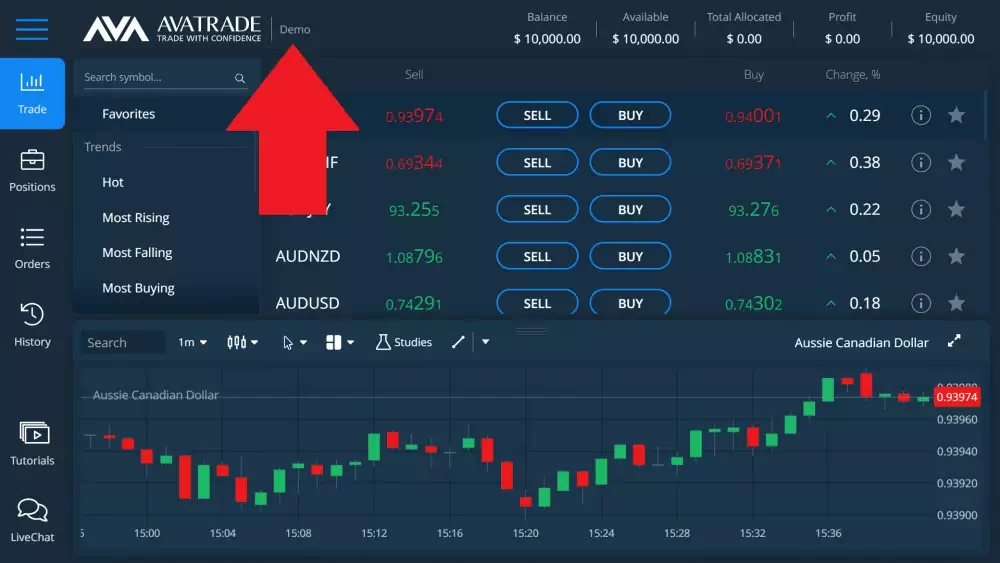 The demo account offers a safe space for traders to navigate AvaTrade's services without the worry of real monetary loss, as it uses virtual funds. It's an invaluable tool for beginners, facilitating practical learning in a risk-free setting.
By consistently engaging with the demo account, you'll enhance your ability to recognise market patterns and apply effective trading strategies. For seasoned traders, the demo account is a perfect platform to experiment with and refine new trading techniques before integrating them into your live trading activities.
06
What's the Minimum Deposit?
---
Minimum Deposit
AvaTrade aims to cater to traders with a diverse range of budgets, setting a manageable minimum deposit for their UK clients. Currently, they require an initial deposit of just £100 to kick-start your trading journey.
07
What's Payment Methods are Supported
---
Deposit Methods
Choosing the right payment method is key to a smooth and efficient trading experience. For UK clients, the most common payment methods are supported and this includes the following:
Credit and Debit Cards (Visa, Mastercard, Maestro)
Bank Wire Transfer

Take note: E-payment deposit methods such as Skrill, WebMoney, and Neteller are currently unavailable for AvaTrade's EU clients, which includes those based in the UK.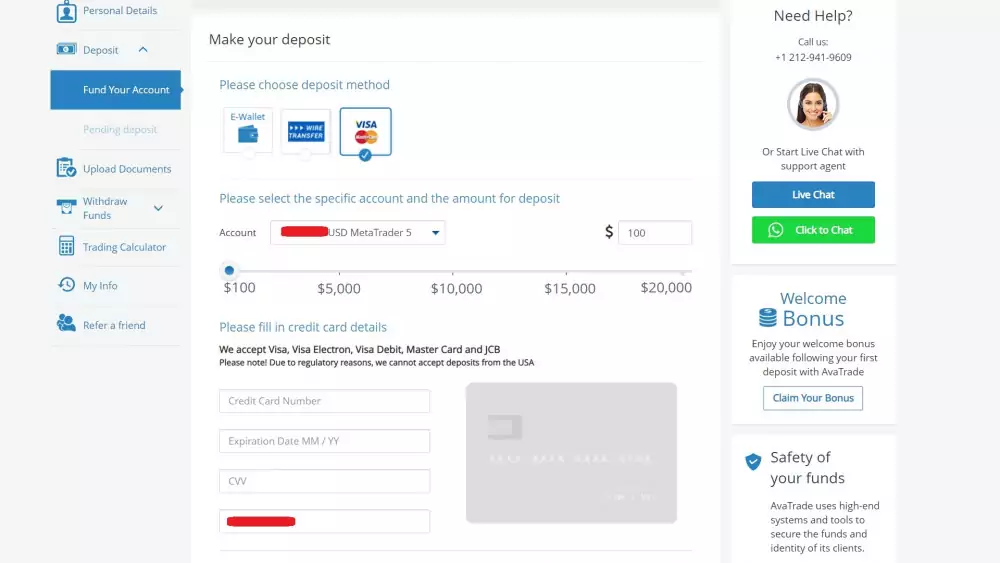 And while AvaTrade doesn't impose any deposit fees, your payment provider might. It's crucial to inquire about any possible charges with your chosen payment provider to avoid unexpected costs.
08
Is AvaTrade UK Based in the United Kingdom?
---
UK Office
AvaTrade operates its main administrative office in Dockline, Mayor Street, Dublin 1, D01 K8N7, Ireland. However, because AvaTrade facilitates all trading activities through their online platform, there is no necessity for personal visits to their physical office locations. Essentially, you can engage in trading activities conveniently from anywhere, reducing the need for in-person interactions.
Although it does not maintain a physical office in the UK, it upholds stringent regulatory standards as a licensed broker, operating under the authorization of the Central Bank of Ireland. Despite the lack of a brick-and-mortar presence, AvaTrade ensures top-tier safety and trustworthiness for its clients.
09
What ETFs Can Be Traded in Avatrade UK?
---
ETF
Traders can go long or short on some of the world's most popular ETFs on Avatrade. The fund covers gold miners, the energy select sector, emerging markets, Taiwan, Singapore, Germany, India, Brazil, South Korea, US home construction, S&P 500 short-term futures, the materials select sector, and the financials select sector.
Besides the indices, the site also lets you trade the Dollar Index and the Nifty 50, in addition to the Nasdaq, S&P 500, Russell 2000 and FTSE 100. A wide range of stocks and commodities are available, along with all the major indices.
10
What Are Avatrade UK's Different Trading Platforms?
---
Trading Platforms
Avatrade UK offers these trading platforms for users to choose from:
WebTrader: This is Avatrade's trademarked trading platform
MetaTrader 4
MetaTrader 5
AvaOptions: Avatrade's trading platform for all CFD trade options
AvaTradeGo: This is Avatrade's mobile application app that allows traders to make "trades on the go" because of its powerful yet easy to use online trading broker app interface.
Remember that both MetaTrade 4 and MetaTrader 5 are third party trading platforms.
Platform Highlights
According to most reviews, these are the main draws of Avatrade UK:
User-friendly interface that is perfect for beginners to easily understand
Low spreads and reliable execution
Plenty of informative analytical tools and educational materials
Free withdrawal, low CFD fees and zero deposit fees
Low minimum deposit requirement at £100
Fast and fully digital interface
Great search function