AvaTrade's spreads are on the average-to-competitive levels, depending on your account type, and ample educational resources. This brokerage's low minimum requirements make it an ideal platform for beginner and undercapitalized traders who are looking to honing their skills. This section will tackle everything you need to know about the spreads offered by this broker.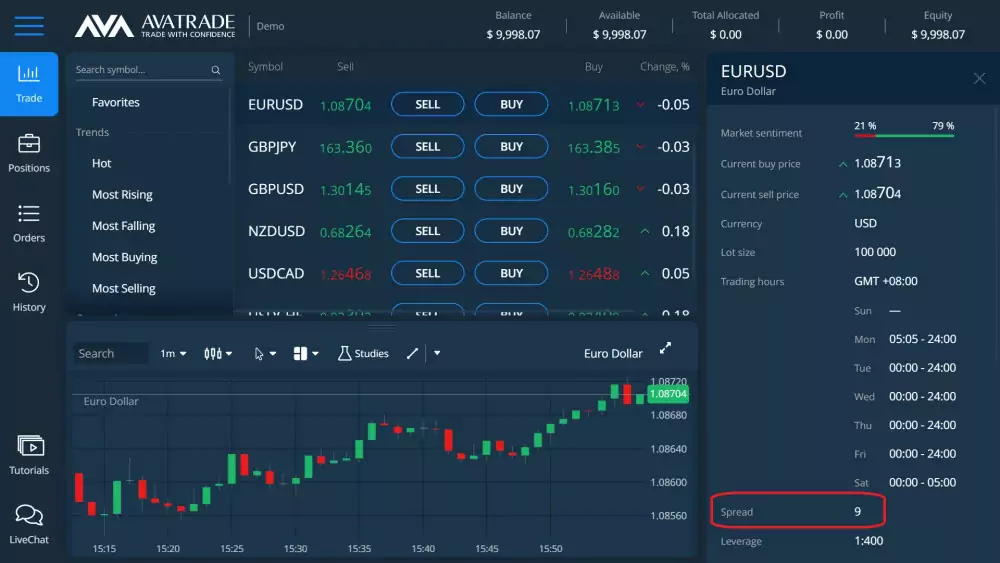 Spread Definition
In investing terms, a spread refers to the difference between the BID price and the ASK price of a financial instrument.
02
How to Calculate a Spread?
---
Calculating
The sample computation of a Spread is simply ASK - BID = Spread
Example of this computation is as follows:
The Bid is priced at 1.8050 while the Ask is priced at 1.8080.
Using the formula above, the spread here is 0.00030 or 3 pips (1.8050 - 18080 = 0.00030).
03
How is AvaTrade's Spreads Compared to Other Brokers?
---
Comparison
The average spreads of AvaTrade in the Forex pair of USD/EUR is almost the same as industry average at 0.9 pip, just a shade of 1 pip. However, it is a little higher compared to entry level accounts offered by other brokers.
For S&P 500 CFDs, AvaTrade's spreads averages 0.5 points during peak trading hours, while in Europe 50 CFD, it is built into a 2 points spread at average during peak trading hours.
04
How to Open a Spread Betting Account?
---
Spread Betting Account
You can open an Avatrade spread betting account during the registration process of your initial account. To do this, simply select the "Spread Betting" drop-down options when you are prompted for "Trading Platform" you would like to use during your Avatrade account registration.
Take note that you can choose MT4 - Spread Betting or MT5 - Spread Betting. Your decision will be based on your platform of choice.
05
Does AvaTrade Offer Fixed or Floating Spreads?
---
Fixed or Floating?
All of AvaTrade's spreads are over market. You can check out the "Trading Conditions" page of AvaTrade to learn more about specific spreads for each financial instrument.
What Are the Forex Trading Spread Conditions?
AvaTrade's forex spread trading conditions are as follows:
All spreads are over market.
Standard forex spreads are as stated under normal market conditions.
The spreads of gold and silver may be larger than stated during off trading hours from 10:00 pm - 2:00 am GMT.
Brent oil and crude oil spreads may be larger than stated from 10:00 pm - 5:00 am GMT.
Normal spreads can be used as basis but expect it to be wider due to the volatility of market conditions.
Forex option spreads display typical bid spreads for one-month at the money options following the usual market conditions.
06
What's an Ideal Spread in Forex Trading?
---
Ideal Forex Spread
Normally, the spread between the two prices is one to five pips. The spread can, however, vary and change at a moment's notice depending on market conditions. Since speculative trades need to cover the spread and any fees, investors must monitor a broker's spread.
07
Factors That Affect Spreads
---
Factors
Other than your broker, here are other factors that affect a spread:
Trading Time: An important factor to consider is the time of day when a trade is initiated. U.S. traders begin their trading day early in the morning, while Asian markets opens just when it its already late in the night for Americans and European investors. As a result, if a euro trade is entered during the Asian trading session, the forex spread is expected to be wider (and costlier) as compared to if the trade had been agreed upon during the European trading session.
World Events: Geopolitical and economic happenings also have the power to influence forex spreads. For example, if a war broke out somewhere and causes a chain reaction in the world's economies, it will affect the main currencies of the world such as the US dollar to lose value or weaken.
Market Volatility: As the economic and geopolitical events unfold, it will also cause market volatility that will drive forex exchange rates to fluctuate wildly — of what is known as a period of "wild volatility". Expect the forex spreads to become wide during extreme market volatility.
08
What's the Spread for a Professional Account?
---
Professional Account
For users qualifying as an elected professional trader on the platform, the spreads will be at 0.6 pips — which is seen as a highly competitive spread compared to other brokers.
09
How to Hedge a Spread?
---
Hedge a Spread
Spread bets of the investing act of "hedge a spread" can be done by creating opposing bets. Hedging can even be achieved even with the same provider, but you'll have to pay a secondary spread and margin because the new position needs to be hedged.
10
AvaTrade Spreads per Financial Instruments
---
Spread Per Asset
Below are the spreads and commissions of AvaTrade on each financial instrument:
Forex: From 0.9 pips.
Stocks: From 0.13% on a margin minimum of 10%, and leverage of up to 1:10.
Indices: Spreads depend on the index.
Commodities: Spreads begin at 0.34 pips on gold.
Forex Options: Spreads begin at 0.9 pips with the leverage and margin subject to what financial instrument is being traded.
ETFs: Spreads begin at 0.13%.
Bonds: Spreads start at 0.03 pips.
Cryptocurrencies: Spreads start at 0.35% over market with leverage and margin.