Financial markets around the world offer various investment opportunities to individuals who wish to grow their wealth. For Muslim traders, it is essential to conduct transactions that comply with the Islamic law, also known as Sharia. To cater to this unique requirement, several online brokers offer Islamic trading accounts. One of the pioneers in this arena is AvaTrade, a globally recognized online brokerage firm, well-known for its comprehensive Islamic Account offering.
01
What is the AvaTrade's Islamic Account?
---
Introduction
AvaTrade's Islamic account is specifically designed for Muslim traders who need to ensure their trading activities align with the principles of Islamic law. The account is a unique offering that removes the concept of "Riba", or usury, which is prohibited in Islam.
One of the key features of the Islamic account is the absence of swap or rollover charges on overnight positions, a concept known as "swap-free." This feature is in line with the Islamic principle of "no Riba," which prohibits the gaining of interest on held positions overnight.
Understanding AvaTrade
Established in 2006, AvaTrade is a leading online trading broker, providing traders worldwide with access to a comprehensive selection of markets, including forex, stocks, commodities, indices, and cryptocurrencies. The broker is regulated by several top-tier authorities, ensuring the safety and security of its client's funds.
What sets AvaTrade apart from other brokers is its dedication to cater to the diverse needs of traders, including those following Islamic finance principles. With an AvaTrade Islamic Account, Muslim traders can engage in online trading without infringing the principles of Sharia law.
Want to start trading in compliance with Islamic principles via AvaTrade? Begin your trading journey by clicking here!
03
What Can I Trade with AvaTrade's Islamic Account?
---
Tradable Assets
With AvaTrade's Islamic Account, traders are primarily permitted to trade in Forex pairs and commodities. This is designed in line with Sharia law, which has strict guidelines for business and trade.
Forex Pairs: AvaTrade offers a wide variety of currency pairs for trading, covering major, minor, and exotic pairs. This wide selection provides opportunities to trade in the most liquid global markets, including pairs like EUR/USD, GBP/USD, USD/JPY, and many more.
Commodities: The broker also gives Islamic account holders the ability to trade a range of commodities. This includes popular commodities like gold, silver, crude oil, natural gas, and a selection of agricultural commodities.
Please note that trading with an AvaTrade Islamic Account does not include cryptocurrencies, shares, indices, and ETFs. These are not available for trading under the Islamic account conditions.
| | |
| --- | --- |
| Forex | ✔️ |
| Stocks | ❌ |
| Commodities | ✔️ |
| Indices | ❌ |
| Crypto | ❌ |
| Bonds | ❌ |
04
How to Open an Islamic Account?
---
How to Open Account?
Opening an AvaTrade Islamic Account is simple and straightforward. New users can sign up for an Islamic account during the registration process. Existing users, on the other hand, can switch to an Islamic account by sending a request to AvaTrade's customer support. Upon the approval of the request, the account is converted into an Islamic account, and all future trades will be swap-free.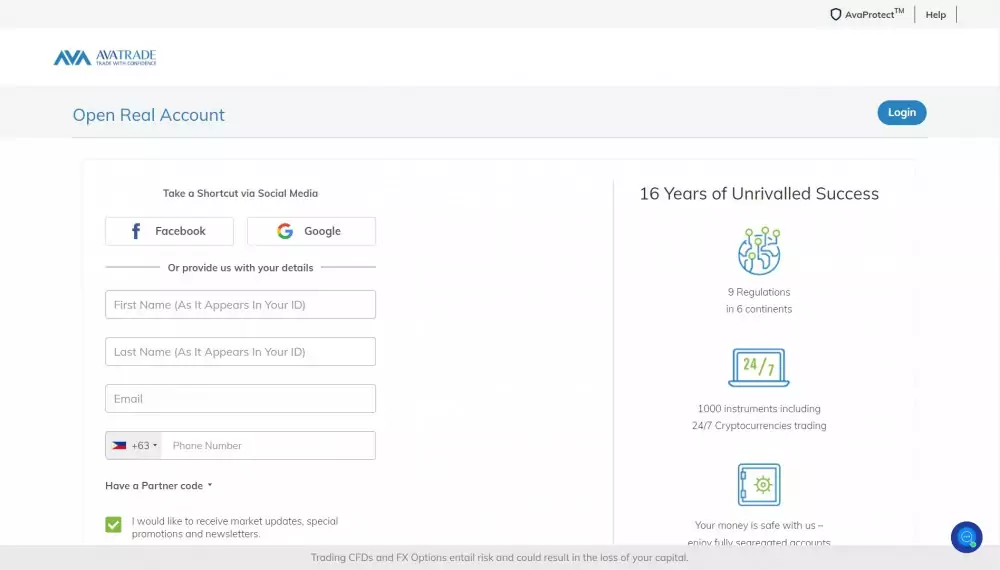 Please note that the Islamic account option is only available for the MT4 (MetaTrader 4) platform. Additionally, only currency pair (Forex) and commodity trading are allowed under the Islamic account with AvaTrade. Cryptocurrencies, shares, indices, and ETFs are not available for trading with an AvaTrade Islamic account.
Keen on opening an Islamic account with AvaTrade? Kickstart your Sharia-compliant trading experience by clicking here!
05
What are the Trading Conditions of the AvaTrade Islamic Account?
---
Trading Conditions
Here are some of the most prominent trading conditions and features associated with AvaTrade's Islamic account:
Swap-Free Trading: The most important feature is the removal of swap charges on overnight positions. This allows Muslim traders to hold positions for longer without incurring any interest charges, thus adhering to the principles of Islamic finance.


No Commissions: AvaTrade does not charge any additional commissions or fees for its Islamic accounts. The broker only profits from the spreads between the buying and selling prices of a trading instrument.


Access to Trading Instruments: With an AvaTrade Islamic account, you can trade a wide variety of forex pairs and commodities. This broad selection gives Islamic traders access to the most liquid and popular markets in the world.


Leverage: AvaTrade offers generous leverage to its traders. This allows traders to control a large amount of money with a small initial deposit, enhancing potential profits.


Free Trading Tools and Education: AvaTrade is committed to empowering its traders through education. It offers free access to numerous trading tools, educational resources, and market analysis that can help traders make informed decisions.


Customer Support: AvaTrade's customer support team is available 24/5 to assist traders with any issues or inquiries they may have. The support is offered in multiple languages to cater to its international client base.
06
What is Responsible Trading Using an Islamic Account?
---
Responsible Trading
While AvaTrade's Islamic Account removes the constraints of Riba, it's essential to note that responsible trading is still crucial. Leveraged trading carries inherent risks, as it can magnify both profits and losses. Therefore, traders should have a clear understanding of the markets they are trading in and should use risk management strategies to mitigate potential losses.
07
Why Trade Using AvaTrade's Islamic Account?
---
Conclusion
In conclusion, AvaTrade's Islamic Account offers a valuable solution for Muslim traders wishing to engage in online trading while adhering to the principles of Islamic law. With its user-friendly interface, educational resources, wide variety of tradable assets, and excellent customer support, the AvaTrade Islamic account stands out as a reliable choice for Sharia-compliant trading.
Whether you are a novice trader seeking to enter the world of online trading or an experienced trader wanting to ensure that your trades comply with Islamic law, AvaTrade's Islamic account could be an excellent choice for you. As with all forms of trading, it's essential to educate yourself about the markets, devise a solid trading plan, and use risk management techniques to protect your capital.