Signing up for an AvaTrade account gives you the options of using the best trading platforms that meets your investing style. Offering a selection of manual trading platforms like AvaTrade Go, WebTrader, MetaTrader 4 and 5, investors will enjoy its robust features when trading in the market. Everything you need to know about what type of AvaTrade account? how to sign-up for one and more will be explained in this article.
01
How to Open an AvaTrade Account?
---
Opening an Account
Opening an AvaTrade account is easy. Just follow these simple steps:
Open the AvaTrade website. From its main page, click "Register Now".
Choose what you want to open by selecting "Real" or "Demo" account.
Enter your personal information of the fill-up form such as full name, email address.
Select if you prefer an Individual account or a Joint Account.
Click "Create Account".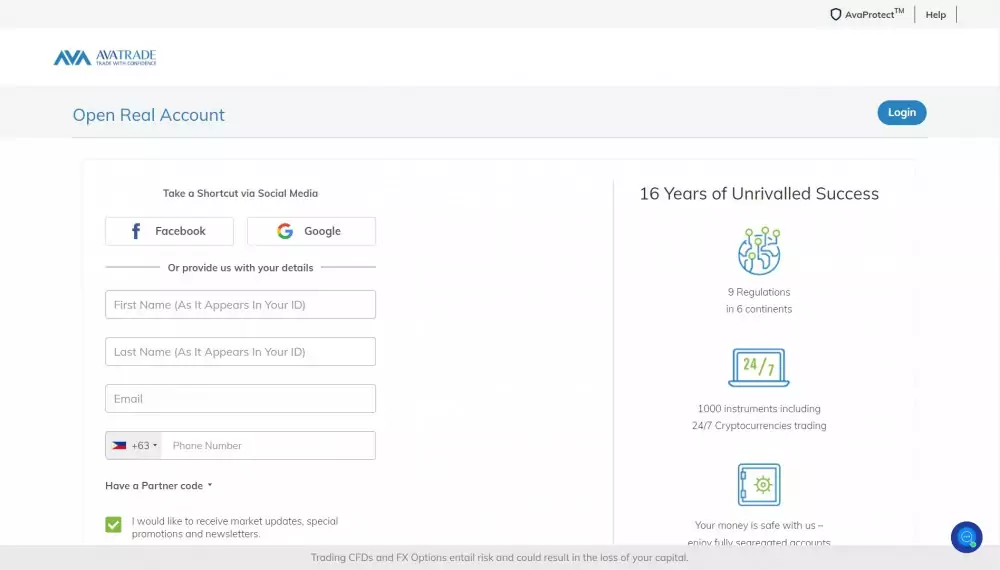 Remember: If you chose to create the REAL account, you can fund it by depositing money to your account to start trading. For DEMO account, there is a virtual money that you can use to practice your trading strategies before you trade using real money.
02
How to Apply as Professional Trader?
---
Professional Account
Becoming a professional trader increases a trader's account leverage level. To apply for a professional trader account, simply follow these steps:
Click "Professional Trader" found on the left tab of your My Account page.
Check the listed requirement checklist and choose the ones related to your application.
Fill in the requested information and details.
Click "Continue".
Before clicking the "Submit" button, be sure to agree with the client declaration presented.
If you meet the requirement, AvaTrade will request you to upload an Account Statement of your AvaTrade Trading Account (or with other brokers).
After uploading it, read and close the application completion box.
Wait for the update since your application is now pending review. Once it is approved, your professional trader account will be activated.
03
Is It Ideal for Beginners?
---
Newbie Traders
Yes. AvaTrade is widely recognized as a trusted trading platform known for its extensive offering of features ideal for forex and CFD traders, as well as for its exceptional education content. In fact, AvaTrade earned the distinction of Best in Class Rating for Beginners.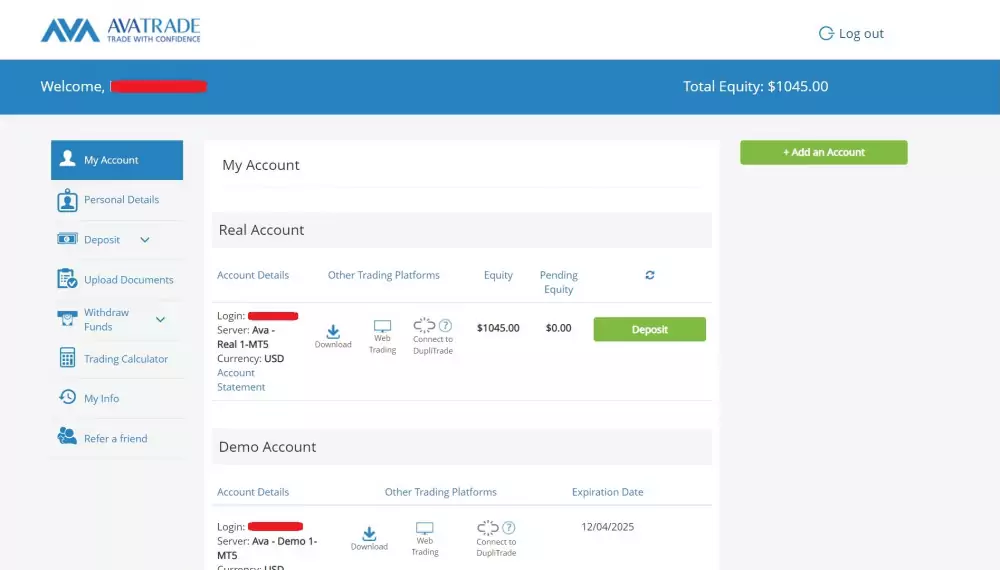 04
Is It Different From the Demo Account?
---
Difference From Demo
No in concept but yes in application. Since the demo account allows traders to experience trading in real-time market conditions and try various strategies, trades are executed with virtual money. The real action, however, takes place on the real account where real money is at stake.
Free Account
Opening an AvaTrade account is free. Other transactions such as withdrawals and deposits are also free of charge. AvaTrade charges an inactivity fee of $50 per quarter after 3 consecutive months of inactivity.
06
What are the Benefits?
---
Benefits
AvaTrade robust features provides users these benefits:
It offers a variety of trading platforms, including Meta Trader 4 and AvaTrade Go, a flexible trading mobile app, and the ability to also engage in web-based trading.
Automatic trading platforms are also made available to users
Anyone can use to suit AvaTrade according to their preferences.
It offer over 250 tools and instruments, including Forex and cryptocurrencies.
Their client's money is kept in separate accounts and is secure.
Users can access the service in 20 languages around the world.
07
What are the Documents Needed for Verification?
---
Documents Needed
In order for AvaTrade to confirm your account, you need to upload a Proof of Identity document (Government-issued ID) and a Proof of Address document (billing and bank statements) to your account.
Remember: For Joint Trading Accounts, you will need to fill up a "Joint Account Authorization Form" that you can download from this link.
08
How to Upload Documents?
---
Uploading Documents
Since Avatrade requires users to verify ownership of their accounts, certain documents are required. To upload documents, simply follow these steps:
Login to your account.
On the left side of the main page, select and click "Upload Documents".
On the dropdown menu, select the type of ID you want to upload.
Click the document from your device library and click "Open".
Click the "Upload" button.
This process is the same when uploading other documents like a billing address.
After uploading your documents, you will see a text box showing the status of your documents. In this case, it will show the upload date and the status "Waiting for review".
Tip: You can check it again the next day to see if your status is changed to "Approved"
09
What's the Minimum Deposit?
---
Minimum Deposit
The minimum amount you can deposit to your Avatrade account depends on the base currency you prefer. Refer to the table below:
US Dollar account: $100
Euro account: €100
Great Britain Pound account: £100
Australian Dollar account: AUD $100

Take note: The Australian Dollar is only available for users in Australia similar to the GBP being only available to traders in the UK.