Last updated: June 29, 2023
Summary
AvaTrade has a diverse variety of trading platforms that are ideal for forex and CFD traders and even copy trading as well thanks to their various products including ZuluTrade, Duplitrade and AvaSocial. It also has an extensive set of informational resources that can be very useful especially if you are new to online trading. And with just a minimum deposit of $100, it's definitely a good deal to open an account and start trading with this broker. Overall, we recommend AvaTrade if you're interested to trade forex or CFDs, or you'd like to explore opportunities via copy trading.
You can use the demo to try AvaTrade's platforms. You can deposit later on if you wish to continue with live trading.
In this review, we'll take a look at the most important features to consider when finding a reliable broker to trade with and we'll find out if AvaTrade is ideal for your trading needs.
02
Should You Trade With AvaTrade?
---
What We Like + Don't Like
There were a lot of things that we liked about this broker. First of all, it has active licenses from various regulators including the Central Bank of Ireland, Australian Securities and Investments Commission, South African Financial Sector Conduct Authority, Cyprus Securities and Exchange Commission, and others. It also has over 800 markets with 7 asset classes giving us more instruments to explore and take advantage of trading opportunities. The AvaTrade brand has also been known to be a recipient of various awards and recognitions in the forex and CFD trading industry so we certainly wouldn't doubt its reputation.
While we found a lot of advantages from AvaTrade during this review, there were also some disadvantages worth mentioning. The first is that it does not support residents of the United States so if you are from this country, then you won't be able to sign-up with this broker. Another thing that you need to be aware of is that the demo account has an expiry. You'll only be able to use this feature for 21 days and after this period, you'll need to open another demo account or request one from the customer service department.
03
Analysis of AvaTrade's Main Features
---
Analysis
Pros
Diverse range of assets
Regulated
Segregated client accounts from Europe, Australia and Japan
Award-winning brand
Competitive spreads
Cons
US traders not accepted
Demo account valid for 21 days only
04
How to Sign-up with AvaTrade?
---
Registration
With AvaTrade, registering an account is very easy and quick. All you need to provide is your first and last name, email and a phone number during the initial phase of the sign-up process.
A good alternative way to sign-up is using your Facebook or Google account. This option is now a common method of registering for account so that you won't need to provide your details anymore. What will happen is that AvaTrade will automatically pullout the details from Facebook or Google and will link it directly to your newly opened trading account.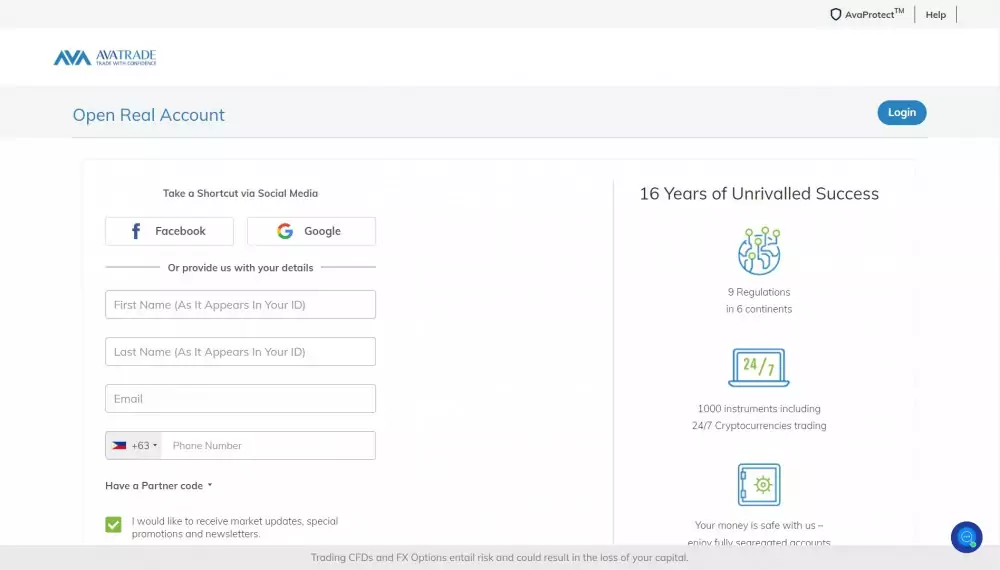 In addition…
You can also use your Facebook, Google or Apple account to sign-in whenever you want to access your AvaTrade account. This makes it a lot more convenient since there's no need to input your login details especially if you're the type of user that easily forgets your password.
Most of the clients from over the world are permitted to use AvaTrade but there are a few exceptions.
Unfortunately, they don't have an official list of these countries on the site. The good news is that it's quite simple to check if it is supported by this broker. You just need to open their website and it will automatically check your IP address and location and will give a notification whether your country is allowed or not.
Just be sure that you're not connected to the internet via a virtual private network or VPN. That means your connection should indicate your actual location rather than one from another country or region.
Accounts
Here's the thing:
Some brokerages offer various account types for their clients. Most of them have different tiers or levels like bronze, silver and gold, or categories like standard and VIP.
The difference with AvaTrade is that there are no account types. That means anyone who has an AvaTrade account will be able to enjoy the same benefits. There is no difference with the perks so there's practically no limited feature whatever amount you deposited into your account and we think that's really fair.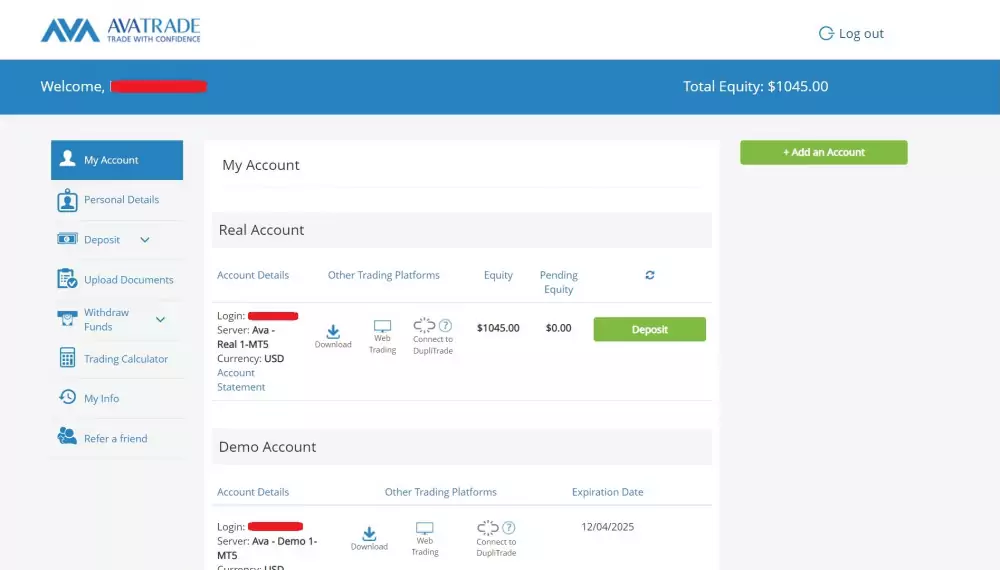 Do take note that there is an AvaTrade Islamic account that is created for Muslim traders.
From just 11.33 in July 2017, the number of monthly active AvaTrade users for online share trading in the UK has increased to 12162.35 by July 2021. That's a 107246% increase in just a span of 4 years.
What about bonuses?
What's great about AvaTrade is that they offer occasional welcome bonuses for newly signed-up clients.
Like for example, they had a limited welcome bonus offer for new clients who will make their first deposit during the promotion period.
Do take note that specific terms and conditions apply in order to claim, use and withdraw these bonuses so be sure to read them first before availing them.
05
Does AvaTrade Have a Demo?
---
Demo Account
AvaTrade allows its users to participate with thousands of traders who have made them their preferred trading platform. If you are interested to trade with this broker but are still not ready to do live trading then you can examine the demo account first.
The demo account provides data that is not delayed and is similar to the numbers displayed on a real platform. The prices are shown in real time. This will allow you to become accustomed to trading without letting your emotions take place over rationality.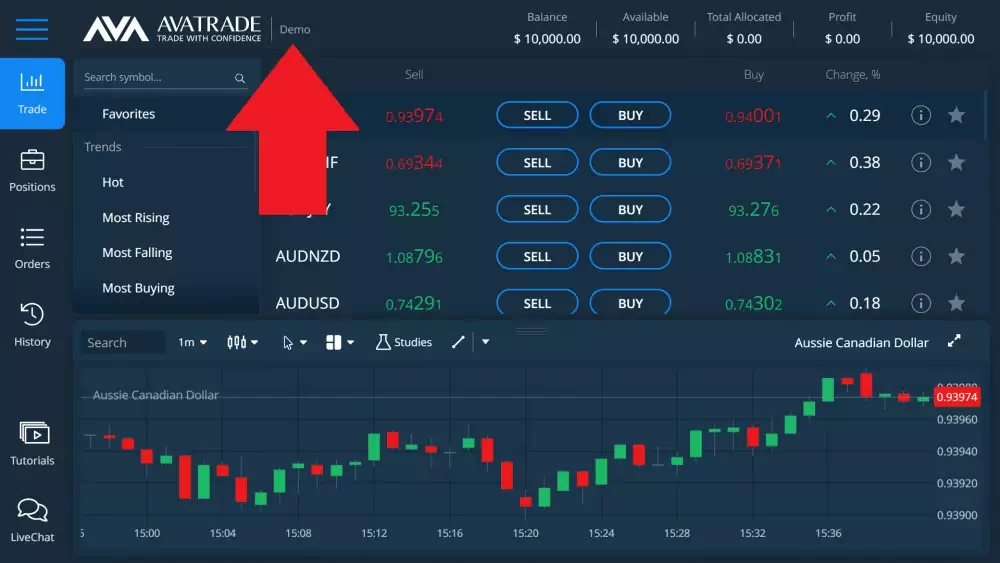 Here's the deal: The account comes with $10,000 in virtual money to practice and fine-tune your trading strategies. This amount is already sufficient if you are a beginner as this will also teach you how to manage your funds efficiently.
And take note, the AvaTrade demo accounts expire after 3 weeks.
AvaTrade Academy
Their AvaTrade Academy is an innovative, all-encompassing resource for trading education. With an objective to assist traders of all skill levels, from beginners to seasoned professionals, the platform offers a plethora of well-crafted learning materials that promote continuous learning and self-improvement.
What sets this academy apart is its vast and diverse array of learning resources. From an impressive collection of regularly updated eBooks encompassing a broad spectrum of trading topics, to a solid library of comprehensive video tutorials simplifying complex trading concepts, the platform effectively addresses different learning preferences. Additionally, the provision of live webinars that allow for real-time interactions with industry experts further adds value to the educational journey.
A noteworthy feature of AvaTrade Academy is SharpTrader, an advanced portal providing in-depth market insights and analysis. This tool aids in making informed trading decisions, enabling traders to keep up with the dynamic financial market trends.
Login
The only information required to login to your Avatrade account is your email and password.
Tip: If you're the type of user who keeps on forgetting your login details then you could use your linked Google, Facebook or Apple account to sign in to the platform.
On rare instances, you may encounter issues when signing in to one of their platforms or apps. When this happens, it is recommended to clean all your cookies and cache on your phone or computer. Then, you can try entering your AvaTrade login details again and it will most likely be resolved.
07
How to Make a Deposit?
---
Deposit
Making a deposit is fairly simple and won't require any complicated process as long as you provide the correct details. The deposit page can be accessed directly from the trading platform so you don't need to switch screens or go to a different page.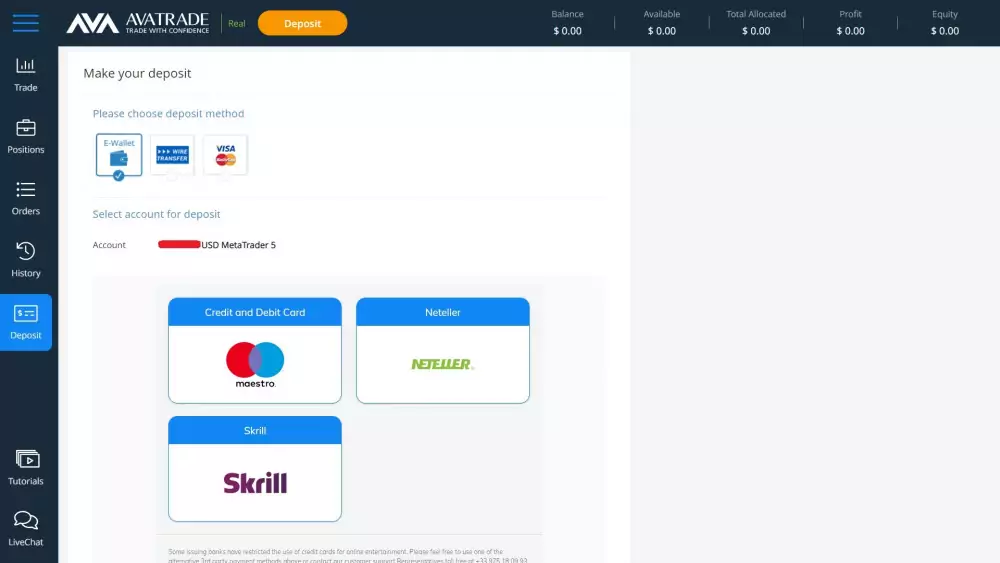 Adding funds to the AvaTrade account is possible by the use of various gateways such as:
Credit and debit card brands like MasterCard and Visa
Wire transfer
Several E-payment methods like PayPal (except for EU customers)

It's also good to know that they implement a 256-bit SSL encryption across their website which means you don't need to worry about credit card fraud and identity theft.
In general, our experience in making an AvaTrade deposit was hassle-free.
Minimum Deposit
AvaTrade requires a minimum deposit of $100, which is at par with the requirements of most brokers in the market today.
This is good news for newbie traders because they won't be required to transfer a huge capital. We also think that this is the ideal amount for starters especially for those who want to explore various markets.
| Account Currency | Minimum Deposit |
| --- | --- |
| USD | 100 |
| GBP | 100 |
| EUR | 100 |
| AUD | 100 |
| ZAR | 1950 |
Platforms
AvaTrade features a selection of trading platforms which includes the popular MetaTrader 4 and their very own downloadable platform called AvaTrader that features advanced charting and multiple live news feeds.
The AvaTrade MT4 doesn't need much explanation as it is known to be a standard in this industry and is very flexible for novice traders.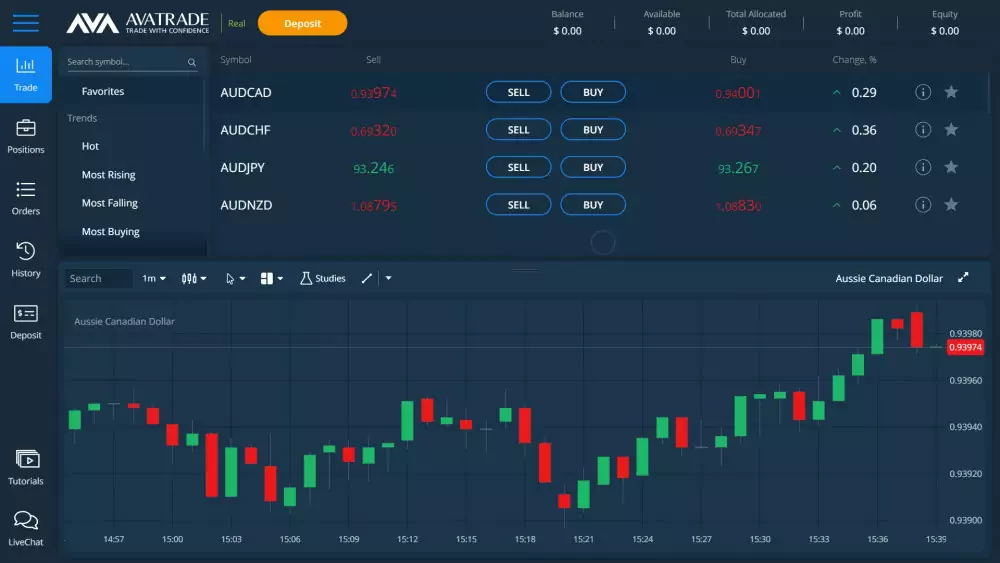 They also offer WebTrader, Mobile and an automated trading system. The MirrorTrader and ZuluTrade are the AvaTrade copy trading platforms which are capable of emulating the trades of skilled traders even if it is unattended.
In terms of design, AvaTrade has done a terrific job in keeping their platform very simple and not too fancy.
An advanced interface design looks a bit intimidating especially for one who is not yet used to the platform but after a while, you will realize that it's well-organized and very user-friendly.
It's easy to view the open positions, the prices, the charts and everything that you need is on the entire screen as they have organized all the necessary items very well.
What we also liked about the overall design is that it has a fast loading time even if there were a few cosmetic additions.
It's noteworthy to highlight the AvaTrade AvaProtect feature on the WebTrader platform. This innovative risk management tool is distinctively designed to shield traders from potential losses on selected trade positions.
Assets
Having a broker that covers a wide range of assets is no doubt an advantage as it increases the possibilities of making a profit.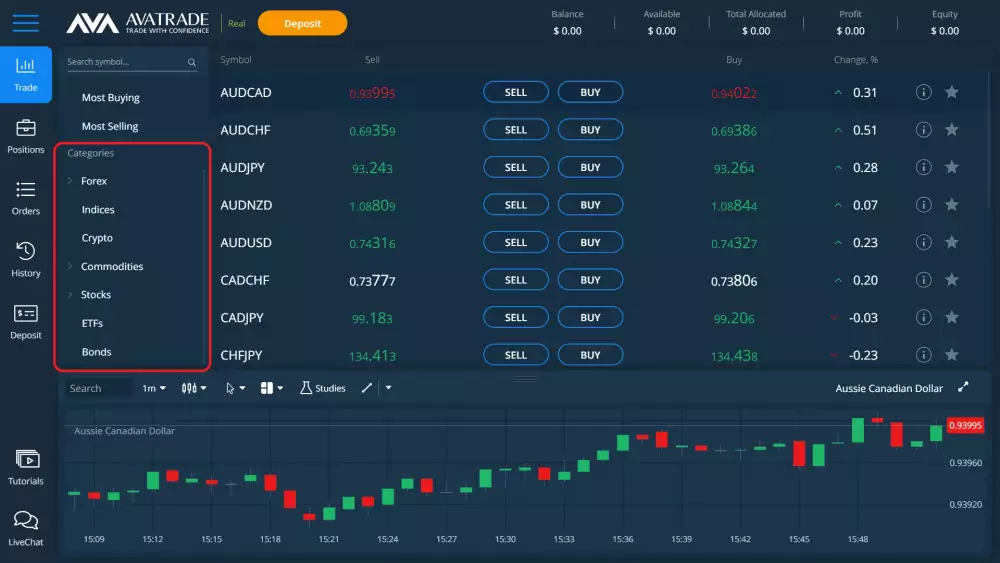 With AvaTrade, there are more than 800 instruments but aside from that, their biggest advantage over their competitors is that they are one of the very few brokers that offer trading on emerging cryptocurrencies like Bitcoin, Ethereum, Ripple, Bitcoin Cash, Litecoin, IOTA, DASH, NEO, Monero, Zcash and Qtum.
Spreads
People trade forex and other instruments for the purpose of making considerable earnings and for this reason, the pip value is important as it will calculate how much profit can be made or lost on a trade.
This broker doesn't charge any commission and offer fixed and floating spreads conditional to the platform that is being used and what's notable about AvaTrade is that they have reduced the fixed, floating and options spreads.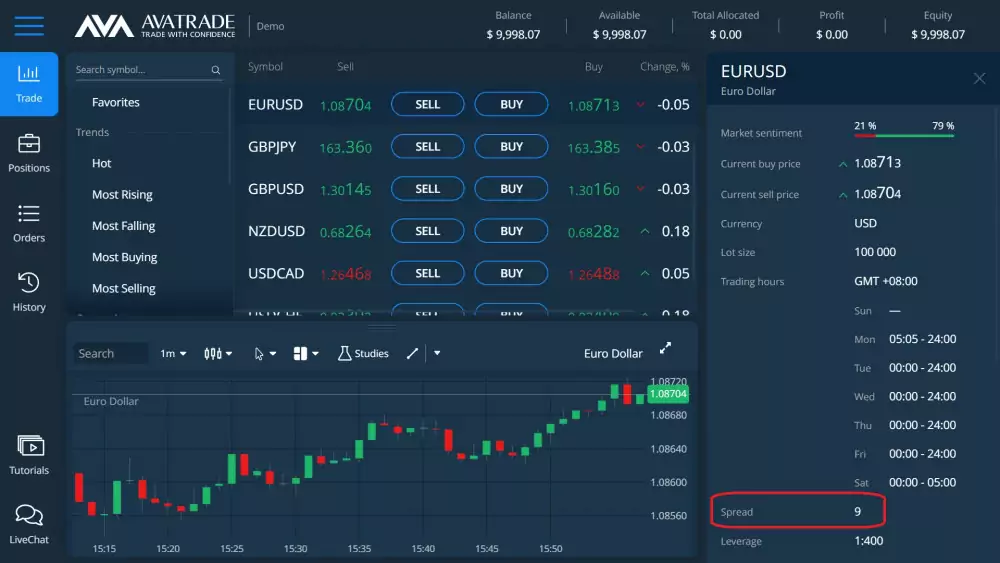 In fact, AvaTrade has even reduced the fixed, floating and options spreads by an average of 35% across the majors and as much as 50% on some FX pairs. For the EUR/USD currency pair, they now offer 0.90 for the fixed spreads. These are much more competitive than the typical spreads of other brokers.
This change in AvaTrade spreads set them as an industry-leading broker with some of the best trading conditions, including extra-low spreads, excellent bonuses and up to 400:1 leverage.
In addition, the AvaTrade spread betting feature stands out. This an interesting trading method that enables traders to capitalize on upward and downward price movements.
Fees
AvaTrade charges ZERO deposit fees. However, they impose a strict minimum deposit. The required deposit for e-payment and credit cards methods is 100 GBP or its equivalent if your account is using a different currency.
Same with deposit fees, AvaTrade does not charge its users with a commission fee. This means, you will not be charged for any trades you open, or any buy and sell transactions.
Remember: AvaTrade, similar to other online brokers today, get much of their earnings through the market / bid and ask spread or the price difference between the BUYING and SELLING of a financial asset.
In general. we found most of the AvaTrade fees to be small and comparatively lower than other brokerages we've tested.
Quotes and Prices
A requote is one of the biggest headaches of forex traders as the broker is a not able to provide a trade that is based on the price that they specifically entered.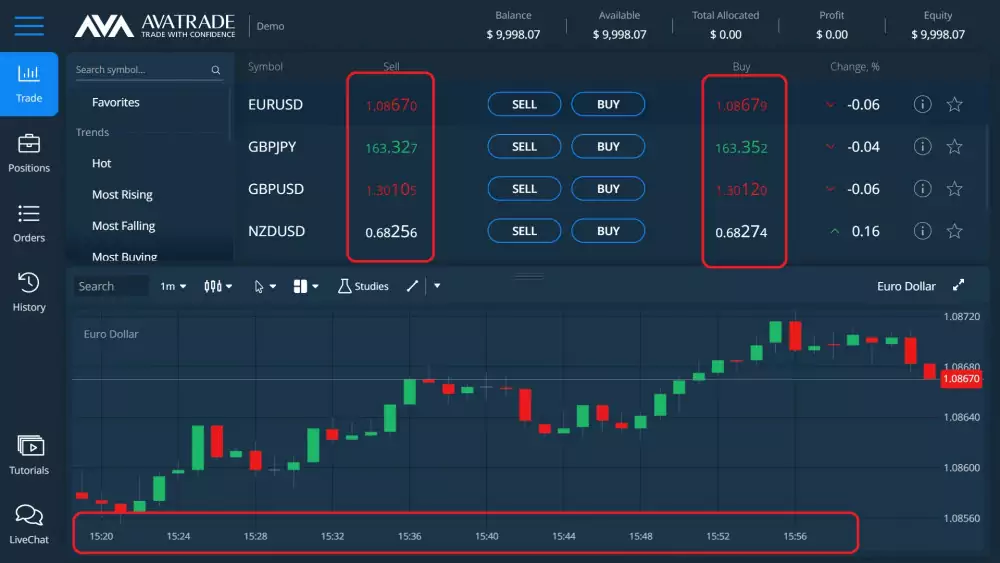 AvaTrade does not experience any requotes and slippages which is an advantage for those who are trading fast-moving markets.
08
How to Withdraw Funds?
---
Withdrawal
The common setback of most brokers today is the deferral in processing withdrawal requests where in most cases, the funds experience a lot of delays before they reflect on the customer's chosen banking account.
At AvaTrade, it only takes a total of 7 business days to process withdrawals. 1 to 2 business days of it is for verifying the submitted withdrawal form before they start processing the transfer of funds.
To fully test the processing time of AvaTrade withdrawal, we made several requests on different days and all of them were handled promptly.
Customer Support
It is always ideal to sign-up with a broker that is reliable and fast in providing support since they will serve as your lifeline when things go wrong or when you have questions that need answers.
As for AvaTrade, they can be contacted through the following methods:
Phone: They have dedicated phone numbers for various countries including UK, Germany, Italy, Finland and many more.
Email: It's possible to communicate via email by sending them a message first using the contact form on their website.
WhatsApp: You can also get in touch with them via this messaging app by contacting +447520644093.
Live chat: This feature is accessible via the AvaTrade offcial website.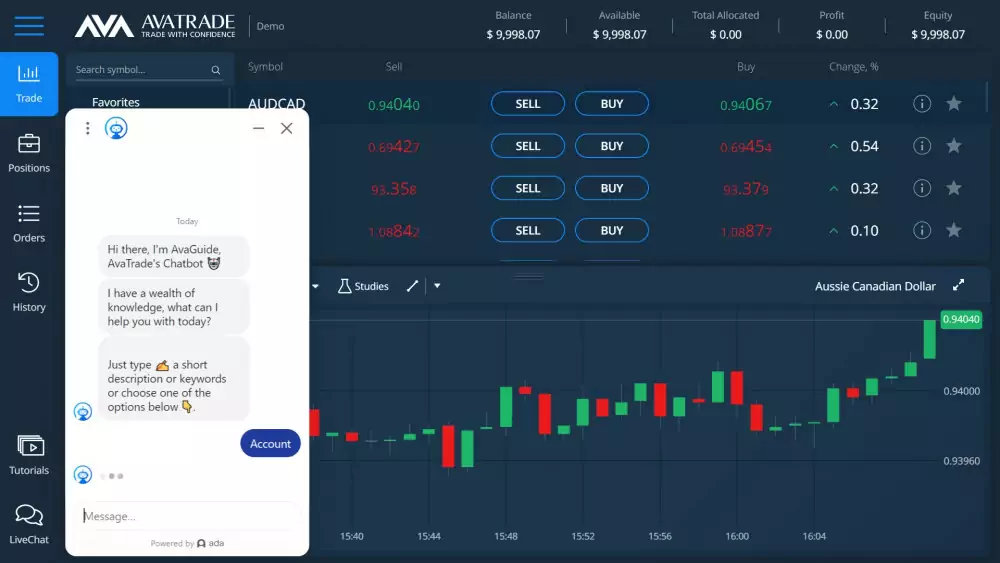 Their response time is quite faster in comparison to other forex brokers in the market today.
It's also good to know that they assign personal account managers to their clients so every issue and query will be handled with sensible consideration since they know the trader and they can keep track of their transactions for reference.
Our discussion with their live chat support agent was very valuable as we were able to get the answers about our queries.
All of the responses were straight to the point and we were very impressed on how well the conversation was handled with professionalism.
Reputation
AvaTrade is an online brokerage firm that was founded in 2006 and is known to be one of the leading brands in the industry today with over 3 million trades executed per month.
The fact that they are operating for nearly 2 decades (that's around 20 years) and even support over 20 languages are solid indications that they mean serious business.
Furthermore, the Aston Martin Aramco Cognizant Formula 1 (AMF1) team enjoys an international partnership with this broker. The alliances they maintain with prominent and recognized entities suggest their solidity and commendable reputation.
Regarding accolades and acknowledgments, the AvaTrade entity has already garnered more than 100 awards including the following:
| Award | Award Giving Body |
| --- | --- |
| Best Mobile Trading Platform Spain 2023 | Finance Derivative |
| Top 10 Hot Brands of the Year | The Ceoviews |
| Most Trusted Broker | International Investor |
| Best Mobile Trading Platform UAE 2022 | Global Business Review Magazine |
| Most innovative CFD broker UAE 2022 | Global business Magazine |
| Most Trusted Trading Platform Europe 2022 | International Business Magazine |
| Most Innovative CFD Broker United Kingdom | World Business Stars Magazine |
| Best Educational Broker United Kingdom | World Business Stars Magazine |
| Best Mobile Trading Platform | Investingoal Best Broker Awards |
As per our extensive research, they also didn't get any serious warnings or penalties from the financial regulators that they are registered with. And when it comes to user reviews, just like any broker, they got good and bad reviews but most of them were noticeably on the positive side and the bad ones were usually isolated cases.
In addition, AvaTrade is among the most downloaded apps for online trading in the UK based on the monthly downloads.
In general, they were able to sustain an excellent credibility and for this, they get a good reputation score.
Regulation
They were also able to get the approval for full regulation from several financial authorities including:
AVA Trade EU Ltd is regulated by the Central Bank of Ireland (No.C53877).
Ava Trade Markets Ltd. is regulated by the B.V.I Financial Services Commission.
Ava Capital Markets Australia Pty Ltd is regulated by the ASIC No.406684.
Ava Capital Markets Pty is regulated by the South African Financial Sector Conduct Authority (FSCA No.45984).
Ava Trade Japan K.K. is licensed and regulated in Japan by the Financial Services Agency (License No.: 1662), the Financial Futures Association of Japan (License No.: 1574).
Ava Trade Middle East Ltd is regulated by the Abu Dhabi Global Markets (ADGM) Financial Regulatory Services Authority (FRSA) (No.190018).
DT Direct Investment Hub Ltd. is regulated by the Cyprus Securities and Exchange Commission (No. 347/17).
ATrade Ltd is regulated in Israel by the Israel Securities Authority (No. 514666577).

AvaTrade also has a lot of positive comments from traders and has been praised by many for providing an easy-to-use trading environment that is rich in functionalities.
User Reviews
Below are some of the verified comments from actual users of AvaTrade:
03/06/2023
⭐⭐⭐⭐⭐
John V. says:
AvaTrade is one of the best trading apps in the market. They offer excellent customer service and a wide range of trading platforms. You can trade stocks, forex, commodities and more on this app! I highly recommend it! 👍
25/05/2023
⭐⭐⭐⭐
Gina R. says:
I've been using AvaTrade for about 3 years now and I have to say, it is one of the best trading platforms out there. It has an extensive selection of trading platforms and a wide range of markets to invest on. The interface is clean, intuitive, and easy on the eyes. The customer service has always been helpful when I needed help with my account or just general questions about how the platform works.
12/04/2023
⭐⭐⭐⭐⭐
Sam M. says:
I've been using AvaTrade for a few months now. I was unsure at first but I am glad that I decided to give it a go. The trading platforms are easy to use and the presentation is clean and professional. They have a wide range of markets to invest on which is one of the reasons why I initially signed up with them. As someone who trades a lot of currencies, they were the best choice for me.
Conclusion
So what's our take on AvaTrade? In general, this broker has the edge in the world of online forex and CFD trading and this can be credited on how they created a platform based on the perspective of their users.
Compared to other brokers that are simply an extended brand of banking institutions, this one was able to provide a rich trading environment that is specifically made for retail traders.
Add to that a good reputation and a support team that is able to maintain the highest standards and you have yourself the perfect broker for forex trading.
The bottom line?
AvaTrade is the ideal broker to sign-up with if you're looking for one that is credible, user-friendly and has excellent customer service.