Interested to add Apple stocks in your trading portfolio? Follow these simple and basic steps on how to buy/sell Apple shares.
If you're looking to invest in a high-growth company then trading Apple shares is potentially a good deal.
| Broker | Score | Minimum Deposit | Trade |
| --- | --- | --- | --- |
| | 97 | $10 to $1000 (country-specific) | 81% of retail CFD accounts lose money |
| | 96 | $5 | 73.03% of retail CFD accounts lose money |
| | 94 | $100 | |
| | 93 | $1 | 74-89 % of retail investor accounts lose money when trading CFDs |
| | 92 | $1 | |
Apple Stats
Apple's current market capitalization makes it one of the world's most valuable companies. Before you start trading AAPL shares, it would be wise to see a quick overview of the company's stats.
Here are the most important statistics and data that you need to be aware of:
Key Apple Stats
Apple is one of the most valuable technology brands in the world with a value of $612 billion in 2021.
Services is the company's biggest growth driver with a record of $19.8 billion for the first quarter of 2022. This is a 17.3% growth as compared to last year.
The iPhone has a global sales share of 18% for the first quarter of 2022.
The iPad's share of global tablet shipments for the first quarter of 2022 is at 31.5%.
MacOS Catalina is the most used macOS version for the year 2021.
Apple Inc. Global Revenue
Thanks to Apple's loyal fan base, the tech company experiences significant growth when it comes to revenues. From just $8.20 billion in 2008, it has dramatically increased to $365.82 billion in 2021.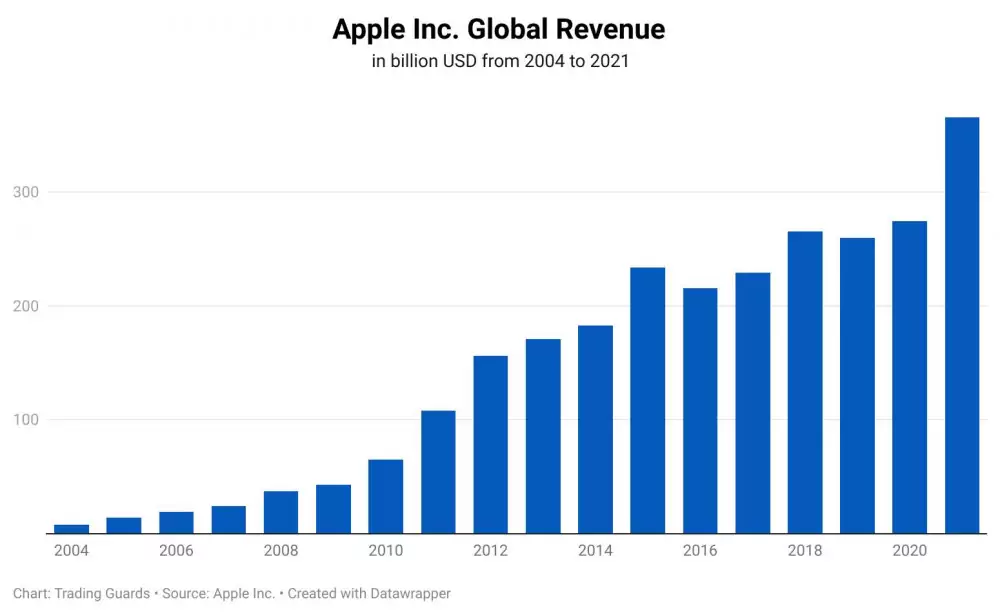 Apple's Revenue Compared to Alphabet and Microsoft
Apple managed to make a revenue of $365.82 billion for the fiscal year 2021. That's more than double of Microsoft's $168.09 billion and still more than $100 billion higher than Alphabet's $257.64 billion for the same year.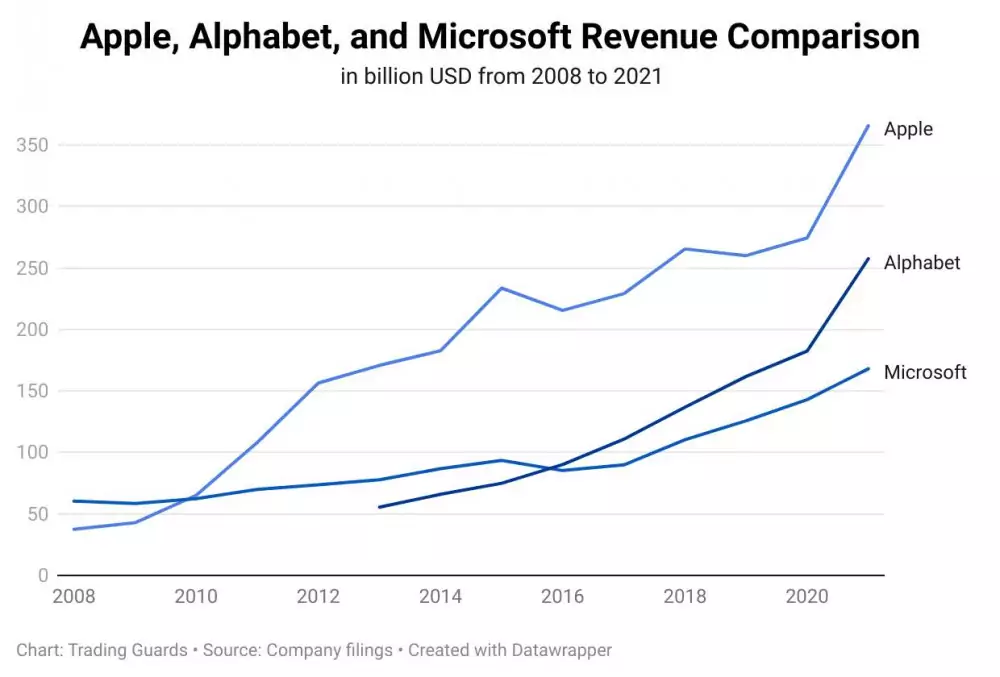 iPhone Sales
The iPhone remains to be a crucial product for Apple and its share of the company's revenue has steadily grown. From just $5 million in sales for the third quarter of 2007, this number has grown to over $71,000 million for the first quarter of 2022.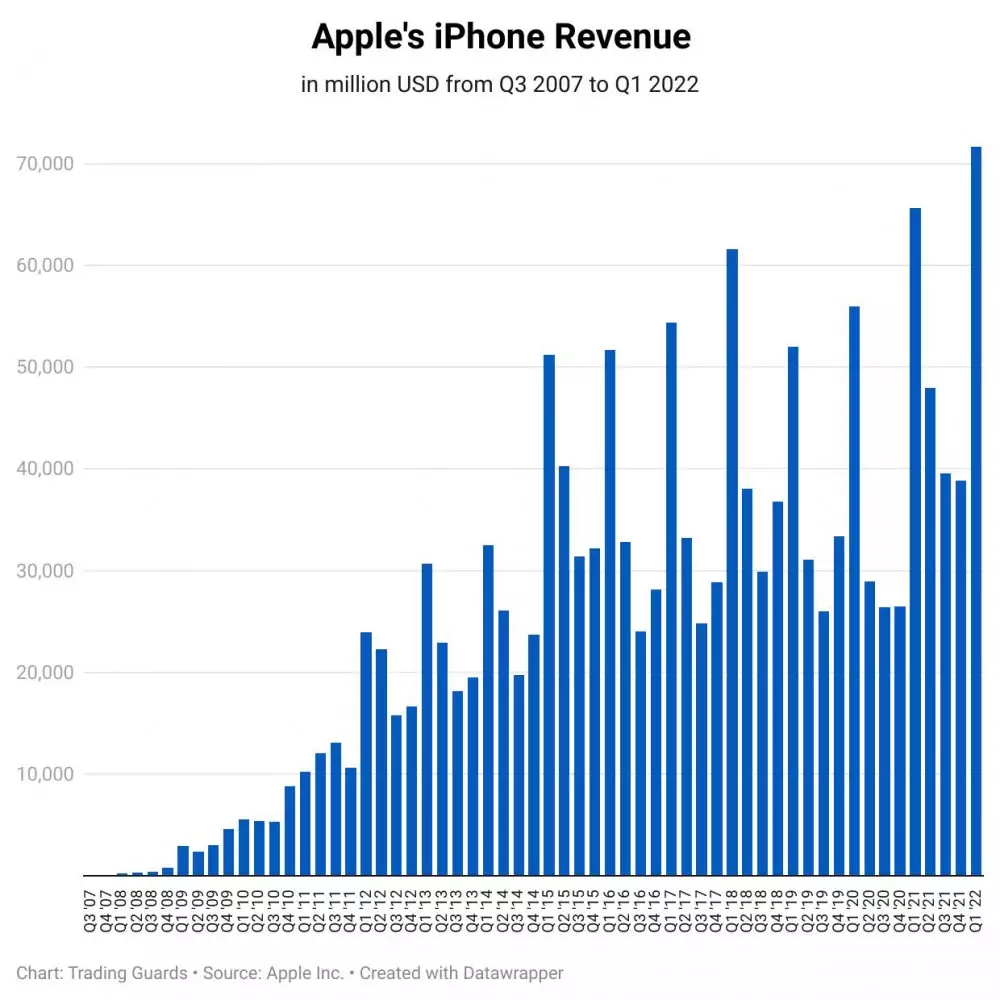 Why Buy Apple Stock?
There are some factors that you need to consider first prior to buying or selling Apple stocks.
Look:
It is important for you to understand Apple's company history and its business model.
To begin with, Apple is able to sustain its dominance in the technology devices market raking in outlandish profits thanks to its lineup of premium products including the iPhone, iPad, Mac, AirPods and Apple Watch.
The fact is:
The company has been very successful in continuously increasing their revenue which can be credited to their design engineering and diversification of its services to lessen its reliance on the sales of its iPhones which currently holds the second spot of the market share in the smartphone industry just behind Samsung.
In addition to this...
Its Mac and iPad product lines are improving on a year-over-year basis after years of unremarkable growth.
This is expected as companies are forced to embrace remote working and permanently shift working patterns due to the Coronavirus outbreak hence the increase in demand for PC's and laptops.
There's more...
Apple's services business is continuously accelerating making it a part of company's revenue mix for years to come.
The services division includes the App Store, Apple Pay, Apple Music, Apple Care, streaming and cloud services, and various licensing deals to name a few.
Apple Stock Forecast
Below is a quick summary of our outlook for Apple's stock based on the current market data and expectations.
Do take note:
Our forecasts do not guarantee of future performance and involve risks and therefore, actual market outcomes and results may differ from what was forecasted due to numerous factors and circumstances.
2022: Wearables Are All the Buzz
Apple's record holiday earnings were well above the predictions of market experts and this can be credited to the company's wearables lines including the AirPods and Apple Watch.
Why is this important?
This all-time record signals that there's a huge consumer demand for smart wearables and the bets are much higher for the upcoming AR glasses which would fuel a market craze for such gadgets.
Considering all of these, our stock market growth outlook for Apple is medium.
2023: Still an Upbeat Outlook
Apple is said to be planning new form factors for the MacBook Air and their entry-level iPad for 2023. Apple has been rumored to release a new 15-inch MacBook Air in 2023 alongside a new iPad version in the entry level range.
Surprisngly...
Despite the disastrous effect of the COVID-19 pandemic sending shockwaves through the stock markets, the company still managed to grow slightly and the impact was not terrible by any means.
And even if global sales are affected due to the pandemic, it will most likely pick up since supply disruptions can drive the company's the shares to go higher.
For these reasons, the outlook for Apple's stock growth ranges from medium to high.
Best Brokers for Buying/Selling Apple Stocks
Below are the most trusted and regulated brokers that we recommend for you to trade Apple stock CFDs. Simply click on the Trade button of your chosen broker and we'll take you straight to their stock trading page.